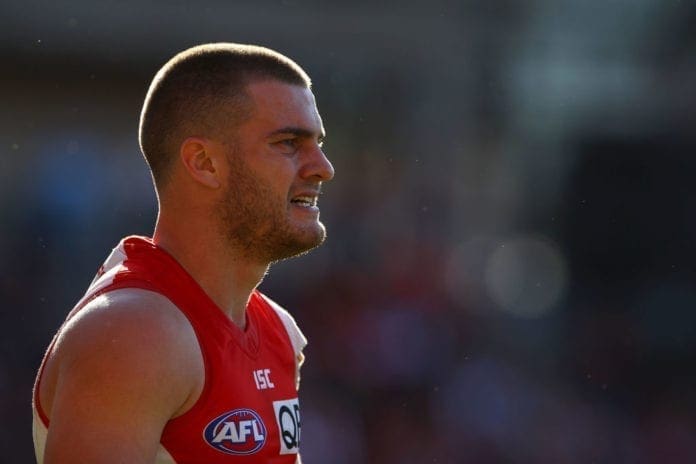 Sydney will be waiting with bated breath to see how livewire small forward Tom Papley recovers from the club's pre-season hitout with the Giants at the Lavington Sports Ground.
Despite the Swans succumbing to a 31-point loss on Friday night, the scoreboard in the six-period scratch match is unlikely to have phased head coach John Longmire drastically.
But with the prospect of Papley facing a stint on the sidelines after straining his hamstring in the opening term of the Albury outing, Longmire could be forgiven for perspiring beyond levels usually found in late February.
While results regarding the 25-year-old's fitness are yet to be released, Sydney now faces the prospect of entering their Round 1 rematch with GWS sans the services of their All-Australian small forward.
SEE ALSO: Start, bench, cut: Papley, Cameron and Ryan
Speaking in the aftermath of the clash, Longmire expressed that it was still too early to gauge where Papley's selection chances stood.
"It [the strain] was bad enough for him to pull up and not return to play, but we don't know at this stage. We'll have to wait and see," Longmire told sydneyswans.com.au
With this precautionary approach in mind, it appears certain that the Gippsland Power product will now miss the Swans' sole AAMI Community clash with North Melbourne next Sunday.
Should a line be put through Papley's name, Saturday will see the start of a three-week rehabilitative period for the two-time club leading goalkicker, with the Round 1 'Battle of the Bridge' set to take place on Saturday, March 19 at Accor Stadium.
Since shifting to the Harbour City ahead of the 2016 season, the former Rookie Draft selection has laced the boots on 122 occasions across six campaigns, playing 20 or more games each year he has worn red and white.