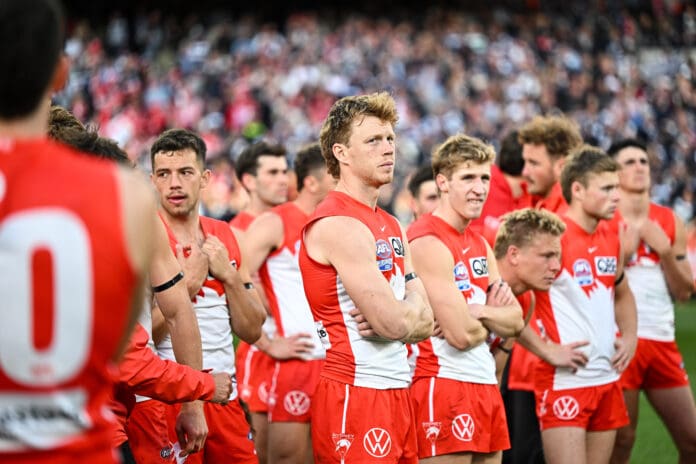 Falling narrowly short of reaching the summit in 2022, losing to Geelong in the big dance, Luke Parker has discussed the rear vision mirror-type approach heading into the new season.
Speaking on RSN, Parker highlighted the importance of "not carrying it around as baggage for the next 12 months... so look, we addressed this spoke about it, reviewed it and kind of tried to move on as quick as possible."
The 30-year-old will lace up the boots for his 13th pre-season in 2023, commenting on being hungrier than ever to climb again in search of another flag to add to his already illustrious career to date.
"If we're going to be around for a while longer, you've got to keep enjoying what you're doing and enjoying the day-to-day processes just trying to get better and improve and hopefully, one day get another opportunity," he said. 
Parker played a straight bat to the line of questioning surrounding Lance Franklin posed by the RSN hosts, who were anxious to find out how the key forward was tracking this pre-season.
"I think, for him going into a season it's just about getting the training under the belt and not coming in underdone," Parker said.
"He'll manage himself out of the season and hopefully be injury free."
The inclusion of a number of recruits in the off-season snapped up during the draft have settled in well into the Swans environment according to Parker, not discounting versatile tall Aaron Francis, who was traded from Essendon last year.
"He's kind of that intercept defender that we've been looking for to help out a few boys down there, but he's a high draft pick and we're really looking forward to seeing what he can do but he's fitting in really well," the Swans co-captain said. 
Excited by the youth brigade and using the heartbreak of 2022 as fuel to the fire, Parker understands "it's continual work and looking at little areas that we can improve" in order to take that next step. 
The Swans will open their 2023 season against the Gold Coast Suns with a trip to Metricon Stadium, while a grand final rematch against the Cats will come in Round 6.