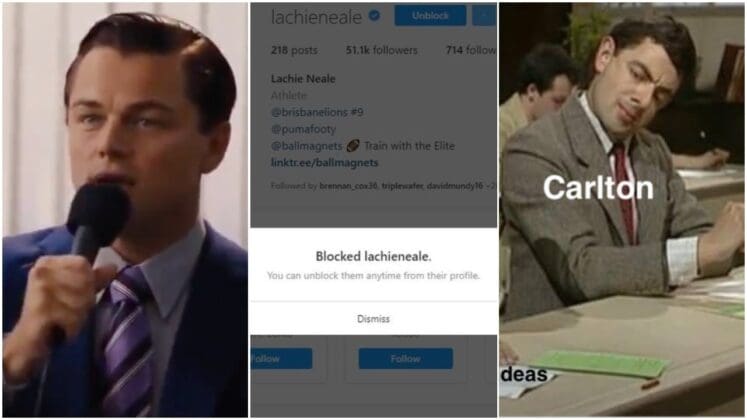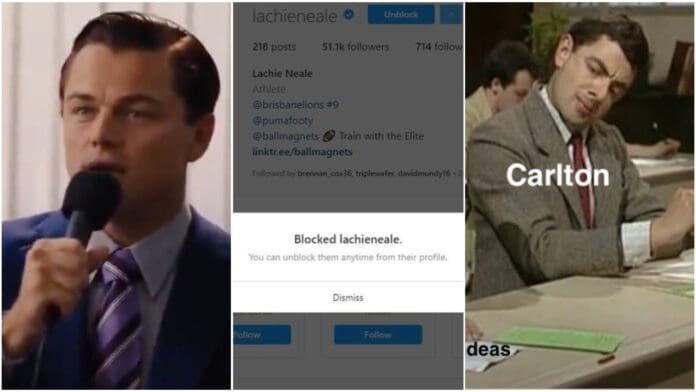 It's that time again to take a lighter look into yet another big week of AFL.
Here's what's happened this week.
Bailey Smith promotes vaccine awareness after his stunning goal last weekend
It was an excruciatingly close match between the Lions and Dogs but a huge shoutout to Bailey Smith for his incredible goal and incredibly "topical" and "timely" celebration that followed - one that urged and inspired everyone to get vaccinated.
The dogs beat the Lions by only one point and will face off against Port Adelaide  this weekend with all eyes will be peeled on Smith who arguably saved the game for the Bulldogs.
Fans were quick to commend the 20-year-old young gun on social media, well done Bailey!
Bailey Smith said 'get vaccinated' pic.twitter.com/nZi5VJatIb

— lex (@lex577) September 4, 2021
Enjoyed Bailey Smith with the topical and timely "get vaccinated" goal celebration after snagging the winner. Star on and off the field.

— Tbetta (@Tbetta9) September 4, 2021
Shoutout to Bazlenka for promoting vaccine awareness #AFLLionsDogs

— Jarrod Lienert (@jarrodlienert27) September 4, 2021
My WORD.
Bailey Smith. 🔥 #AFLLionsDogs #AFLFinals pic.twitter.com/xaJ4gsXCqp

— Trent Copeland (@copes9) September 4, 2021
And even the hammer-wielding god himself celebrated the dogs victory
Yes thats right the one and only Thor (Chris Hemsworth) embodied every Western bulldog fan after the final siren.
Chris Hemsworth was every @westernbulldogs fan on the final siren last night 🥳

(via: @chrishemsworth / Instagram) pic.twitter.com/RRISQJv37q

— AFL (@AFL) September 5, 2021
But all was not rosy for the dogs with big fears that star skipper and Brownlow favourite, Marcus Bontempelli was potentially sitting out of the preliminary finals due a knee knock last weekend.
"Should be all right, initial tests are all good" - Bont #AFLFinals #MightyWest pic.twitter.com/tFtBElJ0Us

— Marcus Bontempelli Appreciation (@JustBontThings) September 4, 2021
However it was confirmed today that the skipper would play against Port Adelaide this weekend.
Huge relief for the Dog fans!
Lions out in a heartbreaking loss 🙁
For the Dogs it was pure joy, for the Lions it was pure heartbreak as their season campaign came to a devastating end.
Brisbane forward Cam Rayner comforted midfielder Rhys Mathieson after the game proving the lions have one of the best team cultures in the league.
Cam Rayner consoling Rhys Mathieson after the heartbreaking loss. @brisbanelions may have lost, but their culture is one of the best ♥️

— 7AFL (@7AFL) September 5, 2021
And perhaps all fans shed a tear for the very sad Chris Fagan who conceded victory to the Dogs.
Many took to social media to express their feelings and heartbreak for the lions coach.
The only downside of last night's incredible final is sad Chris Fagan. He looks the one of those lonely blokes you see eating alone in a food court. 👎🏻 pic.twitter.com/fjKMMyMNi2

— Charlie Clausen (@CXClausen) September 5, 2021
Sad Chris Fagan. I can't deal. 😭

— Alison Smirnoff (@AlisonSmirnoff) September 4, 2021
I can't take seeing photos of sad Chris Fagan tbh

— Katie Lambeski (@katielambeski) September 4, 2021
That shot of Chris Fagan hands on head on the bench. Such a tough loss.#AFLLionsDogs #AFLFinals

— Matt Turner (@mattturner1986) September 4, 2021
Freo False Alarm -  Neale will remain at the Lions 
Docker fans were dangled a Lachie Neale carrot earlier this week and eagerly awaited the news of an offical announcement of the Brownlow medalist returning to the team in WA next year.
Neale and his wife Jules are expecting the first child and there was talk that the couple were wanting to return to Western Australia to raise their family.
However Docker fans were later disappointed to hear that all the talk was just talk and  Neale would remain on with the Lions next year.
Mark McGowan has amended entry exemptions into WA:
- Eddie McGuire ❌
- Lachie Neale returning to play for his beloved Freo ✅ pic.twitter.com/uMsW6qNRVh

— Sportsbet.com.au (@sportsbetcomau) September 6, 2021
Freo fans reading their Lachie Neale posts from the last three seasons. https://t.co/IsyXArLSm7 pic.twitter.com/AOThRsrkfQ

— BigFooty Eagles Podcast (@WCEBFPod) September 5, 2021
And this exactly how every Docker fan felt...
Brisbane Lion fans were relived at the news of their star player choosing remain at the club and see his contract through to the very end.
Lachie Neale to remain in Brisbane.

Lions Fans: pic.twitter.com/yeNBTYBJPW

— TAB (@tabcomau) September 9, 2021
Carlton reaches out to Collingwood regarding the coaching process
Carlton coaching Blues continue as the club has reportedly reached out to Collingwood for guidance on the coaching process.
The Pies recently snapped up Craig McRae as their new head coach and both the club and fans were thrilled at the news however for Carlton the reaction has been the opposite.
After a failed attempt to get either Ross Lyon or Alastair Clarkson in the top job, Carlton is eager to learn about Collingwood's success in the hiring process.
Nothing to see here… pic.twitter.com/rhqlpQXQ2B

— Sportsbet.com.au (@sportsbetcomau) September 9, 2021
Season over and the Giants are out but the GWS show still goes on!
After their loss last weekend to the Cats, GWS fans haven't had much to get excited about... until today when they found out that their star mid-fielder Jacob Hopper has re-committed to the club until 2023.
Jacob Hopper has had a career best season averaging 26 disposals a match and fans are ecstatic to see the midfielder remain in orange for another two years.
The club was so excited that they even got ahead of themselves in their own social media post announcing the wrong year.
10am AEST 👀 pic.twitter.com/W13fGDstp7

— GWS GIANTS (@GWSGIANTS) September 9, 2021
2023* sorry we got a little excited!

— GWS GIANTS (@GWSGIANTS) September 10, 2021