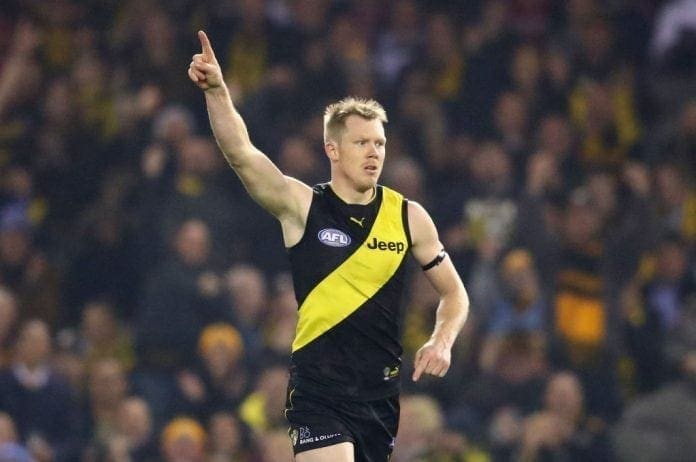 Jack Riewoldt's manager, Liam Pickering, spoke on SEN about how close he and the Richmond Football club are to finalising Riewoldt's new deal.
The 29-year-old is having an impressive season following the Tigers' premiership win and looks to have earned himself a good deal.
"We are working with the club at the moment on trying to finalise Jack," Pickering told SEN Breakfast.
"(He is contracted) until the end of next year, yeah (we would lock him up for another three years).
"I know exactly what he is worth, I won't talk about it though.
"We are very very close.
"The reality is, in a premiership team, you can't have everyone getting 1.2 million.
"If he was to leave and go elsewhere, which he is not, a club would be mad not to throw a bucket of money at him.
"They've already re-signed Alex Rance, Jack, Trent Cotchin is not far away, Dustin Martin is obviously done.
"All those guys would be taking a little bit unders than what they're considered on the open market."
Pickering also touched on the prospect of Tom Lynch signing with the club, saying he'd have to take a pay cut too if he were to play with the reigning premiers.
"He will have to," Pickering said.
"They're not going to pay him more than what they're paying Dusty and all those guys.
"He (Riewoldt) is happy for him (Lynch) to be there."