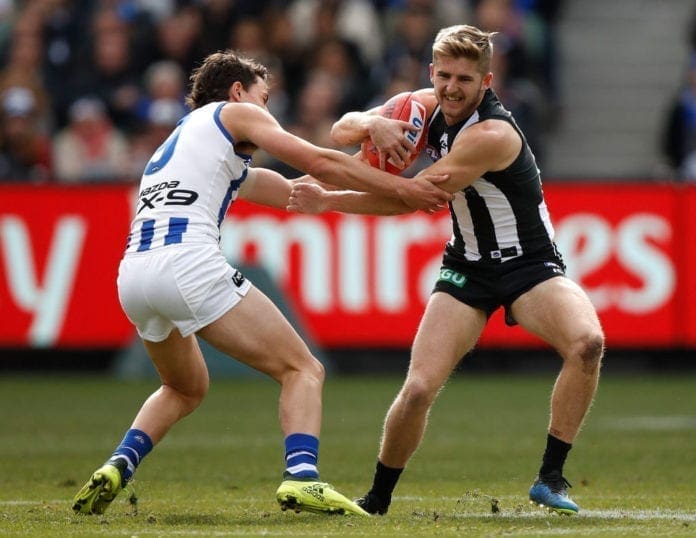 Sam Murray's 18-month drug ban will be over in mid-December, and three AFL clubs are looking at handing the former Collingwood defender a lifeline.
According to the Herald Sun Richmond, GWS and Melbourne are all considering drafting the 22-year-old, who was a mainstay in Collingwood's 2018 side before he tested positive to cocaine on game day.
Most clubs have decided to steer clear of Murray, meaning he'll likely need to wait until Friday's rookie draft if he's to hear his name called out.
If Murray isn't selected and placed on an AFL list, it is believed he'll sign with an AFL-aligned VFL club, in the hope of a recall to the AFL in the future.
Murray can train with a club from December 17, and will be free to play from February 17 next year.
Murray's former coach (and former Swans star) Daryn Creswell coached the defender in the Ovens and Murray league, and spoke to the Herald Sun about his future, suggesting Murray was as ready as he's ever seen him.
"He ran a 2km the other day in 6min 35 sec. I've never seen Sam that fit before," Creswell said.
"Before his case was heard he trained with us, and then he's obviously not allowed to train now he's had that suspension, but he's hired his own personal trainer (Danny Kennedy).
"The kid's got enormous talent, enormous talent.
"He's really positive and he's got a good mindset, even to the point where he says if I don't get drafted I'll go play VFL and I'll prove myself and that I've changed and that I want an opportunity again," Creswell said.
"That's one thing we've spoken about and he'll go to an AFL-aligned (VFL club), so he can be under their eyes and guidance. It's a good attitude to have.
"To be honest he suffered a bit of depression when that (drug saga) happened to him, which is understandable, but I've noticed a real change and a real weight off his shoulders since he got the suspension.
"You don't really know what you had until it's gone and I think that's really hit home for him."