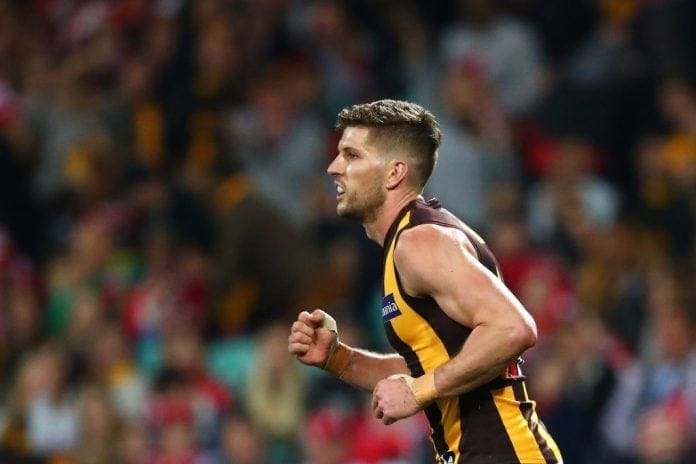 Geelong have expressed their interest in Hawthorn forward Luke Breust for next season, according to SEN's Sam Edmund.
Edmund told SEN Breakfast Breust is on Geelong's radar, but the team would have to "give something up" to get him across.
Sam Edmund: "Luke Breust is on the Geelong whiteboard."

— Garry and Tim (@SENBreakfast) September 14, 2020
"We know a lot of things go up on the whiteboard, and there's a lot of spit balling, but I can tell you that Geelong…are going after Luke Breust," Edmund said.
"Geelong would have to give something up to get Luke Breust in because he's contracted for next year, but they have got their standards a glut of picks – I think they've got three first-rounders," Edmund said.
"It gives them wriggle room to trade a first-round pick. They've got the weaponry up there.
"They smell blood in the water, the empire has fallen at Hawthorn and now it's up to clubs to try and prise players out who, in the case of Luke Breust, have plenty of good football left," he said.
Hawthorn GM of Football Graham Wright told SEN's Bob and Andy that Breust would not be traded to improve the club's draft hand.
But Jordan Lewis said Breust should be able to leave the club should he want to experience football elsewhere.
Breust is contracted to stay at Hawthorn until the end of 2021.