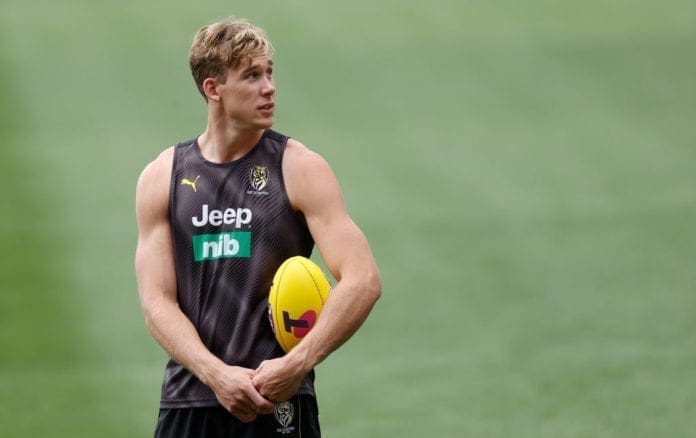 One last firing shot has been made ahead of tonight's preliminary final between Port Adelaide and Richmond.
Port defender Hamish Hartlett had a crack at Richmond key forward Tom Lynch on FIVAaa on Thursday, suggesting that the Tigers big man gets easily wound up with his emotions on the field.
Ah there's the Tom Lynch we know. Knee to the head. Disgrace. #AFLFinals

— Jack Hudson (@jhudson_10) October 9, 2020
"He obviously gets caught up in the emotions of the game probably a bit more frequently than others do," he said.
"I guess others are able to control their instinct and reactions perhaps on their emotions a little bit better than what Tom does."
Lynch has been in the spotlight for numerous off-the-ball incidents this year, with the latest indiscretion being in last week's semi final win when he knelt on St. Kilda's Dougal Howard and received a fine.
"That was on my poor mate Dougal as well, so I wasn't real happy with that one." He said.
Hartlett also suggested that there were plenty of supporters barracking against the Tigers so Lynch's year can come to a grinding halt.
"I think there'd be plenty of people out there who would like to see his season come to an end. I'll leave it at that."
Don't think any player would be too worried about what Hamish Hartlett thinks.

— Stevie Patrick (@StevieP02692264) October 15, 2020
Port, as they prepare to play in front of a white hot Adelaide Oval crowd, go into tonight's preliminary final as the favourites as they look to be in their first Grand Final since 2007.