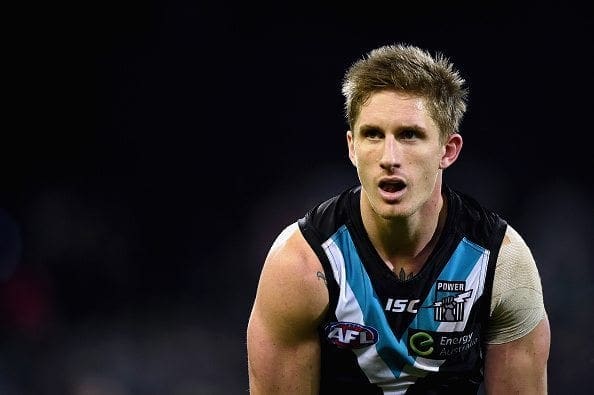 Hamish Hartlett a Tiger? It nearly happened.
The Power veteran has revealed Richmond were "really keen" to trade for him a few years back.
The utility was out-of-contract and going through some patchy form, prompting him to assess his options elsewhere.
"There was obviously a period of time where I had to explore things, because my career at Port Adelaide at the time probably wasn't going the way I wanted it to and the way the club wanted it to either," he told SEN SA's Kymbo and the Rooch.
"It was always going to be difficult for me to leave Adelaide and I'm a pretty loyal guy to the footy club and to my friends and family here as well.
"Here we are a few years later and things could have been different, but I've got no regrets in terms of the decisions I ended up making. I'm a very proud Port Adelaide man."
Hartlett ultimately re-signed at Alberton on a new five-year deal, tying him to the club until the end of 2021.
He said the connection to the Tigers was largely through Blair Hartley, who recruited him to Port Adelaide.
"So basically, the connection came from Blair Hartley who initially drafted me to Port Adelaide and is now he's over at Richmond," he said.
"Blair and I have always had a pretty good relationship and they were really keen, but I said I wanted to honour my contract here at Port Adelaide and I want to turn into the player I think I can become and I want to have team success with this football team.
"That is where it sort of ended."
Hartlett's teammates joke with him how he could've been a two-time premiership player had he made the move.
But the 164-gamer laughs off the idea, saying he might have struggled to get regular senior games with how successful the Tigers have been.
"It's funny because that gets mentioned around the change rooms, the boys get stuck into me a little bit about it," he said.
"They often say how I could be a two-time premiership player and I always come back and say maybe in the VFL because I might struggle to get into that team."