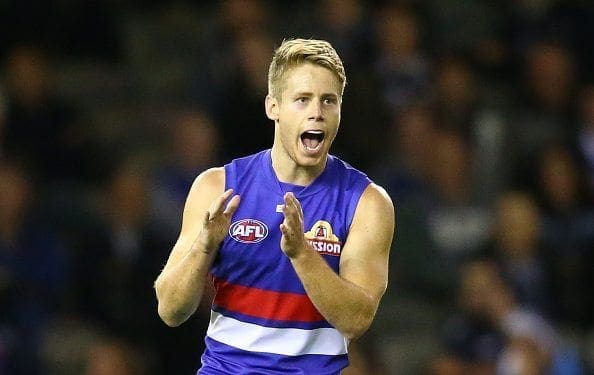 Western Bulldogs vice-captain Lachie Hunter faces damages costs of up to $150,000 after his boozed up car accident, according to The Herald Sun. 
Hunter decided to get behind the wheel and drive to teammate Billy Gowers' house after a fight with his partner in spite of social distancing laws.
That decision will now see hime lose his insurance cover, pay up to $150,000 in damages to the four vehicles he hit, pay a fine of $1652 for breaching social distancing and and a maximum fine from the AFL of $5000.
All in a year where the player wage faces a 70 per cent cut. The Western Bulldogs are also expected to hand down a multi-game suspension.
The pay cuts could see players in Hunter's pay bracket lose up to $150,000, which would have the midfielder facing a loss of $300,000 over the calendar year.
The Bulldogs will continue investigating the incident with the aim to secure an exact timeline. They are also keen to know why he left the scene of the crash and if he knew police were on the way.
19-year old teammate Bailey Smith was also fined $1652 after flaunting social distancing laws by picking up his vice captain and driving him to Gowers' house.
Smith was only at the scene because two of the four cars hit belonged to his girlfriends family, the decision by Hunter to have Smith drive him afterwards is set to be scrutinised heavily internally at the Bulldogs given Smith's experience and Hunters standing at the club. Billy Gowers escaped with just a warning.
Former Western Bulldog Nathan Brown has claimed that Hunter should voluntarily stand own as vice-captain so new captain Marcus Bontempelli isn't forced to take it off him.
Bontempelli, coach Luke Beveridge and footy boss Chris Grant will decide Hunter's fate with the decision to then be given the tick of approval by the Bulldogs board.
"Everyone you speak to down there says Lachie is a great fella, he is a great footballer and he is very popular. But he has lacked leadership in this instance," Brown told Nine.
"Before he is taken out of the vice captaincy, maybe go to the club and say, "I have done the wrong thing. I will give up the vice captaincy without it being a witch hunt, without 'Bont' having to make the decision or the coach making the decision".
"The best thing Lachie could do is say, "I am going to give up the vice captaincy."