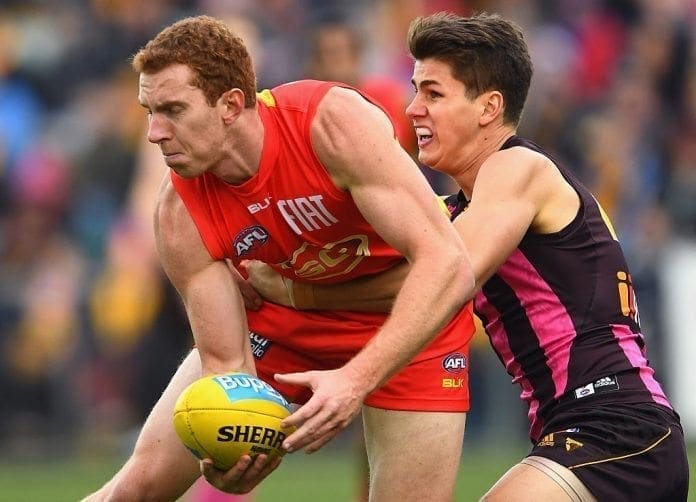 Gold Coast defender Rory Thompson looks set for a stint on the sidelines despite dodging a third anterior cruciate ligament injury in his latest setback sustained against the Western Bulldogs on Saturday.
Thompson was subbed out in the second quarter of the Round 10 clash in Ballarat. Suns physio Lindsay Bull has said the luckless defender will consult with a specialist.
"Rory has injured his medial meniscus, which is what we suspected on the day of the injury and he's since had that confirmed with MRI," Bull told the club's website.
"He'll liaise with a specialist later this week and we'll go from there with our course of action for Rory."
This frustrating setback comes not long after the 31-year-olds returned after 1379 days and almost four years on the sidelines.
Since Thompson's return to the AFL, the Suns travelled to Sydney defeating the Swans and dismantled Fremantle at home in the wet.
Suns coach Stewart Dew spoke about Thompson's courageous return from two anterior cruciate ligament tears.
"An ACL injury is one of the most devastating in our sport, and to be able to come back from not just one, but two ACL recoveries is a tremendous achievement and a credit to the hard work Rory has put in behind the scenes," the Suns coach said.
Since debuting in the Suns' inaugural season in 2011, Thompson has only played 106 of a possible 247 games.