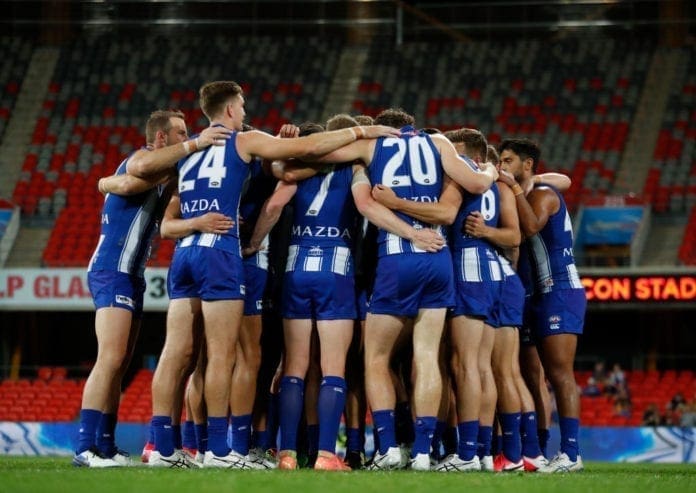 North Melbourne are set to announce a new coach within the next two to weeks after mutually parting ways with former coach Rhyce Shaw, reports SEN's Sam Edmund.
Edmund has revealed that the Kangaroos have narrowed down their initial list of 30 potential coaching targets down to 10.
They club is likely to start the interview phase in the coming week and expected to announce the coaching panel before then.
Former Melbourne Demons coach Paul Roos will reportedly join the club and play a role in forming the panel.
Shaw was initially contracted for two seasons with a trigger of a third year in 2022 if he met criteria, however, the deal has been cut short after only coaching 29 games for the Roos.
Chief executive of North Melbourne, Ben Amarfio, is creating a selection committee with big club names - such as Glenn Archer and Brandy Rawlings - in order to find the right fit for coach in 2021.
The Roos are in rebuild mode after a bleak 2020 season, already delisting 11 players and axing most of their coaching panel.
Another vintage season from @toddgoldstein22 🍷

Where do you think he will finish in Wednesday's Syd Barker Medal count?

— North Melbourne (@NMFCOfficial) October 26, 2020
Gillon McLachlan during the special online #MazdaNMB: "Being stuck at home with the kids has been tough, with the constant complaining, unrelenting demands, the tantrums … I'm thankful years of dealing with AFL presidents has prepared me for it." 😂 #AFLGF pic.twitter.com/rGGFbQ877h

— North Melbourne (@NMFCOfficial) October 24, 2020
Today Sam Edmund reported Paul Roos will join the Kangas. Paul Roos & John Blakey joining North Melbourne is a bloody big victory for our Club. If a big Club had done this, AFL's journos would be going nuts with how well their administrators had done. Well done @NMFCOfficial

— @TheTruthNMFC (@TheTruthNMFC) October 27, 2020