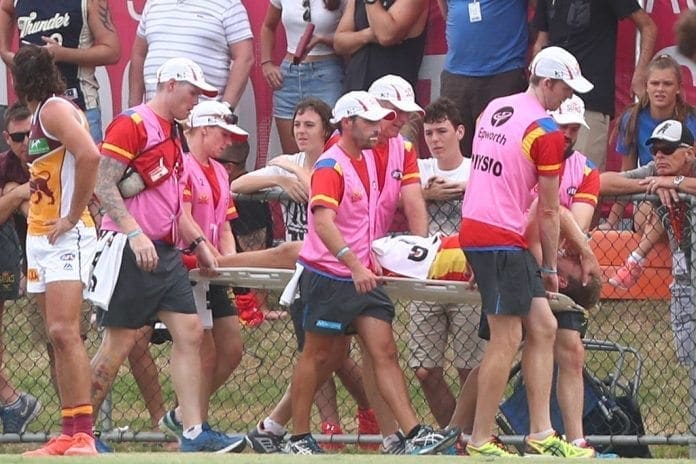 Gold Coast tall Sam Day will most likely miss the entire 2017 season, after dislocating his hip in Sunday's JLT Community Series win over Brisbane.
Day was jostling for position while running towards the ball alongside Brisbane defender, Jack Frost, when he collapsed to the ground during the opening quarter, after his right foot became stuck in the turf.
Suns' general manager of football operations, Marcus Ashcroft, told SEN Radio on Monday morning the club is unable to put an exact time frame on his recovery, however, he unlikely to return this year.
"It's a once-in-a-lifetime injury I think in footy circles anyway. We haven't heard of it before, but Sam does have a fractured hip dislocation," Ashcroft said.
"His hip did dislocate, it took a bit of bone with it, so it is fairly significant. He gets surgery later today (Monday) and more than likely will miss the majority of the year.
"Even our medical team can't remember a time when someone's done something as significant as this. It's more like a car accident injury.
"Unfortunately for Sam who's had such a great pre-season, he's going to miss most of the year."
Day's return will become clearer following surgery on Monday afternoon.
"The surgery today is going to be more of an exploratory nature where they check to see the exact extent of the damage. We know at this stage some bone has been damaged and taken away, so once the surgeons get in there we'll know exactly where it sits," Ashcroft said.