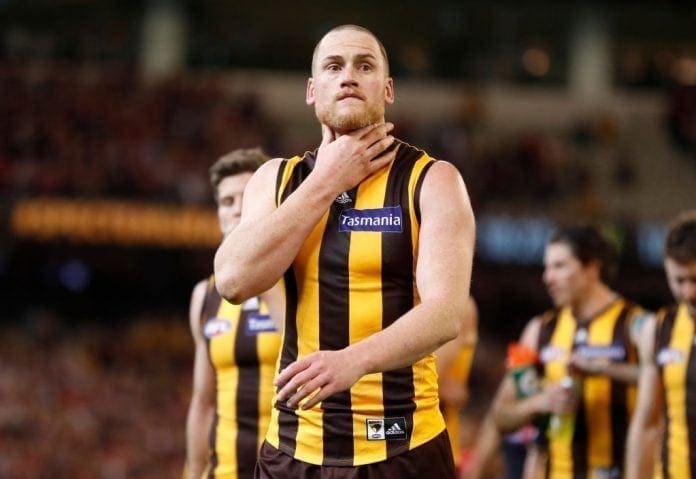 Jarryd Roughead has bravely opened up on his battle with cancer.
The Hawthorn legend detailed his journey from discovering he had cancer, to how he told family and friends and how he ultimately overcame the disease.
Speaking on the Dyl and Friends podcast, Roughead spoke about how he found out there may be an issue to begin with.
"We played Essendon on a Sunday at the MCG. The Friday I had this blister on my lip, was there for a while," Roughead recalled.
"Looking back it was there for far too long. I had a punch biopsy done Friday before we played Essendon and Monday I got the call saying 'we think it's nothing to worry about'.
"Monday, (it's a) melanoma."
The former Hawthorn captain missed a fortnight of action after seeing doctors to get the original melanoma cut off his bottom lip and thought that was that. However, despite living life as per normal, Roughead wasn't yet out of the woods.
"I missed two-weeks of footy and you think it's done" Roughead said.
"I'd seen doctors and asked if I need radiology, do I need chemo? We'd had all the scans and nothing.
"Lucky enough this is all the back half of 2015 so play the Grand Final living life normal. Have a follow-up scan and nothing, so it's two in a row that's good. Get married in January."
SEE ALSO: Why the hard road hasn't hampered Travis Boak
"I have my third follow-up scan and I go in. Walk in and my oncologist goes 'how you feeling'. I said 'yup good, knee's good hopefully back playing in a few weeks'. And he goes ' we're in a bit of trouble'."
That trouble was four-fold. The four-time premiership star was dealt a cruel blow when told his battle was only just beginning when four tumours were located on his lung.
"He (the oncologist) pulls up the scan and says 'you've got four little tumours about the size of your thumbnail on your lung.' We're doing a renovation at home, I'm not to know what's to come of it in terms of how crook I was going to get and stuff," Roughead explained.
"He says ' what do you want to do?' I said 'I'm driving straight to the football club, I've got no idea what I'm going to do.' Because that's the safest place for me bar home."
SEE ALSO: "I get pissed off with people saying that": Mitchell categorically denies Clarkson rift
Former Hawk and close friend Jordan Lewis was the first person Roughead called after receiving the news and asked him to meet him back at the football club.
"I jump on to Punt road and call Jordy (Lewis), he's on the way home from the review and I say 'mate can you turn around and come back?' He's like 'what's the matter?' I said to him 'you just have to come back. Please.' And then I just broke down," he bravely revealed.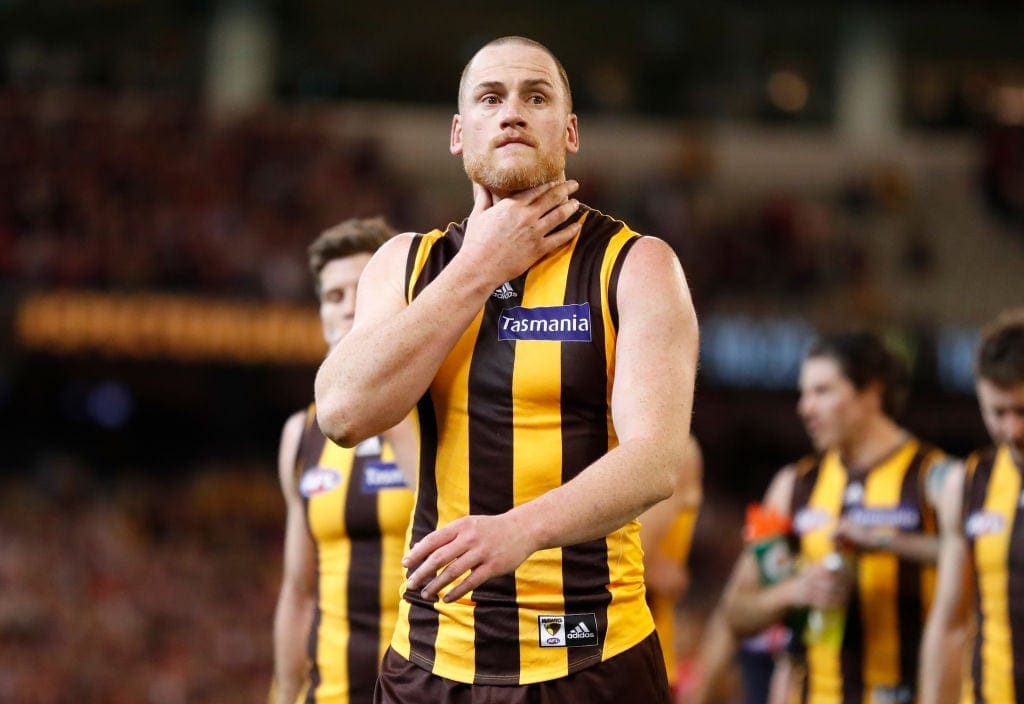 "I remember driving all the way to Waverly and then I saw Clarko (Alistair Clarkson), Jack (Andrew Russell), Fages (Chris Fagan) and I just cried for half an hour because you're just scared. You don't know what's going to happen.
"Then Jords like 'we're going to have to go home now' and Sarah's asking 'where are you, what are you doing.' I can't tell her over text message. Jordan rang Sarah's sister, got my brother around and you walk in sit there and tell her. Tears and what not.
"From there it's now 'what's the plan of attack?' The oncologist said there's a trial going on at the moment, it's not on the PBS but it's doing wonderful things.
SEE ALSO: ANALYSIS: Can speed help the Eagles secure seventh place this year?
"I had a biopsy where they went in and got one (tumour), and then we started treatment."
The hardest part of the journey for Roughead was telling loved-ones and teammates the bad news. He detailed how he felt when telling those close to him and how he got through telling those he shared a locker-room with every week.
"I cried ringing Jord, cried ringing Sarah, rang Mum and Dad, got upset. And then the next day I rocked up for training and the boys ask 'are you training?' I said 'nah I've got some other things going on'."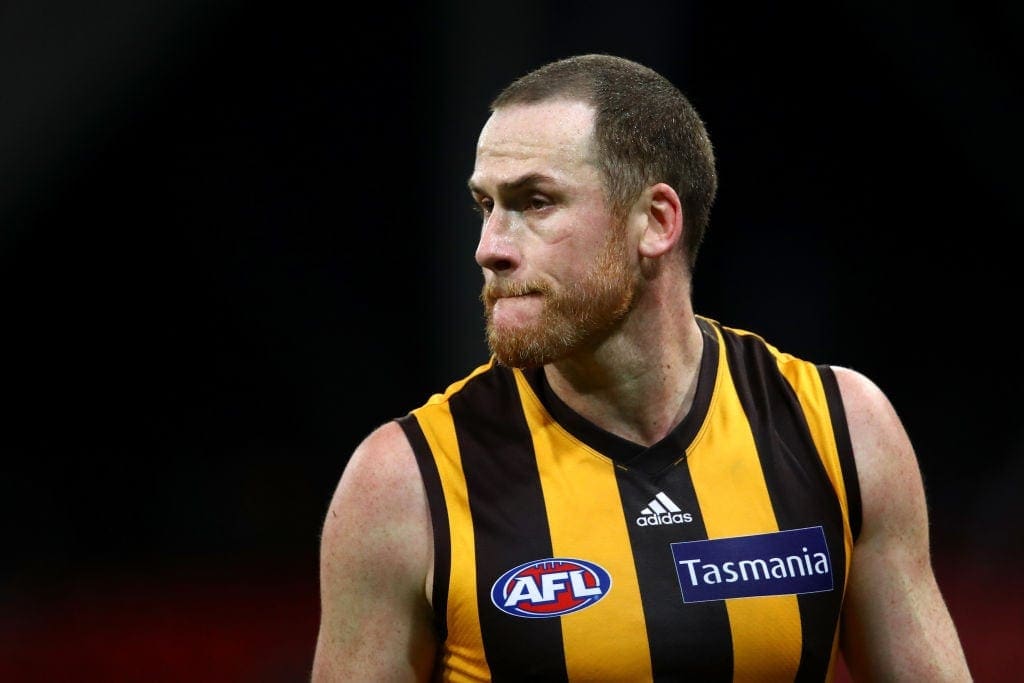 "I had to watch them train and then wait until after training to tell them. I remember walking in with a towel on my shoulder because I knew what was going to happen straight away. Telling them was the hardest thing. They're the times you remember most because that's when you're at your rawest and most open."
Roughead detailed the trial drug he took that helped get him into clear waters and spoke about the gruelling toll it took on his body over that time.
The drug was to be administered four times with a three-week gap in between doses. That gap would be prove vital with side-affects beginning to take hold of the key-forwards body.
SEE ALSO: Footy legends outline issues with new rules
"I guess you're a guinea pig for it as well," Roughead expounded.
"It was me and a guy who was mid-70's who were on this combination drug. I remember the first time I went in, I had it done no worries.
"Second time, the next day I was knocked on my ass. Sweating in bed, no energy, nothing. Up until then I was still training with the boys, that was my outlet really. It got to the stage after the third one -it took three weeks to recover between the second and third one- then the third one, no good again.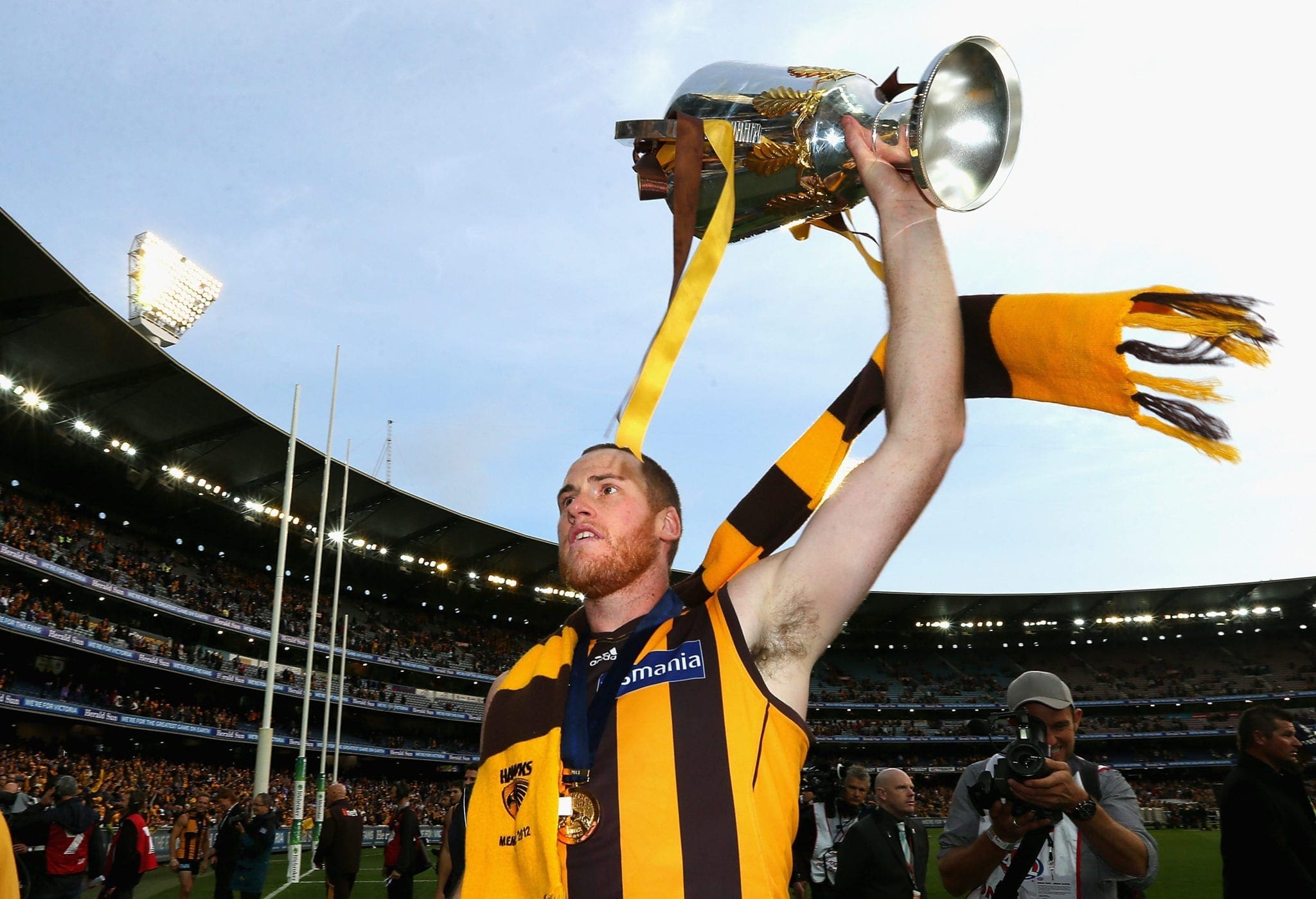 "My body was full of the drug and it basically started turning on other parts of my body. It had four different side-affects. My eyes were inflamed, lungs were inflamed, liver wasn't working and it started to eat the nerves in my feet.
"I said 'look I can deal with the others but if I ever get back to playing footy I kind of need my feet'."
Luckily for Roughead the treatment balanced out and did its job.
"I had to go on a steroid for bit to try and balance me out and then we attacked the side-affects with other drugs. Then they said I was in the clear."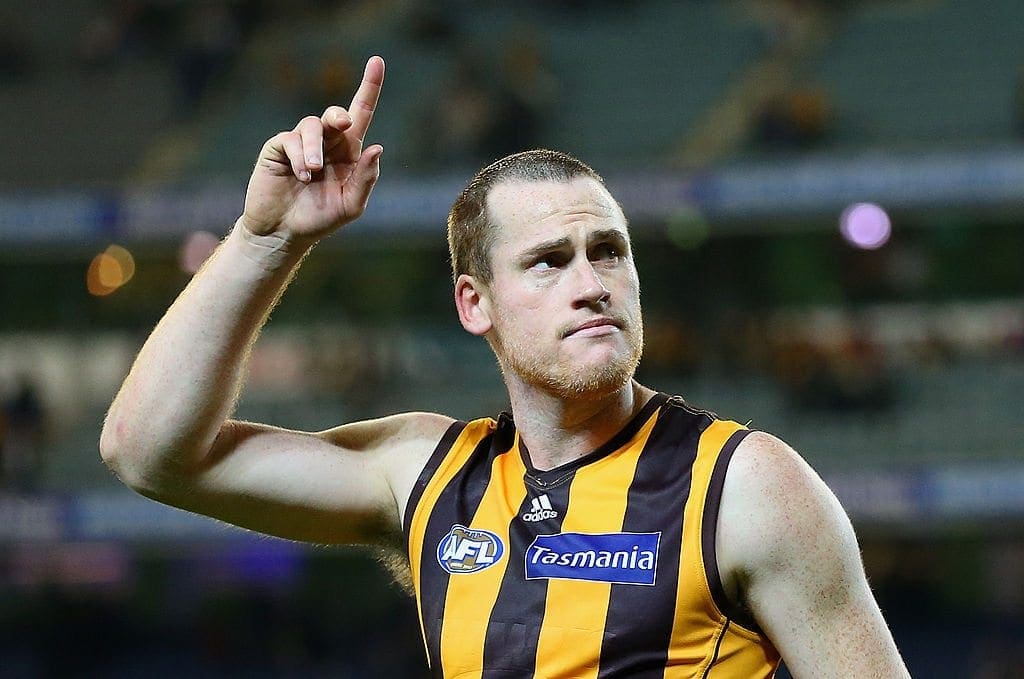 "From December 2016 I've had scans every 3,4,6 months."
Roughead returned to football in a powerful comeback and showed his true character as a person. He became a role model for all on the topic of skin checks and skin health and set a very positive tone in how to deal with such adversity.
He is now an assistant coach at St Kilda and is learning about list management and strategy.