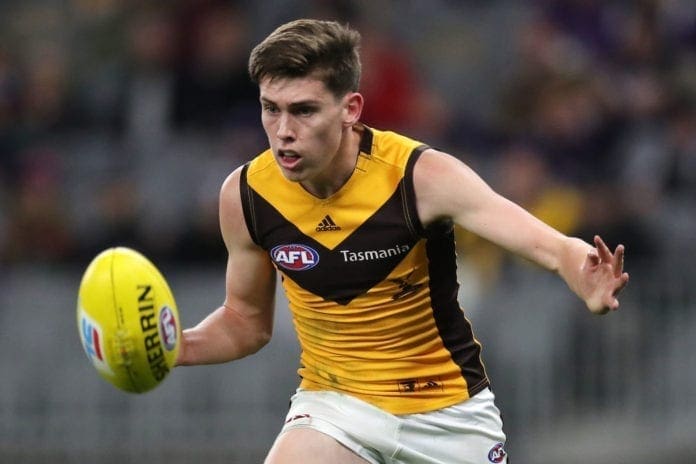 Hawthorn have announced 14 jumper changes for the 2021 season.
Exciting young defender Will Day has swapped to the No.12 jumper, which was made available following James Frawley's departure.
The number is also close to Day, with his grandfather, Rob, wearing the jumper for the club during his 38-game career that included the 1971 premiership.
Speaking to Hawthornfc.com.au, Day said it was a real honour to be able to wear the No.12 jumper for the Hawks.
"It's really special for me and my family," Day said.
"It was (grandpa's) number when he was at the club.
"The guernsey that he wore in the '71 premiership is hanging up at home. I've looked up to it and hope that I can get a premiership for myself wearing the same number now."
"Coming to Hawthorn, being able to wear Grandpa's number became more realistic.
"I'm really happy about it."
New recruit Tom Phillips will pull on the No.16 jumper made vacant by Isaac Smith, while former Crow Kyle Hartigan will wear Paul Puopolo's No.28 guernsey.
Harry Pepper is set to wear the No.33 jumper in the brown and gold, made famous by four-time premiership Hawk Cyril Rioli.
James Cousins has also switched his jumper number and will wear Ben Stratton's old jumper, No.24.
Oliver Hanrahan (13), Damon Greaves (30), Keegan Brooksby (31) and Ned Reeves (37) hav also made jumper changes ahead of next season.
Draftees Denver Grainger-Barras (38), Seamus Mitchell (40), Connor Downie (41), Tyler Brockman (42) and Jack Saunders (43) have also been given their first numbers.