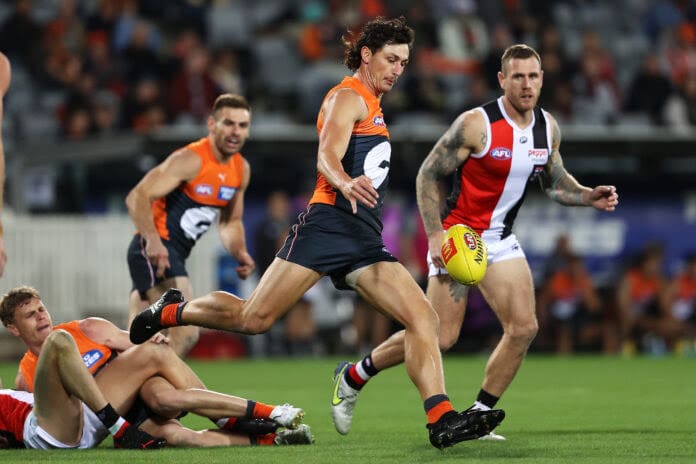 The GWS Giants have strengthened their ties in the nation's capital, inking a new decade-long agreement with the ACT government.
Since entering the league in 2012, the Giants have called Canberra's Manuka Oval home, playing a portion of their home games at the venue each season.
Having put pen to paper to continue on at their home away from home, Adam Kingsley's percussion can now expect to return south for the next 10 seasons, with the agreement set to cease in 2032.
The previous agreement had seen the Giants play at least three AFL games and one AFLW contest in Canberra each season.
The updated deal will also see the competition's youngest club continue its efforts to grow the game in what had historically been a breeding grounding for rugby union and rugby league talent.
That being said, household names such as Alex Jesaulenko, James Hird, Phil Davis, Josh Bruce and Jack Steele all have ties to the territory, with each cutting their footballing teeth in Canberra.
In a brief statement, Giants Chairman Tony Shepard hailed the new deal, claiming the co-location agreement had proven prosperous for the club across its first 11 seasons.
"The GIANTS are the AFL and AFLW team for the people of Canberra and we will continue to be for a long time to come. When the GIANTS first started there were a lot of ACT-based AFL supporters who joined our GIANTS family because they knew we were committed to delivering regular elite content and a significant contribution to the wider community," said Mr. Shepherd.
"We're proud of everything we've achieved together over the first 11 years of our partnership as we've continued to deliver significant growth across every aspect, from the community to the elite level of the men's and women's games.
"With the game in such great health in the ACT and this new long-term agreement with the ACT Government in place, we can't wait to see where the next decade together takes us."
In 2022, GWS' men's outfit turned out in Canberra on four occasions, losing to each of the Saints, Cats, Lions and Dockers in succession.
The Giants will make their mark at Manuka three times next season when they face Brisbane (Round 6), the Western Bulldogs (Round 8) and Gold Coast (Round 19).
Since inception, Sydney's second team has played 30 AFL games at the venue for a 13-win and 17-loss record.