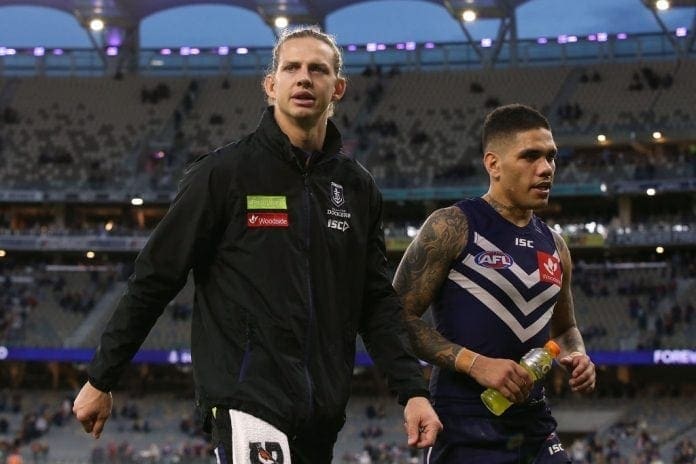 Fremantle's loss to the Western Bulldogs was made all the more difficult by the "carnage" caused by injuries suffered to key stars.
Skipper Nat Fyfe dislocated his shoulder and could face an extended period out if surgery is required. Coach Justin Longmuir said that Fyfe's shoulder had managed to go back into it's socket but he played no further part in the game.
The Dockers have lost Nat Fyfe (shoulder) and Sean Darcy (hamstring) while Brennan Cox has also come from the ground 😬#AFLFreoDogs pic.twitter.com/IJV1UVzobH

— AFL (@AFL) June 6, 2021
Longmuir said the club was unsure yet of the extent of the injury on what the rest of the season looks like for their captain just yet.
"I think it's a positive that it popped back in on the field," Longmuir said.
"He dislocated his shoulder so we will have to get it scanned and see how bad it is."
Defender Brennan Cox suffered a hamstring injury. Up to that point, Cox had done a good job quelling the influence of Aaron Naughton.
Longmuir told media that the injury looked more on the serious side of things.
"Brennan did his hammy, it doesn't look positive at this stage," Longmuir said.
"It looks high grade.
"Potentially (it could be season ending) but we don't need to go there just yet so we will get it scanned and let you know."
Ruckman Sean Darcy suffered a similar fate to Cox. However, his injury appears to be far less serious in what is some slightly positive news.
"(Sean Darcy) looks like a hamstring strain," said the Fremantle coach.
Mitch Crowden hurt his shoulder late in the game with Longmuir saying it looked like a normal AC joint injury.
"It's his AC joint. He is a bit sore but we think it's just a normal AC joint at this stage," Longmuir said.
Griffin Logue was another casualty from what turned out to be a pretty dirty day for the Dockers. He suffered a concussion and will miss the Dockers next game.
The troubles for the Dockers didn't stop there though. They will sweat on the MRO report with defender Nathan Wilson set to come under scrutiny for what appeared to be a low-blow on Cody Weightman.
A costly brainfade from Nathan Wilson, caught holding the ball & then gives away a silly 50m penalty for a below-the-belt hit 🤯

📚BLOG: https://t.co/wcP7zFnj10
📱MATCH CENTRE: https://t.co/OCGeAWiOhc
📺WATCH #AFLFreoDogs: https://t.co/nI4iXOveRJ pic.twitter.com/rWibIImHsE

— Fox Footy (@FOXFOOTY) June 6, 2021
Hits to the groin are treated as seriously as blows to the head under MRO guidelines. Having said that though, Swan Callum Mills got away with a similar incident last week so the Dockers may get lucky here.