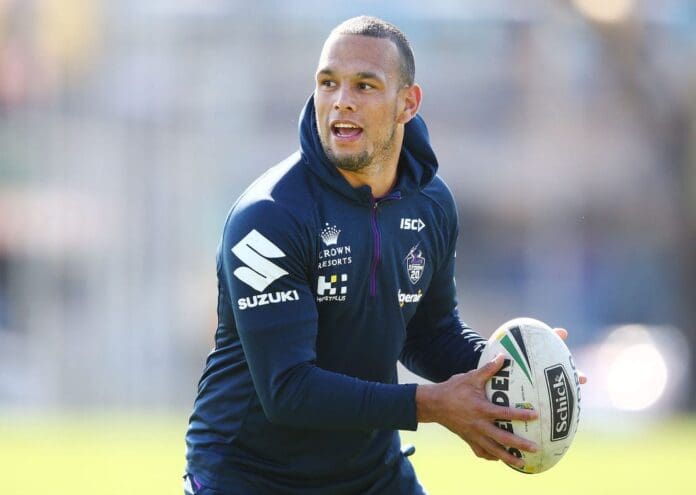 Former NRL star and Australian rugby union representative Will Chambers has made his made yet another code switch, this time chancing his arm at Aussie Rules.
Chambers made his name winning premierships with the Melbourne Storm, making 226 NRL and 13 Origin appearances before wearing Wallaby gold on seven occasions.
And while Chambers last played first-grade league with Cronulla in 2021, the Queenslander still clearly has the competitive itch and the desire to test his versatile skillset.
As first reported by Tyler Lewis of the Port Phillip Leader, the 34-year-old has traded the Steeden for a Sherrin, linking up with Southern Football Netball League powerhouse St Kilda City for the 2023 season.
Though records of Chambers' history with this country's indigenous code remain hazy, the blistering back spent the bulk of his childhood on the Aussie Rules side of the 'Barassi Line', living in the remote Northern Territory town of Nhulunbuy.
Spending 12 seasons living in Melbourne won't have hurt the perennial try-scorer's knowledge base either.
Speaking to Lewis, Saints head coach Richard Houston explained that those at the Peanut Farm were impressed with Chambers' early efforts on the training track.
"he's been off and on, we have had contact with him and we're lucky enough that he has decided to have a bit of a run with us, Houston said.
"He's a very professional person, knows his stuff and is picking up footy really quickly.
"He's quite interesting, he's picked up structures really quick and then has a leadership capacity within him to relay what the coaches have told.
"He's an elite sportsman, he is going to pass on a lot of wisdom, hopefully, he can instil no fear into the players."
Houston also sent a warning out to any of St Kilda City's rivals that thought sidestepping Chambers was the way to go.
"He is going to be a tackling machine, once he gets his running patterns down pat... good luck to the blokes that get in front of him," he professed.
The Peanut Farm has become home to an array of ex-elite athletes of late, with AFL stars Dane Swan and Brendan Fevola pulling on the red, white and black in recent seasons.
Chambers will earn his first opportunity to march in with the Saints on April 15, when he becomes the side attraction at the Luna Park adjacent venue during the club's home opener against local rivals Port Melbourne Colts.