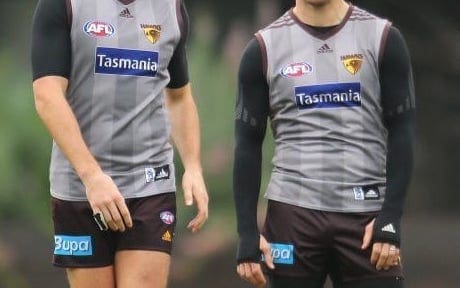 Former Hawthorn player development manager Jason Burt has taken an indefinite leave from his position with Victorian private school Caulfield Grammar in the wake of his involvement in the racist allegations that have rocked the AFL.
Burt, along with former Hawthorn coach Alastair Clarkson and current Brisbane boss Chris Fagan, was named in a report by the ABC on Wednesday that alleged First Nations players at the Hawks had been pressured to live separately from their partners and young families for the betterment of their careers.
Both Clarkson and Fagan have stood aside from their duties with their respective clubs for the foreseeable future, with the former having recently been appointed as North Melbourne's new senior coach.
The pair will look to assist the investigations into the allegations made against a number of former Hawthorn staff members.
With Burt also named as a key figure in the damning allegations, his position as a Head of Coaching and Performance Sport at Caulfield Grammar has also been put on hold.
In a letter written by the school's principal Ashleigh Martin, which was obtained by News Corp, it was confirmed that Burt has taken an indefinite leave from his position with the Melbourne private school.
"Today, Jason Burt advised me of his decision to take an indefinite leave of absence from his role ... a role he has been in for three and a half years," Caulfield Grammar principal Ashleigh Martin wrote in the letter.
"Jason's decision follows an announcement by the AFL (on Wednesday morning) that it will conduct an independent investigation into historical allegations relating to the treatment of First Nations players at the Hawthorn Football Club.
"Jason is a former employee of Hawthorn, and his desire to engage fully in the investigation, therefore requiring leave from our school.
"As you would appreciate, the matters pertaining to the AFL's independent investigation are highly sensitive for all parties involved.
"We are providing Jason with appropriate support while the investigation takes place."
An unnamed former Hawthorn player alleged that Burt had told him his pregnant partner had miscarried after communication with his partner was cut by the club, the ABC's report reads.
Burt served as a member of Hawthorn's football department for 12 years, departing the club in 2019.