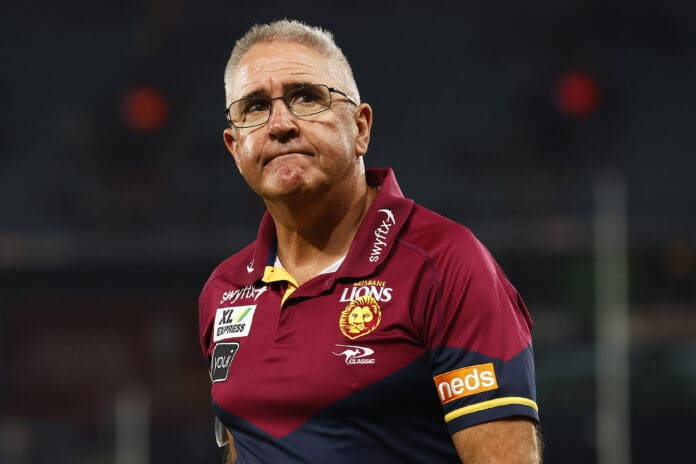 Brisbane Lions coach Chris Fagan has put forth a scathing review of the AFL's handling of Friday night's unforeseen circumstances that saw a blackout at the Gabba.
With approximately 12 minutes plus time-on remaining in the highly-anticipated clash between the Demons and Lions, a major power outage in the Woolloongabba area caused the stadium's light towers to malfunction, resulting in a pitch-black spectacle.
After 38 minutes of confusion and frantic communication, power was restored and play resumed, with Melbourne the more innovative of the two sides after the protracted break in play, almost causing a boilover after trailing by as many as 40 points.
Fagan's side snuck home in the end, however, speaking on the SEN radio waves on Saturday, the Brisbane mentor discussed Friday night's bizarre circumstances, claiming the Demons had an "unfair advantage".
"First of all, what I would say, it was a very unusual circumstance that none of us really knew what to do [in]," Fagan began.
"But my feeling post it was that it (an hour's delay) was way too long. The other thing that happened also was we were told to stay in the rooms, then we found out Melbourne had been on the ground for five or so minutes before we got out there warming up.
"So that was a little bit of an unfair advantage I thought."
Despite his objections, Fagan admitted the Demons were the more determined outfit coming back out of the rooms.
"It was obvious (that Melbourne was better)," Fagan continued.
"I did talk to our players that this is what they're going to do, and get your hands on the ball and slow the game down a little bit.
"I think they just got on a little bit of a roll and it was a little bit hard to stop. Thank goodness we won because we did deserve to win on the night. I thought we did play particularly well until the game stopped.
"I felt like we had them on the ropes to a degree, they were looking pretty tired, it was a really hot night up in Brisbane.
"I think that half-an-hour break re-energised them a little bit. Probably psychologically it was to their advantage, they had nothing to lose."
Fagan also expressed disagreement about the length of the delay, adding that the maximum break in play should be limited to half an hour, instead of the current rule stipulating up to 60 minutes of delay can be had.
"I think the rule is an hour. I think an hour is too long. I think if a game can't be reconvened in 30 minutes … especially in the dying stages, then the game should be finalised and the result stands," Fagan stated.
"Hopefully it doesn't happen very often, but we play football at night under lights, so I suppose it's always a chance."
Ex-skipper Dayne Zorko, who was subbed out of the contest prior to the incident, also offered criticism during an interview on Triple M.
"I think when you've played so much of the game as it is and then you go inside and cool down for an hour ... I think it puts the players in a really dangerous position," he said.
Zorko didn't mince his words about playing out the rest of the game after a lengthy delay on Friday night. pic.twitter.com/HC8glmhbtr

— Triple M Footy (@triplemfooty) March 25, 2023
The AFL's General Manager of Competition Management, Laura Kane, told 3AW that the league is receptive to all assessments of Friday night's situation, and that possible improvements will be discussed by relevant authorities.
"We'll take all the feedback on board to work out if we had something like that happen again, how we could do it differently, better, and what we can learn from it, of course," Kane said.