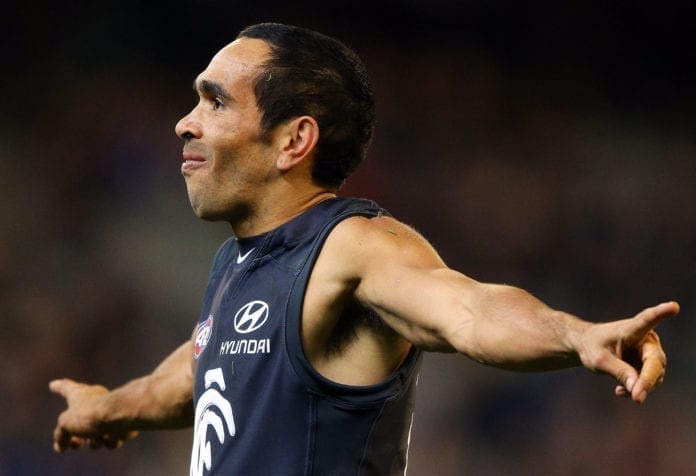 Eddie Betts may be best known for his talent on the football field, but a new small-screen venture is taking his literary efforts to Netflix.
Betts, who played 350 AFL games across his illustrious career, hung up the boots in 2021 after 17 years in the game. Following his retirement, Betts took up a position as a development coach at Geelong, while writing and publishing two children's books alongside his wife Anna.
The two books - titled My Kind and My People - deal with topics of racism in Australia and spreading kindness, and are now set to be released as a cartoon on Netflix and NITV, with Betts on board as a producer.
Betts, who couldn't read or write when he was first drafted to Carlton, said the opportunity to produce the series, titled 'Eddie's Lil' Homies' was "crazy".
"Here I am, just this shy Aboriginal kid from the community that couldn't read or write,' Betts told the Sydney Morning Herald.
We're thrilled to announce Eddie's Lil' Homies: a comedy series inspired by the children's books of AFL legend Eddie Betts, in the very first co-commission between Netflix and @NITV. pic.twitter.com/c9Q5eEE2QM

— Netflix ANZ (@NetflixANZ) February 6, 2023
"I wouldn't have thought I'd have the career I had in AFL football, let alone writing two children's books and have an autobiography out. And now I'm a producer of a cartoon series. It's crazy.
"Everything I do now is not for me, it's for my people. It's to make this country a better place.
"If I can't educate the older generation, I want to start with the younger ones, I want to educate them,' he says. 'That's how we gradually make change."
Betts also released a memoir in 2022, detailing his experiences of racism in Australia both growing up and within the AFL system.