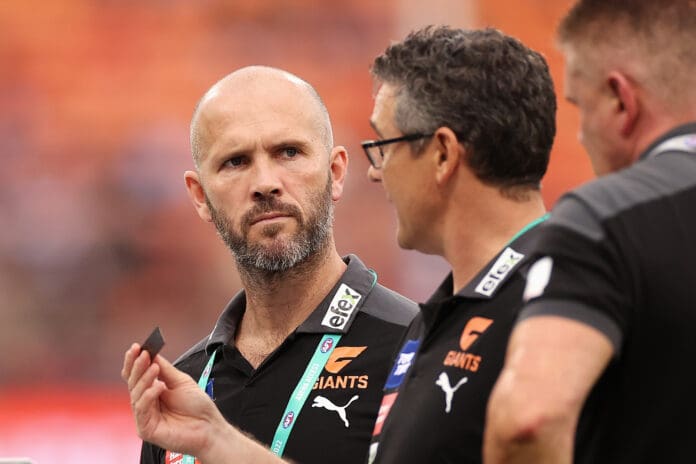 GWS interim coach Mark McVeigh blasted his side in the wake of their cataclysmic 73-point loss to cross-town rivals Sydney on Saturday afternoon.
McVeigh was forced to watch on as his charges in charcoal allowed the Swans to collect 117 more disposals, whilst also completing 24 further tackles during the rout, with the 41-year-old pulling no punches in his post-game press conference.
Still hot under the collar after laying down the law in the SCG changerooms, McVeigh exclaimed that the display had left those tied to the start-up franchise with red faces.
"We embarrassed our club," McVeigh told the press pack.
"It's extremely disappointing. It's very unlike the Giants. These are the games you've got to get up for and our club has prided ourselves on that for a long period of time."
Though saving time to pay praise to the efforts of Toby Greene, Jesse Hogan, Josh Kelly, Adam Kennedy, Harry Perryman, Sam Taylor, Callan Ward and Lachie Whitfield, the former Bomber torched the displays of the remaining 14 names on his magnet board.
"They're far superior to us at the moment, clearly, but there's just an unfortunate part of dealing with whether players have checked out or not," McVeigh continued.
"I'm extremely disappointed with our midfield as a whole today. It's just pure work rate and effort. Wanting to defend, wanting to tackle. The motivation should be how proud you are of you as a player and how proud you are of playing for the Giants."
Despite already raising his hand for the top job on a full-time basis, McVeigh added further fuel to the fire by suggesting that the Giants had a genuine dearth of leaders in their locker room.
After spending time searching for the soul of a side whose existence remains just over a decade old, the caretaker claimed that a handful of surprising names raised their voices in the rooms following the final siren.
"Without going too much into it we got some good honest feedback from our peers and players which is good," McVeigh delineated.
"Some players spoke up that you don't often hear from which is what we need from this club going forward."
While the blunt appraisal is sure to have been welcomed by the Giants' fanbase in the outer, according to a St Kilda great, McVeigh's choice to shoot from the hip could actually act as a bullet in the foot.
Speaking on Fox Footy's variety show 'Best on Ground', former Saints skipper Nick Riewoldt suggested that McVeigh's honesty may be enough to have Giants powerbrokers searching for candidates elsewhere.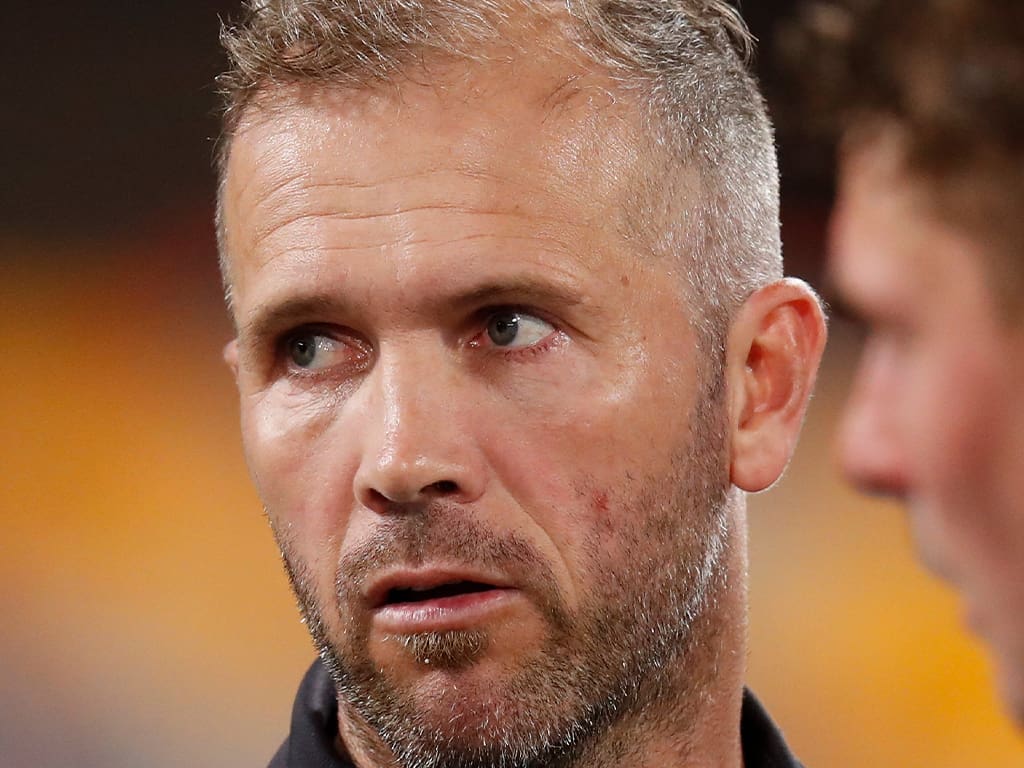 "I think it puts a line through it (his chances for the Giants' job next season)," Riewoldt said.
"If that's the concession that you're making as a coach, that you think some of your players have checked out and you are responsible for getting the players up every week, I think it becomes very difficult for the club to say: 'You're the man going forward'."
Since taking the reins from Leon Cameron ahead of the Giants' Round 10 win over West Coast, McVeigh has gone on to forge a 2-7 record, with the average margin of defeat sitting just south of six goals per week.
McVeigh stated in late June that he was "ready" to take on the head coaching duties should he be asked. However, with powerbrokers at Tom Wills Oval also eyeing the ilk of Adem Yze, Adam Kingsley and four-time premiership steward Alastair Clarkson, the 232-game Bomber is far from the only horse in the race.
GWS are set to complete their home-and-away schedule with successive fixtures against Essendon (H), Western Bulldogs (A) and Fremantle (H).