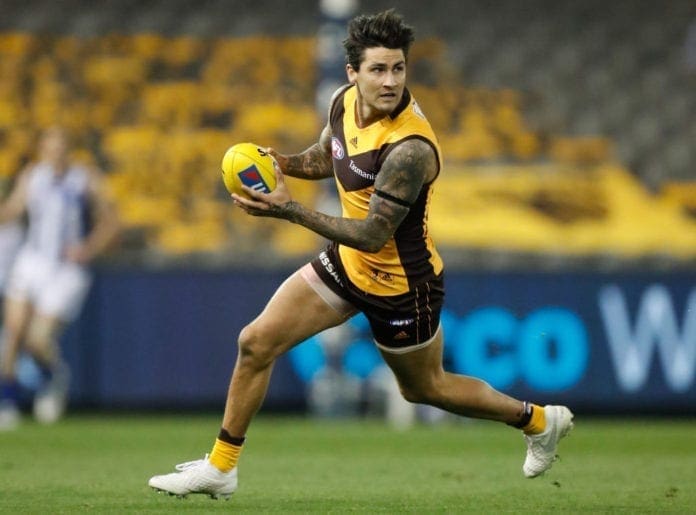 Kane Cornes has slammed Chad Wingard's behaviour during Hawthorn's 67-point loss to Gold Coast on Saturday night, labelling his antics as "embarrassing."
Wingard, who has played eight games for the Hawks this season, had his actions in the third quarter questioned, in which he appeared to accentuate contact from his Suns opponent.
The 28-year-old was not awarded a free kick for the incident with Gold Coast's Charlie Ballard but kicked a goal soon after, subsequently appearing to taunt the young Sun as the ball went back the middle.
Cornes had plenty to say about the incident, which occurred when the Hawks were facing a nearly 50-point deficit in the third term.
"I've gotta say, I didn't like this from Chad Wingard," Cornes said.
"He's involved in a contest in the forward 50 and that's just a blatant play for a free kick. So, if (Match Review Officer) Michael Christian doesn't fine him (for staging)... then the ball comes straight back in and he miraculously bounces to his feet and kicks a great goal, which Chad can do.
"This (taunt) after, you're 40 points down, you're not Luke Parker, we saw that with Dylan Shiel. I just think you need to pull your head in and understand where you are as a club and where you are as a player.
"Yes, highly talented and you could never question his competitiveness but it was an ordinary effort.
"I think that's embarrassing and Sam Mitchell should probably have a word to him."