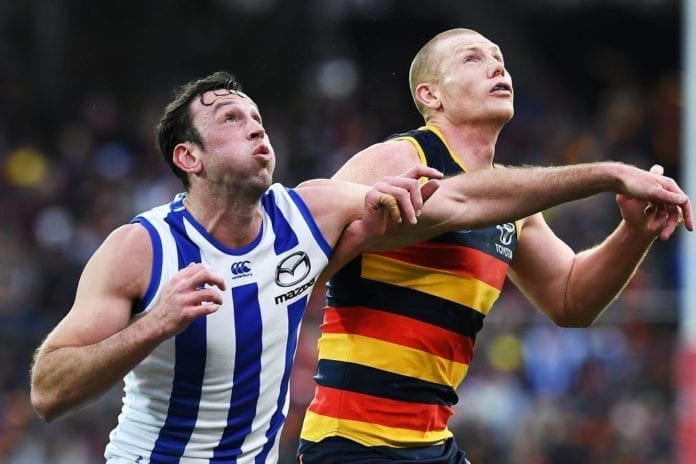 Further calls for the introduction of a mid-season trade period have been made in the wake of a surprising selection call for Round 1.
North Melbourne's decision to name emerging tall Tristan Xerri ahead of veteran ruckman Todd Goldstein has raised eyebrows in the build-up to Saturday's clash against West Coast, with senior coach Alastair Clarkson looking to favour just the sole ruck option to commence his campaign with the Roos.
Goldstein played in all 22 matches for the Kangaroos last year, while Xerri featured in 12 games before shoulder surgery curtailed his campaign by July.
With a new coach and method coming into effect under Clarkson, North Melbourne are set to deploy Xerri as their only recognised ruckman to tackle the Eagles, who are without their own key-position veteran Nic Naitanui due to injury.
But the decision to name Xerri ahead of Goldstein has sparked discussion around the AFL adding a mid-season trade period, with rival clubs potentially seeking the talent of a player like Goldstein later into the season as the premiership race takes shape.
"(The selection call on) Goldstein is the reason why there needs to be a mid-season trade period," AFL player agent and Essendon premiership player Adam Ramanauskas told RSN. 
"If they are not going to play him... there will be a team in the eight or pushing for the eight in the middle of the year that could use Todd Goldstein's services.
Goldstein's former teammate Brent Harvey weighed in on the concept of adding a trade period in the middle of the home and away season, stating in-season player movement will provide greater opportunities to younger players.
While unable to comment on Goldstein's future, Harvey said the 34-year-old would be a fitting target for premiership aspirants.
"Not talking about Goldy here... I totally agree," Harvey said on the idea of a mid-season trade period.
"You could have a player that is a veteran like Goldy or you could have a player that who just isn't getting a game but another club needs him and gives him that opportunity.
"It's about opportunity. It's about giving young kids opportunity to play AFL football."
Harvey, a development coach at North Melbourne, said Clarkson's selection call to choose Xerri over Goldstein could've been made by flipping a coin.
With tall forward Charlie Comben able to pinch-hit in the ruck, Harvey said the Kangaroos will have the cattle to contend against the league's best rucks.
"He's been fine," Harvey said of Goldstein's pre-season.
"I think Clarko's theory is going to be one ruckman, not play the two.
"It is flip a coin between 'Big X' (Xerri), who has been going really well in the pre-season, and obviously your No.1 ruckman for your last 10 years in Todd Goldstein.
"Big Charlie can definitely ruck, you've got Nick Larkey, who's a really big size. But Charlie, who is playing in the forward line I'm tipping (will ruck). He's got a great leap on him and is very agile."
Clarkson detailed his selection thinking to the media on Friday, expressing his delight to see Xerri flourish in recent weeks .
"He's continued to improve his application to his training and ultimately he is the future of our ruck division at the footy club," Clarkson said of Xerri.  
"Goldy's been a great stalwart, but the future in terms of the next 5-10 years is going to be with a newer guy coming in.
"He deserves his opportunity and he's just got the nod ahead of Goldy at this point in time."
North Melbourne will host West Coast at Marvel Stadium on Saturday at 1:45pm (AEDT) to kickstart their 2023 campaign.