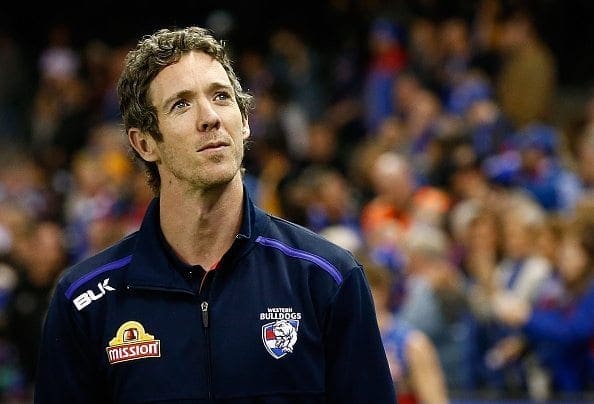 Western Bulldogs great Bob Murphy, has called for lengthy bans for anyone who chooses to punch or inflict deliberate head trauma to an opponent during a game.
Speaking on SEN's Bob and Andy, Murphy has made a claim that four weeks should be the minimum for deliberate head trauma or any non-football related punch that is made.
Recent incidents involving head trauma such as the David Mackay bump on Hunter Clark which saw Mackay escape suspension, and the Zac Williams incident head slamming Ben Keays into the artificial turf, which saw Williams handed a one match suspension, have caused Murphy to speak up on the issue.
"That's not on." Gerard and Robbo were scathing of Zac Williams' 👀

📺 Watch #AFL360 on @kayosports: https://t.co/FfkPiFqrAv pic.twitter.com/Hv68Uz53Fn

— Fox Footy (@FOXFOOTY) June 28, 2021
"For all the analysis, conversation and time we as a 'football world' put into an incident like David Mackay and the protection of the head … whether it's three weeks … all of that sort of stuff," said Murphy.
"The football incidents and non-football incidents, we need to clear this up."
"If today we said, 'Any punch, any deliberate punch – whether it's in the stomach or the head, any punch – four weeks'. Month."
Murphy wants violence stamped out of the game, and wants the AFL to set a good precedent so that violent incidents don't continue to happen in the future.
"It's not about how the players who are playing right now deal with it, what's the game we are getting in three or four years?," Murphy said.
"You can eradicate it. Four weeks – bang – gone. Any kind of deliberate punch where you've made the decision to punch."
"I would add, any deliberate head trauma – month. Anything in the head – a month."
Geelong defender, Tom Stewart, escaped with only a fine for shoving Brisbane forward Charlie Cameron's head into the ground on Thursday night in what was a similar act to the Williams incident, which saw Williams suspended for one week.