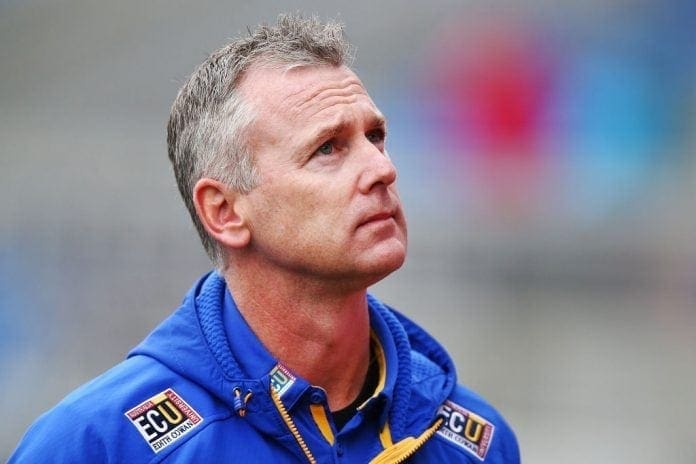 Luke Beveridge has admitted that he "feels" for Adam Simpson as West Coast continue to struggle on field.
In his post-match press conference on Saturday night, fresh off the 101-point win over the Eagles, the Bulldogs coach sympathised with Simpson and the club.
"Simmo and I really bonded and he's a confidante, I consider him a friend. He's a man of great character and he's achieved a lot at this football club," Beveridge said.
"We worked together and shared some success at the Hawks, and I just feel for him and the club at the moment. It's a matter of keeping his chin up and he'd do that naturally.
"The one thing about Simmo is he talks about unity but he acts it out. He unifies people and he's a great leader. I'm sure the Eagles will be fine and Adam will be instrumental in leading them out of the current challenges they have."
The two coaches, who worked together as assistants at Hawthorn, were seen chatting together after the siren.
As the Eagles slump to 18th on the ladder with just one win after 11 rounds, Beveridge admitted that while it wasn't internally discussed at the Bulldogs, the team was aware that they could be in for a percentage boosting win.
"When the Eagles recently have been losing by on average 70 points, you know that other teams have probably had an opportunity and taken it," Beveridge said.
"We didn't talk about it, but it was in the background, there's no doubt.
"There's a competitor in us all that doesn't show the opposition any mercy when you've got an opportunity to have a big win.
"But ultimately after the event you can't help but feel for what the Eagles are going through, because they've obviously had a lot of injuries, but then the COVID situation and what's transpired has really knocked the club around."
With the 101-point victory on the board, the Bulldogs now find themselves inside the eight as the halfway mark of the season approaches.
The Eagles however, find themselves stuck in last position with a percentage of just 49.7%, having not lost a game by under 50 points since their Round 4 win over Collingwood.