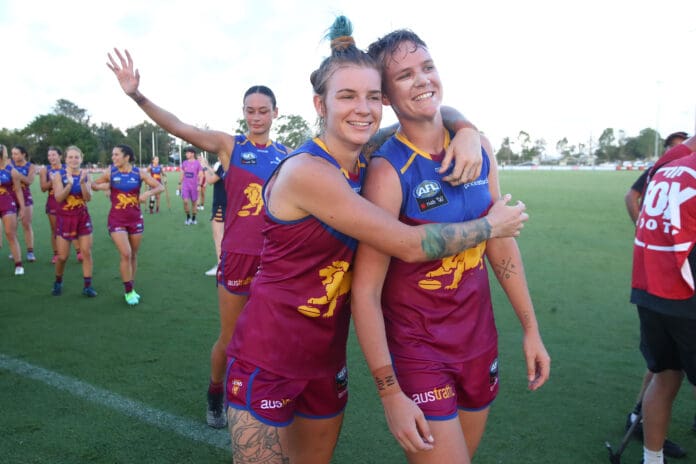 Brisbane defender Phoebe Monahan is outlining her team's mantra for the 2022 season. It is a response to the resilience and flexibility demanded of all clubs in this AFL Health and Safety protocol-riddled season that has seen matches postponed, rescheduled and moved in venue.
However, she could be speaking of her own football journey in the past five years.
Geelong-born Monahan was drafted to GWS in the 2017 state-based draft and played for two seasons as a midfielder before journeying back south as a free agent to join the inaugural Richmond list for the 2020 season.
At first, the move seemed the making of Monahan as a footballer. Moving to the backline, the 28-year old's sound judgment and poise under pressure made her a rock upon whom the fledging Tigers could depend. Monahan finished second in the Tigers' best & fairest count behind Monique Conti and was named in the team's leadership group for its second season.
Considering all this, Richmond fans were puzzled as the general of their defence fell out of favour under new coach Ryan Ferguson. Their confusion turned to shock when Monahan was delisted by the club at the end of the 2021 season.
It wasn't just the decision to not extend her contract that left her with barely "a sliver of confidence" in herself as a footballer. Monahan, who last year bought her first house in Melbourne and completed seven years of service with the Australian Defence Force, was left in limbo about where her life – footballing or otherwise – would, could and should take her next. 
"Things change," says Monahan, speaking philosophically in southwest Brisbane. "I'm so happy and grateful that they did. I've been so much happier in Brisbane and I'm enjoying my footy again."
Monahan says that packing up for Queensland was weighed up with similar introspection.
"It was a big decision to move interstate to come to the Lions with the position I was in with work and my house but I didn't want to live thinking, 'What if?'," she added.
Monahan travelled to the sunshine state after being signed as a delisted free agent in June. No living with stalwart Lions defender Kate Lutkins and her partner, working with freight forwarding service XL Express and – above all – has rekindled that love for playing and striving as part of a team.
"They've made the move up here a lot less stressful," Monahan says of Lutkins and her partner, the former of whom is a Corporal in the ADF and had met Monahan in Army football back in 2016.
When Brisbane held its jumper presentation for its recruits in December, it was Lutkins who presented the new Lion with her maroon, blue and gold guernsey.
"Being around Lutsy, she was showing me the ropes up here in my first few weeks and it feels like home already," Monahan said.
Upon her signing, Brisbane Head of Women's Football Bree Brock lauded Monahan's work ethic and football smarts (and anticipated that she would be an ideal replacement for the retired club favourite Emma Zielke to boot), but Monahan admits that she knew the Lions' backline would not hold a walk-up seat open for her.
"I knew coming up to a premiership team would be a lot of hard work and commitment to earn a spot," says Monahan of the defensive unit whose praises were sung far and wide in the Lions' maiden premiership win over Adelaide last April. 
"They've been so great to welcome me in and the communication and composure that they have out on the field make it very easy to slot in. It can be a high-pressure position to play sometimes but they make it fun."
And so, Monahan has stuck the landing of relocating, adjusting her work, uprooting her social life and redefining herself as a footballer. Again. By now, the journeywoman of the AFLW is battle-hardened, being the first player in the competition's six-year history to play for clubs across three different states.
So when the conversation turns to the issue of AFLW's transition from part-time to full-time contracts for its players, coaches and staff, Monahan speaks forthrightly and with no small amount of experience about the pressures that players are facing and the centre between football and work that, to hear players speak about it, is edging ever closer to falling apart.
Carlton captain Kerryn Harrington recently spoke on SEN of part-time players making full-time commitments and feeling "squeezed to the absolute max". Young Bulldog Nell Morris-Dalton took to Instagram to describe, with a passion that bordered on fury, the way in which COVID-19 protocols have compounded the chasmic inequalities between men's and women's programs.
"I think if the league did make it full time it would definitely help out a lot of players who are getting caught in challenging situations with their workplaces," says Monahan. 
Since 2017, the base wage for AFLW players has grown from $8,500 to just over $20,000 a season (two players per list receive just north of $37,000 for the season). The problems of a part-time competition aren't restricted to the bank balance: issues such as full-scale home and away season fixturing, broadcast deals and season timing have also been fought, sometimes more than once and with battles still to come. COVID-19 protocols have shown just how brittle the balance of two careers is for so many players.
The truism that full-time footballers produce full-time football, or that semi-professionalism is just another word for a ceiling placed on potential, is one that registers with Monahan.
"It's definitely something that's going to need to happen going forward because of the number of hours that we put in even outside the scheduled hours for footy," Monahan said.
"You're trying to do your recovery and your food prep and there are all these little things that you can't quite always tick off as easily when you've got to balance a full-time career as well."
Brisbane will play Collingwood at Maroochydore Oval for Saturday's Round 5 clash, with Monahan having been a staple in all three of the Lions opening games of the season.