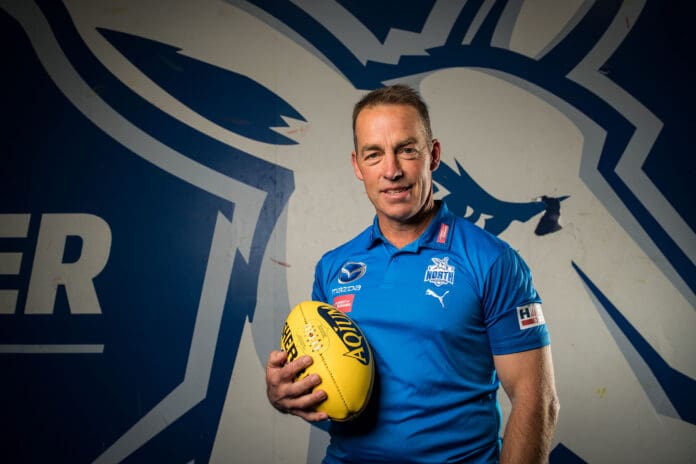 North Melbourne senior coach Alastair Clarkson has released a statement apologising for comments made towards a Channel 9 reporter earlier in the month in the aftermath of allegations made against Tarryn Thomas.
Reporters had gathered at Arden Street to seek comment on the Thomas news when Clarkson approached reporter Elisabeth Moss and told her, "your time will come", per SEN.
In a story published by the Herald Sun about Thomas, it was reported that the Roo allegedly used similar comments in a series of threatening messages sent to women. The club was informed of these allegations by the AFL's integrity unit.
Moss reported the incident to Channel 9, with Clarkson apologising in person for the comment.
In a statement provided to SEN, Clarkson said he was remorseful for what happened, acknowledging that he didn't realise the impact his comment could make.
"I was involved in an incident with a Channel Nine News reporter on the day the news broke about the allegations against Tarryn Thomas.
"There was a significant media pack at the club that day who were actively targeting players, staff and coaches throughout the session and my reaction was to protect our players and staff.
"To my great regret, I overreacted to the Nine News reporter and made one comment to her along the lines of 'your time will come'. That comment was in reference to facing intense scrutiny when you're in the public eye and how challenging that can be.
"When I was made aware of the impact of my comment, I sought to apologise immediately to the reporter not realising how my words could have been perceived. I also opted to make that apology in person rather than by phone, in the presence of the reporter and two of her senior colleagues at Channel Nine headquarters later that day. The journalist accepted my apology and we agreed to move forward."
Clarkson's first season as senior coach of the Kangaroos will get underway on Saturday, March 18 against West Coast.
The four-time premiership coach remains under investigation over allegations of racism and mistreatment towards First Nations players during his time at Hawthorn.