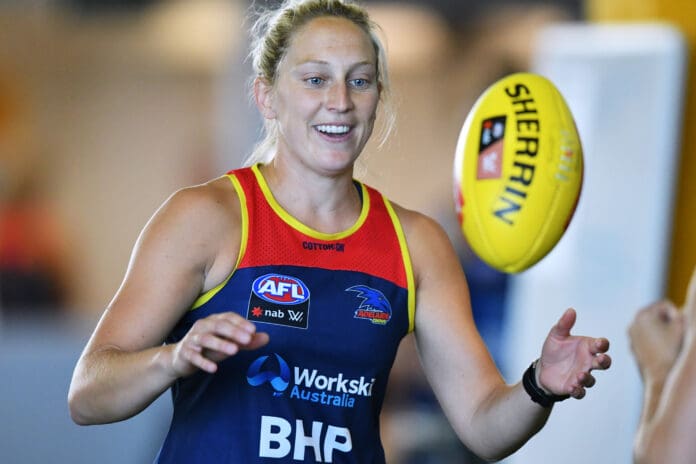 Adelaide defender Marijana Rajcic has detailed the extremes AFLW players are facing to keep the season ticking along.
Despite being only a week old, the AFLW season has already been impacted by the virus with the Western Bulldogs' clash with Geelong in doubt, with a number of the Dogs' playing group and support staff entering AFL Health and Safety protocols.
With AFLW players yet to make the leap to full-time athletes, they are currently juggling work and family commitments as well as trying to avoid catching the virus or being a close contact.
The Crows are seen as a genuine premiership contender again in 2022 and Rajcic is desperate to avoid missing out on Adelaide's run to yet another premiership. Especially after last year's heartbreaking defeat to Brisbane in the Grand Final.
Speaking to Womens.AFL, Rajcic spoke about the desperate measures that she is taking to avoid being caught up in any Covid related absences.
"I want to play football as much as I can, and I want to be up for selection every week, so at the moment, I'm not even seeing my family. I've told them I can't come to weekly family dinners because the risk is too high," Rajcic said.
"My brother is working in a hospital; you don't know where it can happen, and the transmission and cases are rising.
"Yes, it's inevitable, I think at some stage it's going to affect us, but personally, I'm trying to do everything I can so I'm available and willing to play.
"We're not doing it for the money, we're doing it because we love the game, we want to see it grow and we want to leave a legacy for future generations and for the girls out there, and say 'guess what, you might be getting paid a million in 10, 15 years' time'.
"We're obviously not going to reap that benefit, but hopefully we can set that footpath and journey for them."
Melbourne defender Libby Birch recently wrote in The Age about the need for AFLW players to be full-time in order to help grow the league but also reward the players.
"AFLW players are asked to make more sacrifices," Birch wrote.
"Most players have full-time jobs outside of football, so being protected in a hub is not an option, and we are more likely to be exposed to COVID-19. Our home, work and study schedules are impacted when the playing season dates change as they have for the current season – the start of the season was pushed back a month to allow for vaccination rollouts."
Birch went on to say that players have had to take extreme measures to ensure that they are able to complete the season, feeling a level of responsibility to both their club and the league.
"To reduce this risk, many players are taking matters into their own hands," Birch detailed.
"Creating their own social bubbles, organising regular rapid antigen testing for family and friends, limiting social outings to outdoor venues, click and collecting groceries and reducing hours spent indoors at their workplaces."