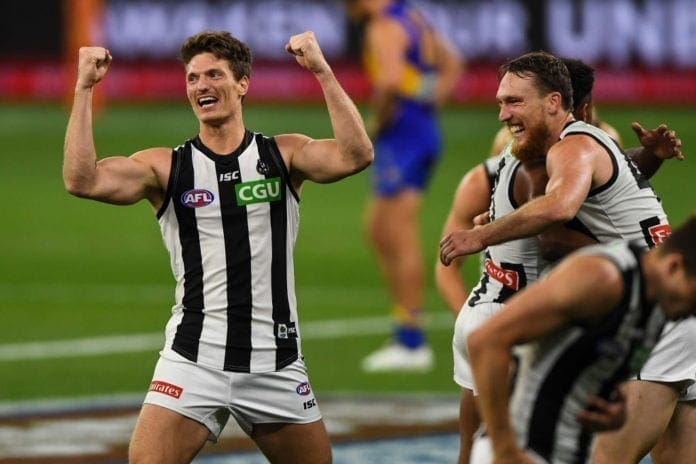 Former West Coast Eagles player Glen Jakovich expects Collingwood to maintain its spot in the finals.
Going 10-10 in the 2020 season to finish eighth but ranking third in defence, Collingwood are sure to be stout again down back in 2021.
However, Jakovich explained on Sportsday WA that the Pies need that extra boost up forward if they want to see a premiership in the near future.
"What fascinates me with Collingwood is for a side that has got a lot of stars, and obviously some have left now, defensively they were third in the competition so they were very strong down back," Jakovich said.
"But offensively, they were 13th.
"Jamie Elliott needs a full season, he needs to stay fit. Jordan De Goey, apparently those two are tearing up the track and looking a million dollars.
"Josh Daicos comes into that mix, he's going to be a star player. Mason Cox and Brody Mihocek – how much can you get out of that combination?
"They're bits players, they're not your Tom Lynch or Josh Kennedy. You admire the way they go about it but they're not a duo that's going to win you a premiership.
"That really concerns me."
The concerns Glen Jakovich has for Collingwood | https://t.co/ivSa6SrUoE | #AFL pic.twitter.com/Nx5f9WYtcW

— SEN 1116 (@1116sen) January 18, 2021
During last year's trade period Collingwood traded key trio Adam Treloar, Jaidyn Stephenson and To Phillips to clear salary cap pressure.
Jakovich believes there are question marks on the club's "mental state" as a whole following the trade exodus.
"What's their mental state after what's happened with the fallout with the players being dumped out of the football club?" he added.
"It was turmoil.
"I think they're starting to miss an opportunity. They built this list and getting rid of Treloar and Stephenson, they're big players. They've had to dump some of their salary somewhere else."
Jakovich, however, believes the club knows "internally" what they are doing to land a place in the top eight but his main concern stems with Jordan De Goey and the club's forward line.
"It's a very fascinating scenario where the Collingwood Football Club find themselves.
"They know internally what they're doing.
"I'll back them to play finals football again but I've got them finishing in the bottom part of the eight because their scoring concerns me.
"They win the ball off half-back, they play slowly to get it out wide to the wings and then they go fast. But their forward line, to me, is not productive.
"I think you can play their forward quite well (as an opposition defence) and you can defend very well against them."
"Jordan De Goey, you'll find he's going to be in the midfield the majority of the time when the chips are down and they need some energy,"
"He can win his own ball and he can break packs open, but who is he going to kick it to? He can't kick it to himself."
Collingwood play the Western Bulldogs in Round 1 of the 2021 season at the MCG.