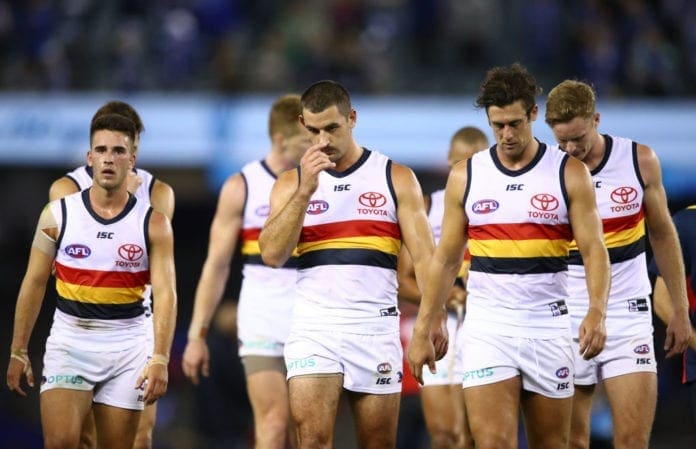 Former St Kilda captain Nick Riewoldt expressed his concerns as Adelaide's performance has reached a new low.
Troublesome signs have become apparent as the Crows' form is far from what Riewoldt expected to see, especially from a side that appeared in the Grand Final only two years ago.
The Crows' most recent loss to North Melbourne sees them 1-3 as they enter round five of the AFL season. Signs looked promising during pre-season, with Adelaide looking strong after winning both games in the JLT Community Series. Riewoldt describes Adelaide's downfall as worrying.
"The turnaround for the Adelaide Crows, the fall from grace has been extraordinary," he told SEN Breakfast.
"People look to the scars of the Grand Final, the pre-season, the tumultuous camp and losing Lever and the fall-out amongst the playing group.
"But they just look like shells of themselves.
"They're all at sea in terms of their connection."
Of all his apprehensions, Riewoldt particularly highlighted the concerns he has with Adelaide's forward line.
"I'm looking mainly at the forward half, the midfield forward half," he said.
"It doesn't look like they have a plan B, that's what it looks like.
"Either they don't have one, or they're not capable of adjusting to a different style.
"They don't have a forward that's prepared to crash a contest, to crash a pack and bring the ground-level players into it."
Adelaide will host the Gold Coast Suns this Sunday and whilst the Crows have won the past 11 games against them, there is much more on the line this time around.