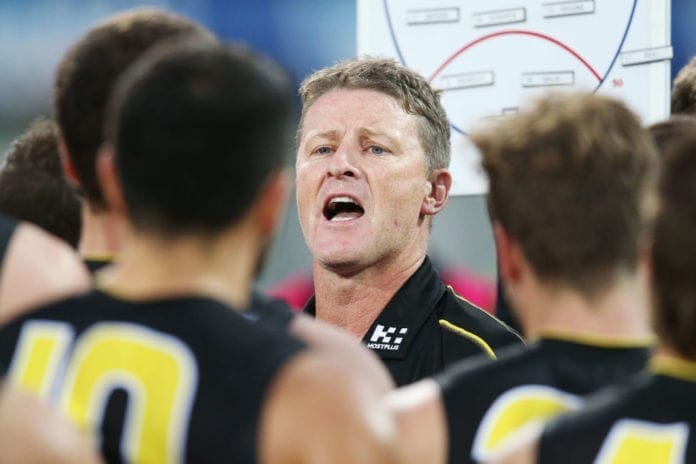 The Age journalist Caroline Wilson has opened up on Richmond coach Damien Hardwick over his relationship with a club staff member following the split with his wife, Danielle.
The news came after a tumultuous year for the Tigers in their Queensland quarantine hub, with multiple incidents putting the club under harsh scrutiny.
The three-time premiership coach announced the separation with his wife, affectionately dubbed "Mrs Hardwick", in December of last year - in the middle of his hiatus from the club.
Speaking on ABC program Offsiders, Wilson could not grasp how the playing group could take their coach seriously, especially after the support that Danielle Hardwick showed for the team.
"Quite simply on an active football sense this is a man who created a personal brand out of his partner, Mrs Hardwick.
"She became his moral compass, and I just reckon a lot of people at the club feel duped, the public feel duped, the supporters feel duped."
His new partner, Alexandra Crow, a member of the Tigers' sales team who is in her 30s, reportedly joined the team in their Queensland quarantine hub towards the end of last season, according to the Herald Sun.
Wilson also cited similar circumstances where those involved did not get off as easily as Hardwick has.
"...we did see two AFL executives lose their jobs (in 2017) over a similar (incident)…
"Don't tell me it's different, because it's not."
Adding to this, Wilson was dumbfounded as to how Hardwick could maintain his authority over the players, and how they could possibly take him seriously following the scandal.
"...if Trent Cotchin is suspended for three weeks in May or another player hides something and it comes out later, I think it's going to be difficult for Damien Hardwick to tell these boys that they've let down the team."
The Tigers have their first pre-season match on March 5 against the Magpies at Marvel Stadium, with many interested to see if the events of the off-season will have taken a toll on the Richmond playing group.