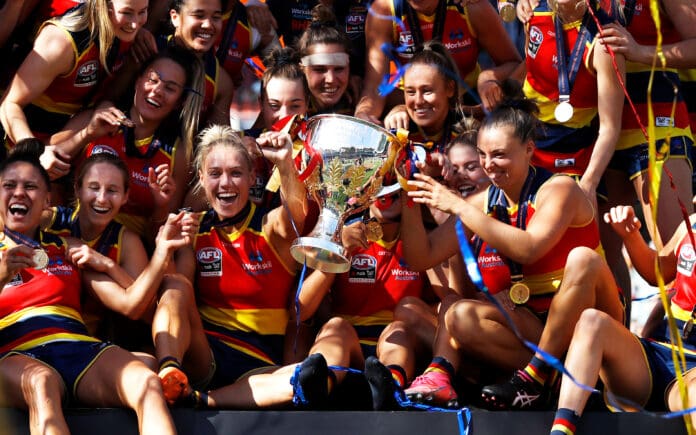 The AFL have confirmed the full 2022 fixture for the seventh season of the AFLW, with 10 rounds set to see out the season.
Round 1 will open with Carlton welcoming Collingwood to Ikon Park on Thursday, August 25, a clash that will be reminiscent of the AFLW's historic opener in 2017.
Adelaide will welcome fellow season six grand finalists Melbourne back to South Australian for a replay of the recent season-decider the following night.
Expansion side Port Adelaide will travel to Optus Stadium to face West Coast for their first-ever match, while Sydney will host St Kilda at North Sydney Oval, with both games to be played on the Saturday afternoon.
Victorian newcomers Essendon and Hawthorn will clash in a historic opening match for the two clubs in what is sure to be an exciting rivalry for the years to come.
The Kangaroos will host the Suns on the Saturday, while the Bulldogs and Giants, Lions and Dockers, and Cats and Tigers will clash on the Sunday in respective fixtures.
Indigenous Round will take place across the third and fourth weeks of the season, with all 18 clubs to host a match across this period, while Pride Round will take place in Round 8.
The AFLW fixture will also see all matches broadcast live on the Seven Network, FOX FOOTY, Kayo, and streamed live via the Official AFL app and womens.afl and the Official AFLW App.
FULL 2022 SEASON SEVEN AFLW FIXTURE
Round one
Thursday, August 25
Carlton v Collingwood, IKON Park, 7.10pm AEST
Friday, August 26
Adelaide v Melbourne, Norwood Oval, 7.00pm ACST
Saturday, August 27
North Melbourne v Gold Coast, Blundstone Arena, 1.10pm AEST
West Coast v Port Adelaide, Mineral Resources Park, 1.10pm AWST
Sydney v St Kilda, North Sydney Oval, 5.10pm AEST
Essendon v Hawthorn, ETU Stadium, 7.10pm AEST
Sunday, August 28
Western Bulldogs v Greater Western Sydney, IKON Park, 12.10pm AEST
Brisbane v Fremantle, Gabba, 2.10pm AEST
Geelong v Richmond, GMHBA Stadium, 4.10pm AEST
Round two
Friday, September 2    
Melbourne v North Melbourne, ETU Stadium, 5.10pm AEST
Saturday, September 3    
Richmond v Adelaide, Swinburne Centre Punt Road Oval, TBC
Port Adelaide v Western Bulldogs, Alberton Oval, TBC
Fremantle v Geelong, Fremantle Oval, TBC
Sunday, September 4    
Essendon v Carlton, ETU Stadium, 11.10am AEST
Collingwood v Sydney, Victoria Park, 1.10pm AEST
Greater Western Sydney v Brisbane, Manuka Oval, 3.10pm AEST
Hawthorn v St Kilda, Box Hill City Oval, 4.10pm AEST
Gold Coast v West Coast, Metricon Stadium, 5.10pm AEST
Round three
Friday, September 9   
Western Bulldogs v Fremantle, IKON Park, 5.10pm AEST
Saturday, September 10
Brisbane v Gold Coast, Gabba, TBC
Adelaide v North Melbourne, Wigan Oval, TBC
Geelong v Collingwood, GMHBA Stadium, TBC
Sydney v Greater Western Sydney, SCG, TBC
Sunday, September 11
Carlton v Port Adelaide, IKON Park, 12.10pm AEST
St Kilda v Melbourne, RSEA Park, 2.10pm AEST
Richmond v Hawthorn, Swinburne Centre Punt Road Oval, 4.10pm AEST
West Coast v Essendon, Mineral Resources Park, 4.10pm AWST
Round four
Friday, September 16    
North Melbourne v Geelong, University of Tasmania Stadium, 5.10pm AEST
Saturday, September 17
Gold Coast v St Kilda, Great Barrier Reef Arena, TBC
Port Adelaide v Sydney, Alberton Oval, TBC
Greater Western Sydney v West Coast, GIANTS Stadium, TBC
Fremantle v Carlton, Fremantle Oval, TBC
Hawthorn v Western Bulldogs, Box Hill City Oval, TBC
Sunday, September 18   
Collingwood v Adelaide, Victoria Park, 12.10pm AEST
Essendon v Richmond, ETU Stadium, 2.10pm AEST
Melbourne v Brisbane, Casey Fields, 4.10pm AEST
Round five
Thursday, September 22
Geelong v St Kilda, GMHBA Stadium, 7.00pm AEST
West Coast v Fremantle, Optus Stadium, 7.00pm AWST
Friday, September 23    
Western Bulldogs v North Melbourne, Swinburne Centre Punt Road Oval, 12.40pm AEST
Collingwood v Essendon, AIA Centre, 3.10pm AEST
Sydney v Hawthorn, Swinburne Centre Punt Road Oval, 5.10pm AEST
Carlton v Melbourne, IKON Park, 7:30pm AEST
Saturday, September 24
Richmond v Brisbane, Swinburne Centre Punt Road Oval, 11.10am AEST
Sunday, September 25    
Gold Coast v Port Adelaide, Kombumerri Park, 1.10pm AEST
Adelaide v Greater Western Sydney, Wigan Oval, 2.40pm ACST
Round six
Friday, September 30    
Hawthorn v West Coast, SkyBus Stadium, 6.10pm AEST
Port Adelaide v Adelaide, Adelaide Oval, 7.30pm ACST
Saturday, October 1
Greater Western Sydney v Carlton, Henson Park, 12.10pm AEST
Western Bulldogs v Geelong, Mars Stadium, 2.10pm AEST
St Kilda v Collingwood, RSEA Park, 4.10pm AEST
Richmond v Gold Coast, Swinburne Centre Punt Road Oval, 6.10pm AEST
Sunday, October 2    
Brisbane v Essendon, Moreton Bay Central Sports Complex, 12.10pm AEST
Fremantle v Melbourne, Fremantle Oval, 12.10pm AWST
North Melbourne v Sydney, Arden Street, 5.10pm AEDT
Round seven
Friday, October 7    
St Kilda v Carlton, RSEA Park, 6.10pm AEDT
West Coast v Richmond, Mineral Resources Park, 5:10pm AWST
Saturday, October 8    
Sydney v Gold Coast, Henson Park, 1.10pm AEDT
Adelaide v Fremantle, Wigan Oval, 2:40pm ACDT
North Melbourne v Brisbane, Arden Street, 5.10pm AEDT
Hawthorn v Port Adelaide, SkyBus Stadium, 7.10pm AEDT
Sunday, October 9    
Essendon v Geelong, Reid Oval, 1.10pm AEDT
Melbourne v Western Bulldogs, Casey Fields, 3.10pm AEDT
Collingwood v Greater Western Sydney, Victoria Park, 5.10pm AEDT
Round eight
Friday, October 14
Carlton v Richmond, IKON Park, 6.30pm AEDT
Brisbane v Adelaide, Metricon Stadium, 7.30pm AEST
Saturday, October 15 
Port Adelaide v North Melbourne, Alberton Oval, 12.40pm ACDT
Essendon v Sydney, IKON Park, 3.10pm AEDT
Geelong v West Coast, IKON Park, 5.40pm AEDT
Gold Coast v Melbourne, Metricon Stadium, 6.40pm AEST
            
Sunday, October 16    
Western Bulldogs v St Kilda, Mars Stadium, 1.10pm AEDT
Greater Western Sydney v Hawthorn, Henson Park, 3.10pm AEDT
Fremantle v Collingwood, Fremantle Oval, 2.10pm AWST
Round nine
Friday, October 21       
Adelaide v Geelong, Norwood Oval, 6.00pm ACDT
Gold Coast v Carlton, Metricon Stadium, 7.30pm AEST
Saturday, October 22   
Collingwood v North Melbourne, Victoria Park, 1.10pm AEDT
Sydney v Fremantle, Henson Park, 3.10pm AEDT
West Coast v Western Bulldogs, Mineral Resources Park, 2.10pm AWST
Hawthorn v Brisbane, SkyBus Stadium, 7.10pm AEDT
Sunday, October 23  
St Kilda v Port Adelaide, RSEA Park, 1.10pm AEDT
Richmond v Greater Western Sydney, Mildura Sporting Precinct, 3.10pm AEDT
Melbourne v Essendon, Casey Fields, 5.10pm AEDT
Round 10
Friday, October 28    
Brisbane v Collingwood, Metricon Stadium, TBC
Carlton v Western Bulldogs, IKON Park, TBC
Fremantle v Hawthorn, Fremantle Oval, TBC
Geelong v Sydney, GMHBA Stadium, TBC
Greater Western Sydney v Gold Coast, Henson Park, TBC
Melbourne v West Coast, Casey Fields, TBC
North Melbourne v Richmond, Arden Street, TBC
Port Adelaide v Essendon, Alberton Oval, TBC
St Kilda v Adelaide, RSEA Park, TBC