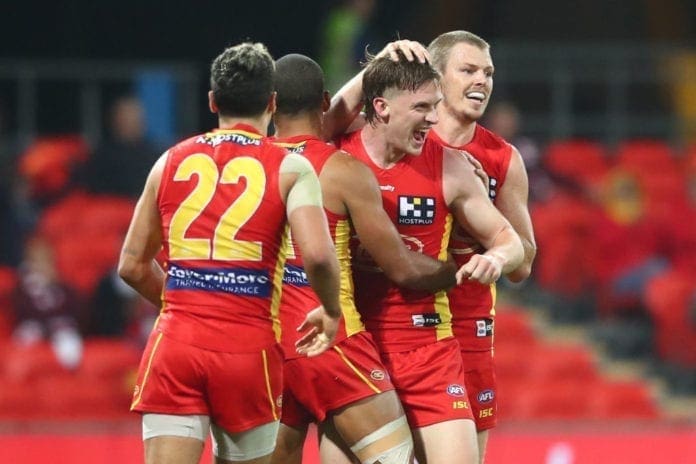 The Suns have had a rough first decade or so in the competition. Their first list build didn't quite go as planned and they have since had two mass exoduses of young players. Setting up shop in a new market was never going to be easy but few predicted it would be this difficult.
While some are saying there may be a third player exodus on the horizon, this squad feels different. There are plenty of reasons to like this current setup despite the results we're seeing.
One of the key reasons why this current Suns crop can become successful is the management in place at the club. Stewie Dew is a credit to himself, a hard worker and competitor who seems to be able to bond well with all of those around him at the club, including the players.
Anyone who has watched the Amazon Prime series Making Their Mark would have seen his good sense of humour and commitment to his players. His attempt to cycle up a virtual Mt Everest with Matt Rowell during Rowel's rehab from injury highlights the kind of individual the Suns have at the helm.
Related: Five trade targets for every club: Gold Coast
Similarly, Tony Cochrane as Chairman has been instrumental in implementing a new culture at the club. Despite some feeling he can complain a bit, he is a fighter. Vocal and opinionated and unafraid to go in to bat for his club. The squeaky wheel gets the grease and he's more than happy to make some noise.
Along with the Brisbane Lions, they're also winning hearts and minds in Queensland. Participation in junior football is through the roof, with AFL Queensland reporting that numbers have increased by 10-15 per cent.
Over the next decade, it's feasable to think that this will improve their academy and player retention. Similarly to when South Melbourne first moved to Sydney, it could be a slow burn that breeds the ultimate results.
Perhaps this biggest indication of change and improvement however, is the squad itself. At the moment their ladder position and wins/loss column doesn't look good, with people rightly pointing out that they seem to be in a similar position to last season.
However, a closer look indicates it may not be as bad as it appears. With ten games left this season, the Suns have won almost as many games as last year (albeit in a shortened season).
See Also: North 'very confident' in Kelly pursuit
Three of their losses this year have been by less than two goals, and while it's true they've suffered a couple of bad losses, they have been competitive in just about every other game. Their percentage (90.4%) is a clear indication of this. The next step is learning how to remain in games longer, and then winning the close ones.
This is going to come down to the squad, which currently has a good mix of seasoned players with plenty of years left, as well as high end talent.
Hugh Greenwood, Brandon Ellis and Touk Miller, have taken their respective games to a new level this season, putting up career best numbers in some instances. Greenwood ranks 7th in the AFL for Clearances, while Miller is ranked 8th for Tackles. Ellis has also had a strong season, he is 14th for Total Kicks in the AFL.
In fact, Miller has been so impressive the past few seasons that Josh Dunkley thinks he may be the most underrated in the competition. In his column for ESPN, Dunkley wrote "He's an absolute beast in the midfield... Not only is he the hardest and most ferocious tackler in the game (seriously!)... but he possesses a great running capacity, reads the game as well as anyone and can push from a stoppage and hurt you forward of centre."
Along with underrated co-Captain David Swallow also leading the way for their talented young midfielders to learn from, these players have gone about setting high standards for a playing group that desperately needed them.
Lachie Weller, Sam Collins and Jarrod Witts have also provided strong support around the club and on the ground to help foster a competitive culture. While it may not look it, there are some green shoots.
Currently ranked 4th in average tackles per game, the Suns have clearly placed an emphasis on pressuring teams into turnovers, which they can then use to prioritise possession. It's not pretty to watch at times, but a lot of good sides start out this way.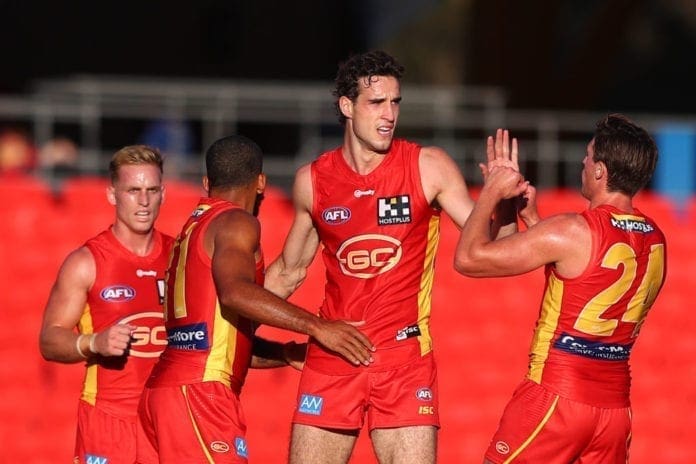 The huge upside is the core group of young players that could become the envy of the competition. In Ben King (20), Matt Rowell (19), Noah Anderson (20), Jack Lukosius (20) and Izak Rankine (21), they have a crop of youngsters that people would gladly pay to watch each week.
Considering that Jack Bowes (23), Charlie Ballard (21), Wil Powell (21), Connor Budarick (20) and Ben Ainsworth (23) are all young with plenty of room to develop further, there's a good core group of young players coming through together.
The process of adding more top end talent is still well underway, with the Suns last year selecting Elijah Hollands (18) with their top 10 pick.
Widely considered one of the best mids in his draft year, Hollands could add yet more class to the Suns midfield in the years to come. Another likely top 10 pick this season could serve as the cherry on top.
This squad ticks plenty of boxes, with perhaps just one or two more pieces required to get them to become a finals contender before long. It's reminiscent of the Cats and the Saints of the early 2000's, where a good group of veterans helped to usher in a core group of elite top end talent.
Another area for optimism is the location. While plenty of people were rightly worried that the Gold Coast might not be ideal for a group of young men with disposable income, it seems that these days it's the perfect for young players to develop.
Out of the public eye and with the lack of heavy media scrutiny that can go with playing for clubs in Victoria, there's perhaps an argument for it now being the ideal place for draftees to start an AFL career.
A good lifestyle in the sun that's close to the beach and with a club that places a clear focus on player well-being, things seem much more positive and more importantly, stable, off field these days.
So what do they still need? More senior assistant coaches to support Dew would be a good place to start. While he seems extremely capable, most successful clubs seem to make an art-form of appointing the right personnel to develop players and share the heavy coaching load.
See Also: Allen Christensen speaks about depths of addiction
Another area for improvement could be to define Lukosius' best position, he's clearly got incredible talent and is one of the best kicks in the game, perhaps it's time to decide if his future lies as a key forward or not.
Another small forward who can consistently hit the scoreboard and apply front half pressure is also an area they might focus on.
This could enable Rankine to continue to develop without as much pressure to perform miracles consistently so early in his career.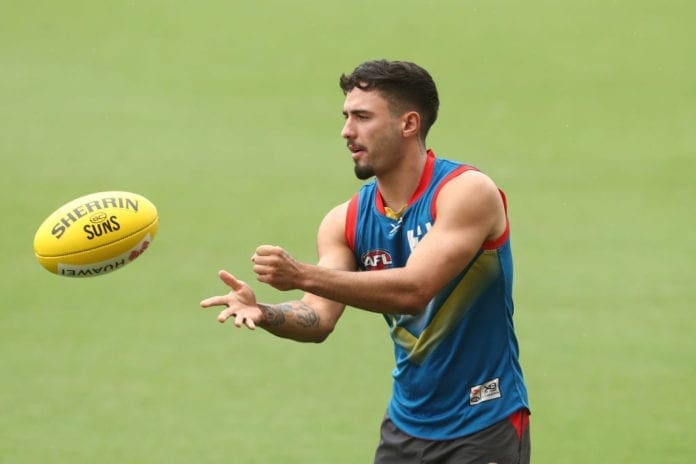 The AFL will ensure the Suns get every opportunity to become successful, it's imperative to the game that football have a strong presence in Queensland. It's not too long ago Brisbane were having a difficult patch and things have changed dramatically for them in just a few years.
With one or two smart trading or recruiting decisions and a key appointment or two, the Suns could finally find their feet and create something unique. They say it's always darkest before the dawn, this may be the last rough patch that Gold Coast have to weather before the Suns rise.