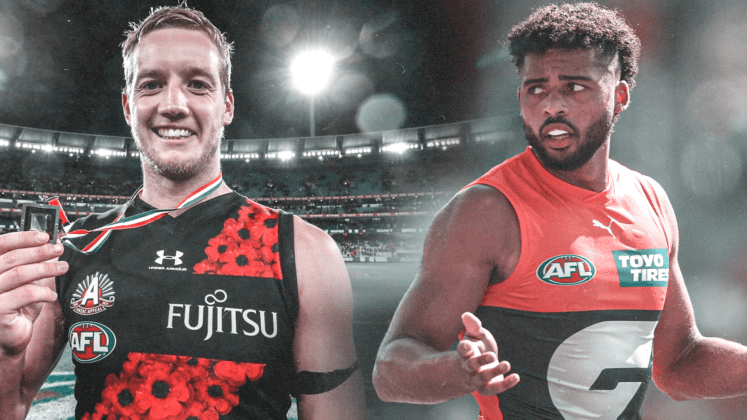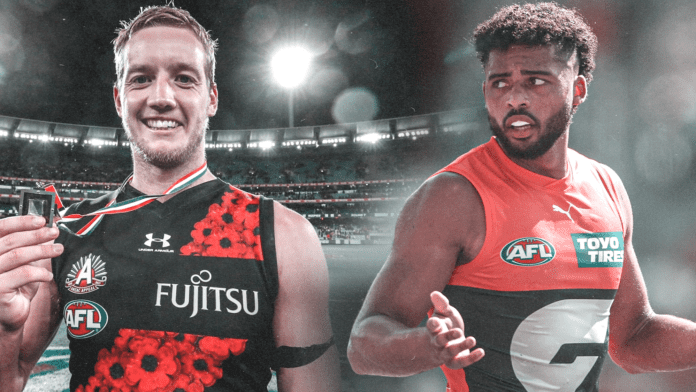 'To not recognize how good, important, etc. somebody/something really is.'
At the risk of sounding like the start of every sub-par wedding speech ever, here's how the Oxford Dictionary defines the verb 'underrate'.
What's that? The inverse, you say? Overrated? How does the definitive book of definitions define that one?
'To have too high an opinion of somebody/something; to put too high a value on somebody/something.'
Sounds about right.
It doesn't take a Mensa candidate to understand that there is a gap between these prevalent labels. But just how wide of a gap? One you could drive a truck through, or more a void of Montague Street Bridge proportions?
When it comes to the great game of Australian Rules Football, it often only takes a week for the pendulum to swing. Then again, a week has always been a long time in football.
But how much truth comes attatched to these tags? Can something so subjective be measured, analysed and tracked, or are they merely points of view, sculpted from feelings rather than facts?
In an effort to clear muddied waters, I took to a range of group chats, social media platforms and Zero Hanger's Slack chain to pose the simple question: Which current AFL players do you believe are overrated, and which ones are underrated?
Good morning, #AFL Twitter,

Quick question: Which current players do you believe are overrated, and which ones are underrated?

Any responses and reasoning are much appreciated.

— Ed Carmine (@ed_carmine) August 3, 2023
While a series of less-than-shocking suggestions were thrown up, more than a few left-field names were kicked onto lists I wouldn't have filed them on in a million seasons.
Still the question remains: Is there any rhyme or reason that can explain the unwritten division, or like a Dennis Denuto-led lawsuit, does it all come down to vibes?
Without a cult-like Twitter following or an endless string of mates with footy on the mind at 10:50 on a Thursday morning, the sample size for this experiment was set at 17 participants.
When posed the prompt, these friends, colleagues and strangers on the net fired off the following names of 36 current AFL-listed footballers, with 25 deemed underrated and 11 as overrated; listed below in alphabetical order by team and surname.
Again, before we put these slides under the microscope, I will reiterate that I am more than aware that this sample size is more postage stamp than astronomical.
And yes, you're probably right, if this same group of people were polled again at any other stage of the season, they could very well have thrown up a very different set of names.
But why were these names chosen at this particular juncture?
Let's take a closer look.
At first glance
In an effort to gauge exactly where the biases lies - and believe me, they are there - we must first highlight which AFL clubs our responders support and where each responsder resides.
Supporters of nine different AFL clubs - Adelaide, Carlton, Collingwood, Essendon, Geelong, Hawthorn, Melbourne, St Kilda and Sydney - threw their two cents in, with each of these participants, as far as could be ascertained, currently living in Victoria.
So apologies to all of you north of the Murray or west of the Wimmera, there are sure to be a few flecks of that infamous #VICBIAS on display here in some shape or form.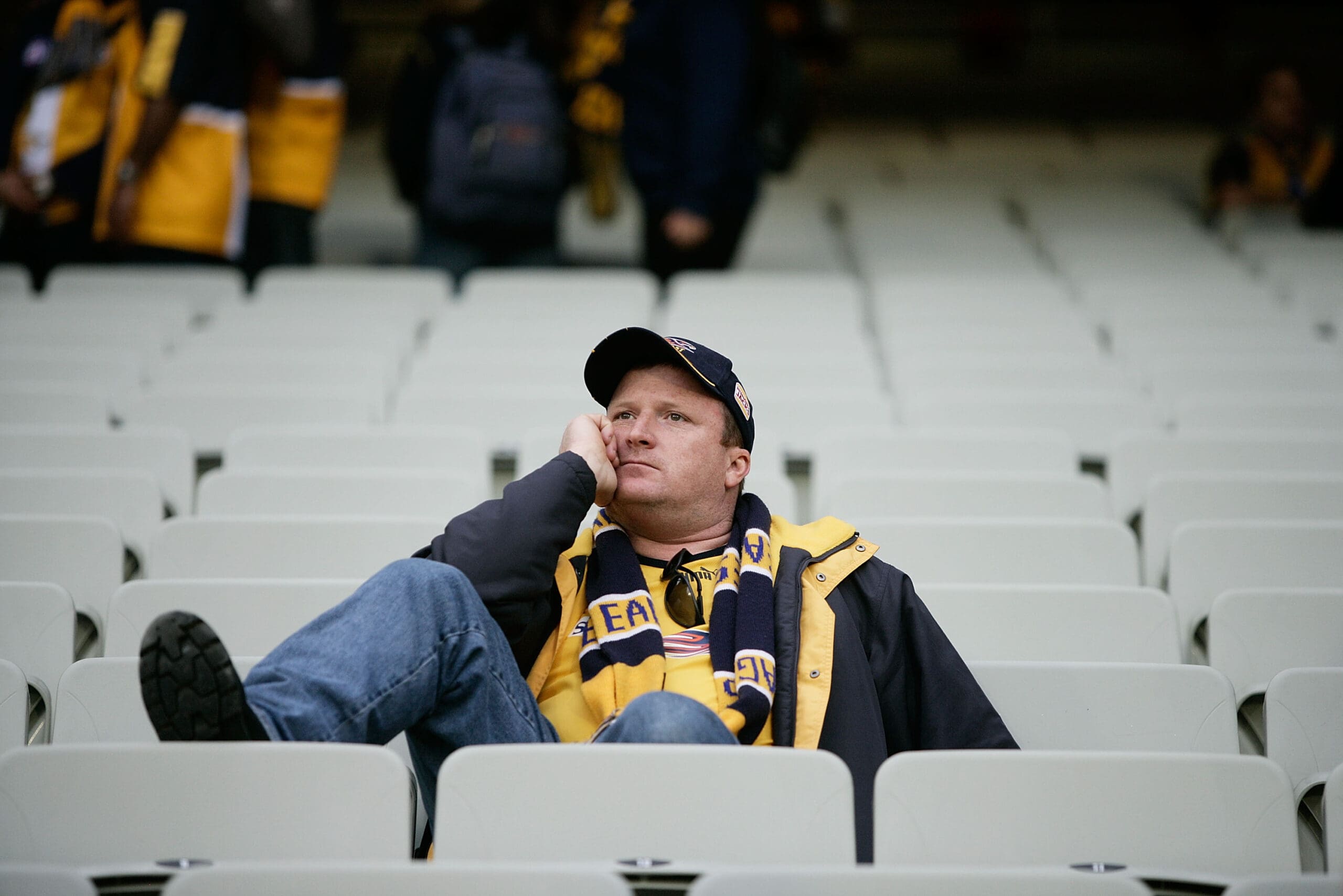 With the housekeeping out of the way, let's dive into it: What can we gauge from just a quick glance at our two lists?
Let's start with our 'overrated' names.
Entering the 2023 season, the average age of an AFL footballer was set at 24.4. Within our first group, the mean comes in at 27.5 - an age at which the average AFL footballer would be in their 10th or 11th season.
Intriguingly, of our 11 seemingly-eclectic players, four - or 36.36 per cent - are starting ruckmen. When we widen that scope to take in players that are taller than measure beyond 195 centimetres, this figure blows out to a not-so-insignificant 45.5 per cent.
Let's go again: Does a player's employer play any particular role in how they are perceived?
Unsurprisingly, folks polled failed to rate players that played with so-called 'big clubs', with 81.8 per cent of players plying their trade for 'Big 4' Victorian outfits in Carlton, Collingwood, Essendon and Richmond, or Western Australian powerhouse, West Coast.
While touching on state lines, nine of the 11 players currently represent Victorian clubs - at an identical marker of 81.8 per cent - but if former Demon Luke Jackson is included, this is bumped up to an almost complete 90.9 per cent.
It also bears mentioning that less than 37 per cent of players within this category play for clubs that will take part in the 2023 finals series.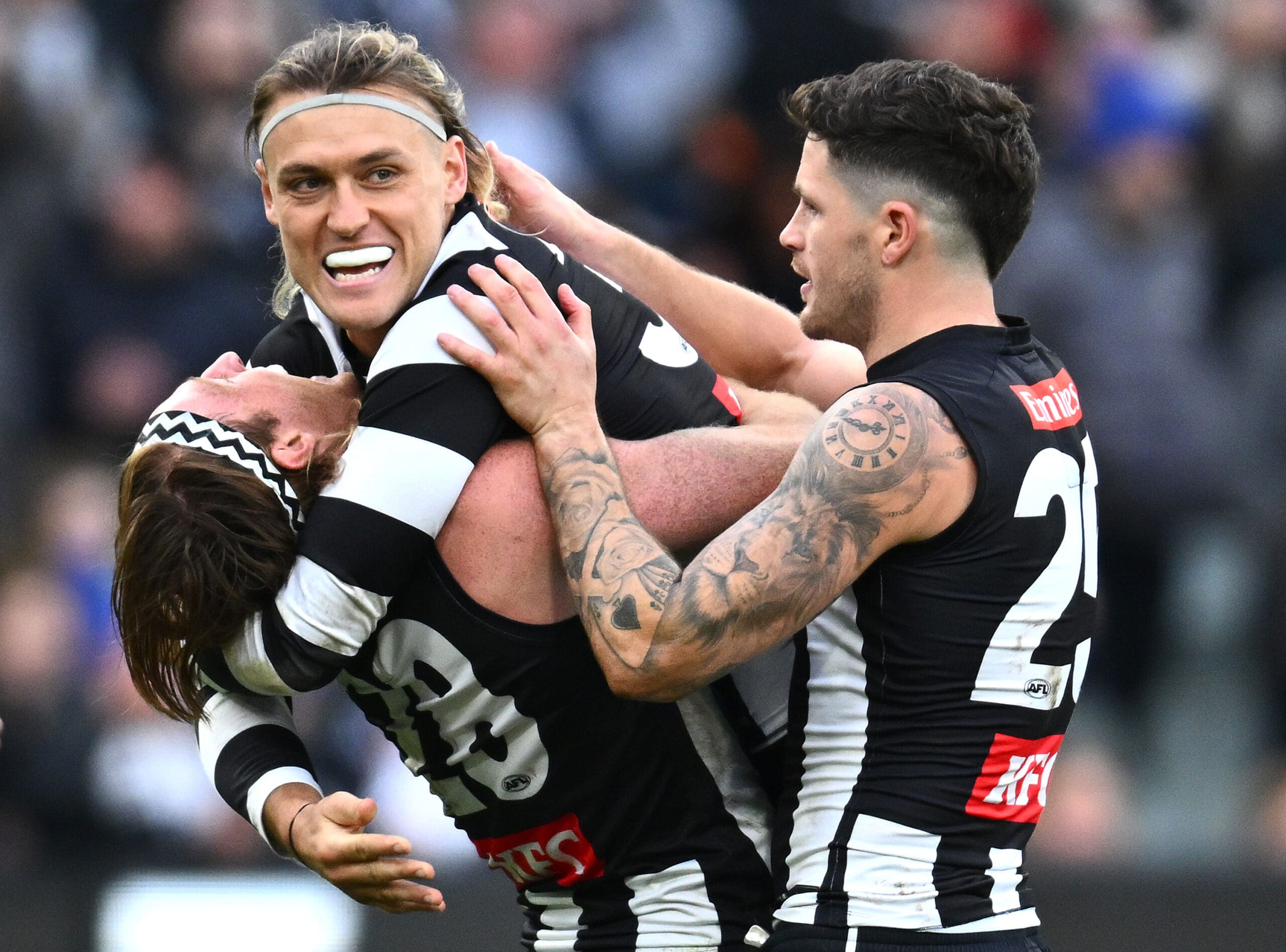 The means by which these players found themselves at their respective clubs may also have played a role in how they are rated, as a hardly-coincidental 63.6 per cent of names were selected with top 10 draft picks, mini-drafts included.
Those asked for their opinion also named three first-round draftees that traded clubs, with Jack Martin, Jake Stringer and Jackson each making moves since the end of 2018. Adam Saad's name was also raised, with the bearded rebounder still getting Bombers fans hot under the collar after opting out of Tullamarine and in at Princes Park prior to 2021.
Unexpectedly, individual accolades - or lack thereof - played little role in firing up my focus group, as only two players - 18.2 per cent of the whole - had won club best and fairests or Norm Smith Medals. Still, six players - 54.5 per cent - had earned All-Australian honours ahead of the 2023 season.
What does all of this tell us? Well, if you are a tall player that was drafted early, is about a decade into your career, plays for a big club and is yet to notch many individual achievements, look out, because people do not rate you.
But what about that inverse? Are there tell-tale ways to spot an 'underrated' player, too?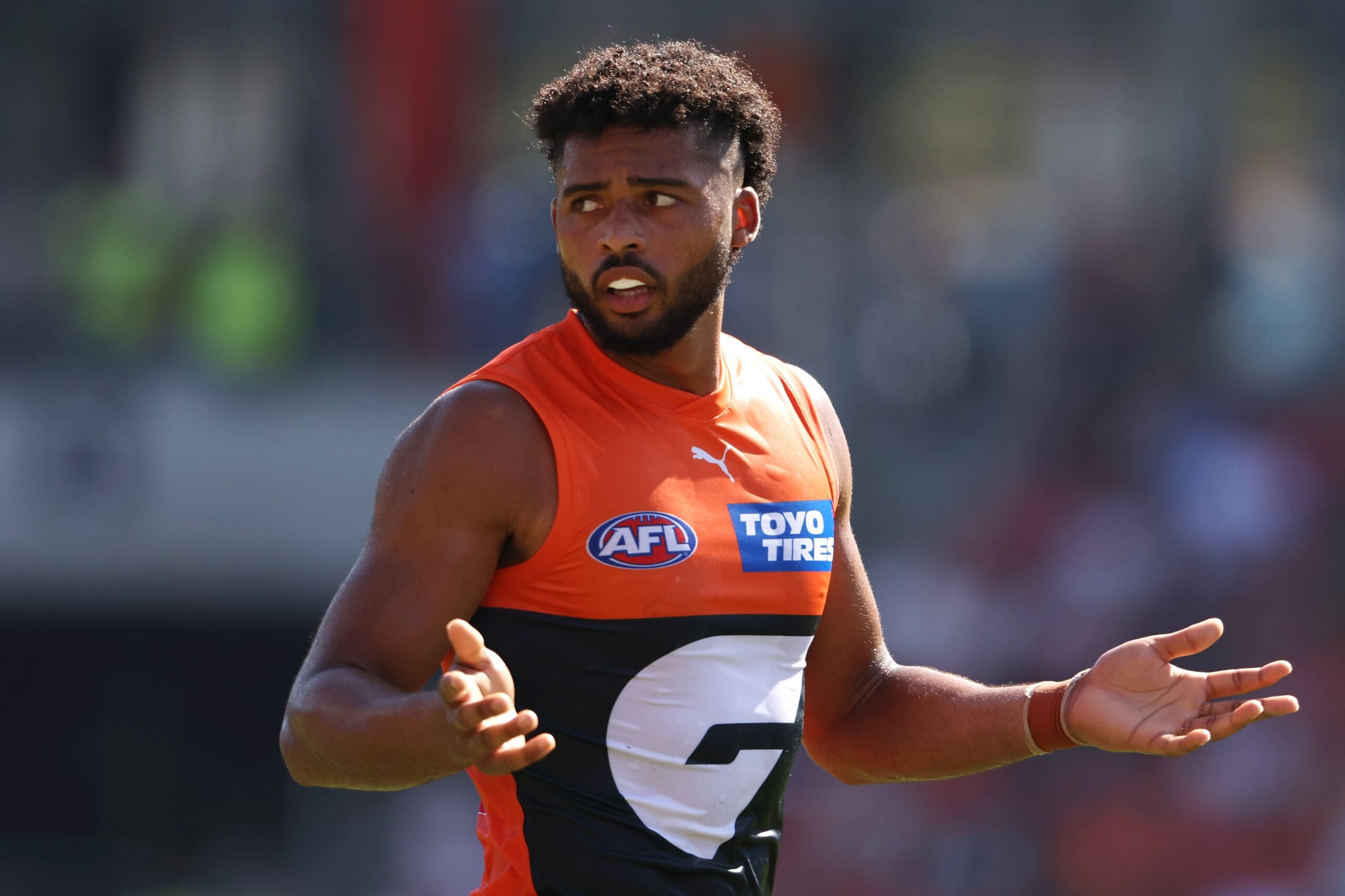 Collectively, our 25 underrated players combined for an average age of 26.4, almost a year younger than those slated as overrated, however, still above the league's mean entering the season.
Averse with the positional breakdown of overrated players, zero of the 25 players raised as underrated are listed as ruckmen. Instead, midfielders made up 48 per cent of this catalogue.
Only four players - 16 per cent - measure in at taller than the magic marker of 195 centimetres, giving weight (or height, I guess) to the notion that taller players are likely to draw the ire of the outer.
Again, out of step with earlier findings, only three of the underrated 25 - 12 per cent - currently plied their trade for 'big clubs'. This figure grows marginally to 5 of 25 - 20 per cent - if one counts the Crows as a big club, a fair tag given the club holds the largest membership base in the footy state of South Australia.
Additionally, in a flip from our previous list, less than half of our underrated group currently plays for a Victorian team, with 52 per cent calling New South Wales, Queensland, South Australia or Western Australia home, up more than 33 per cent between groups.
64 per cent of underrated players, 36.4 per cent of their overrated counterparts, will play finals this year, a rise of just under 20 per cent.
And as opposed to the 63.6 per cent of players on the previous list that were selected with top 10 picks, just six players - Rayner, Rowell, Coniglio, Kelly, Davies-Uniacke and Macrae -  were taken as early, representing less than a quarter of the whole, down almost 40 per cent.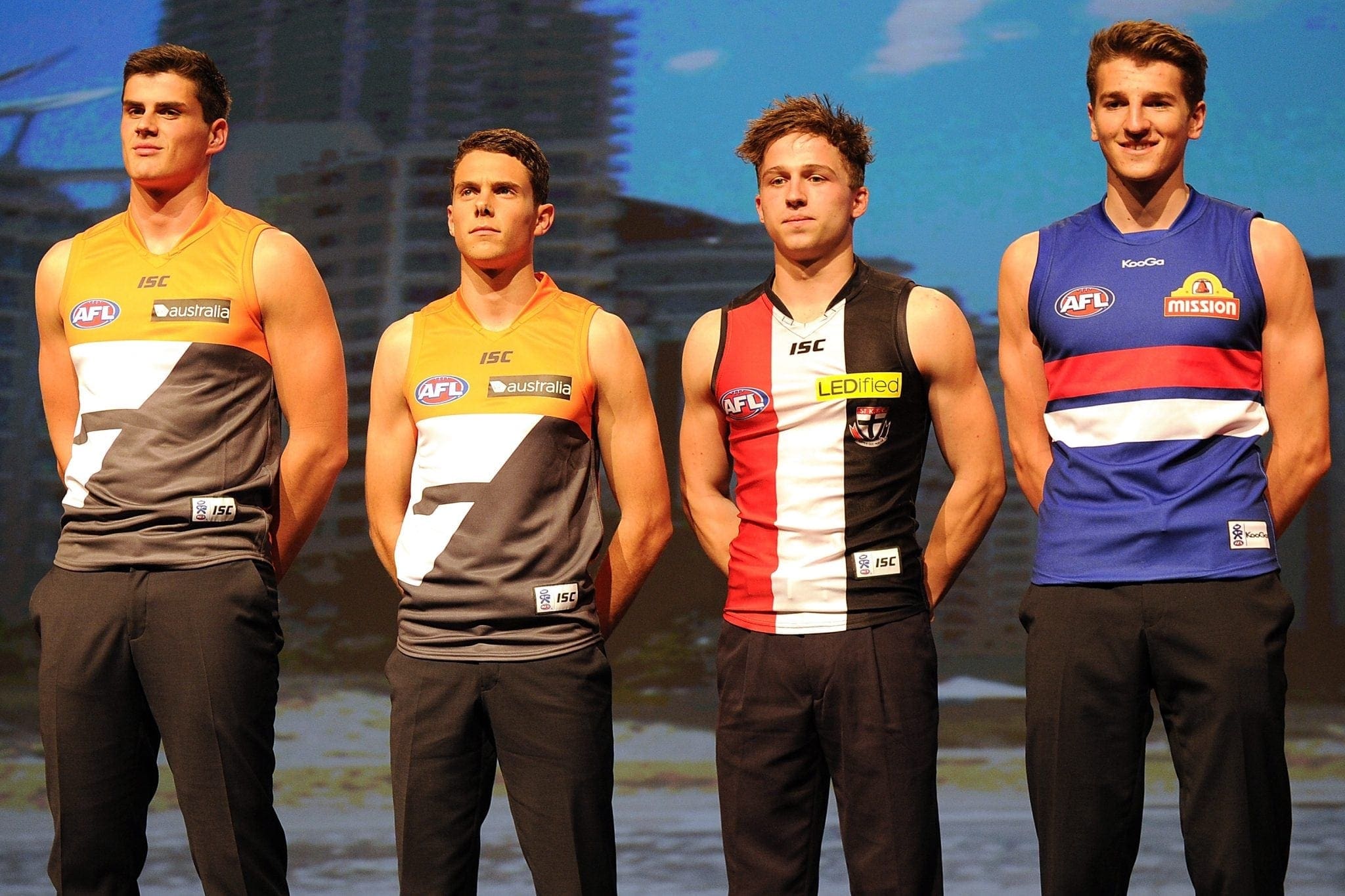 The importance of a player's familiarity with the trade period has also been enhanced as a point of division, with only 16 per cent of our underrated players having changed clubs across the course of their careers as opposed to 36.4 per cent of those in the overrated bracket.
Unsurprisingly, individual awards were sparse amongst the underrated collective, as only 4 of the 25 - 16 per cent - had been named as All-Australians and only three have claimed a club championship honour - 12 per cent.
So then, what kind of player is underrated? Are they just the direct antithesis of the model overrated player?
As shown from the sample size, an underrated player is more often than not a midfielder in their prime that is more likely to play for a non-Victorian team that wins more than it loses. Any player fitting the mould is likely to have been selected after the top-end of their particular draft, is unlikely to be their club's top dog, and has never been traded or won any notable individual awards. 

All of this we could have guessed, though.
So, is there anything more we can glean by digging beneath this surface?
Spikes and slides
Conventional wisdoms suggests punters are more likely to get behind quiet achievers while simultaneously potting players that have grown too big for their boots.
But is there actually any truth to these maxims, or are they just myths?
If we use the AFL's own Rating Points system as a means of charting improvement and regression between 2022 and the completion of Round 24, 2023, the shifts within the overrated class read as such:
From this list alone, we can see that overrating a player has little to do with current form, as 63.6 per cent of players - 7 of 11 -  have improved between seasons
What then of our underrated names? It'd make sense if they were all flying as well, wouldn't it?
With 60 per cent of these underrated players improving between seasons 2022 - an almost identical spike seen from the overrated group - raw improvement, or regression, isn't a clear deciding factor. Not with these particular groups, anyway.
While little can be dished up with just these ingredients, what happens when we boil the broth down further?
Between the 63.6 per cent of overrated names that earned ratings spikes year on year, the average rise sat at a healthy +1.50. When the 60 per cent of underrated names are placed under the microscope, the figure expands to +2.00 - only once Brent Daniel's disproportionate rise is removed, of course.
More than just a negligible difference, right?
When the respective sets of falls are taken into account, our overrated crew - discounting Nic Naitanui's dip - saw an average rollback of -0.87 rating points, a figure that sat well shy of the drop from our underrated names at -1.60.
Again, the sample sizes are likely to play a role in this variance, but the numbers also show that people's player ratings either aren't in step with the league's own, reality or both.
While it seems that only ambiguity can be found in the numbers, can any clear answers be found in the words instead?
Named and shamed
The AFL media landscape has come a long way since journalists shared back bars with players in order to shape the back page.
In 2019 alone, the competition had upwards of 1800 accredited journalists, meaning that for every league footballer that season, there were at least two journos available to hound them for comment.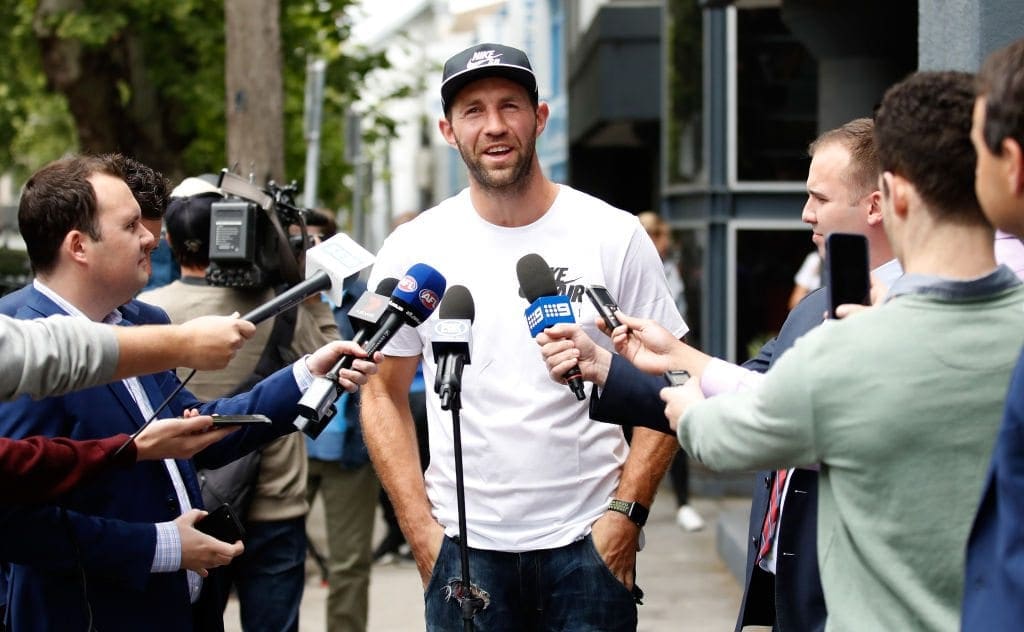 The way in which stories are constructed and conveyed has changed too, with long-form analysis on dialysis and game stories almost entirely dead and buried. In the place of nuance, research and colour? Rumours, innuendo and trade talk, right around the clock.
We are, for better or worse, in the era of the hot take; in an era where Tweets, tirades and tactically fired soundbites are fired out by talking heads in order to get under your skin like a splinter. They want you to bite back, too; they call it engagement.
With an array of different shows on every night of the week, all-day talkback radio and dedicated television channels all spouting similar takes, this saturation is likely to help mould opinions in the outer, both negatively and positively.
But how much of that can be seen on our two lists?
To understand exactly what part footy's fourth estate plays in the championing, and haranguing, of today's players, we must ask three questions:
1. Can the number of times a player is mentioned in the press negatively affect their public perception?
2. Do the recency of these reports play a role in how they are viewed?
3. Can positively reported stories actually lead to positive player perception?
To collate our data, we hit Google, searching 'player name + AFL + 2023', and hitting the 'News' tab.
In terms of our near-dozen of overrated names, here is how the ink dried:
With an average of nigh on 220 hits per player, and 10 out of 11 - 90.9 per cent - of them mentioned within the past fortnight, whether due to injury, form or off-season status, our overrated collective have - to a large extent - been conspicuous.
Of the six names that cracked the tonne, one (De Koning) was linked with a move for much of the year, while another pair (Parish and Dustin Martin) have also been tied - however flimsily - to moves this off-season. The worth of another (Jackson) has been poured over constantly, the penultimate player (Naitanui) pulled up stumps and the remaining name is Collingwood's captain, and lord knows Collingwood drive clicks.
But while 27.3 per cent of players - Jackson, Martin and Naitanui - recorded upwards of 500 news hits a head, just shy of half the group - 45.45 per cent - garnered less than 100 hits for the calendar year.
*Denotes article(s) centering around player's underrated status published by AFL accredited media outlet/s throughout the course of the 2023 season.
Unlike our overrated 11, no player from our underrated list produced more than 461 hits, And though 45.45 per cent of overrated players saw less than 100 hits, this figure was boosted to 60 per cent when the count pertained to underrated players.
Akin to those on the other side of the experiment, the vast majority - 80 per cent - of these underrated players have had their names in the mouths of the media within the past fortnight.
With these figures in mind, our samples do enough to show us that the regularity with which the media reports on players, by and large, has a greater impact on how players are perceived than how these players actually perform.
Perhaps earning a pat on the back from commentators, scribes and other members of the media does more harm than it does good.
Or, perhaps horses just can't be led to water.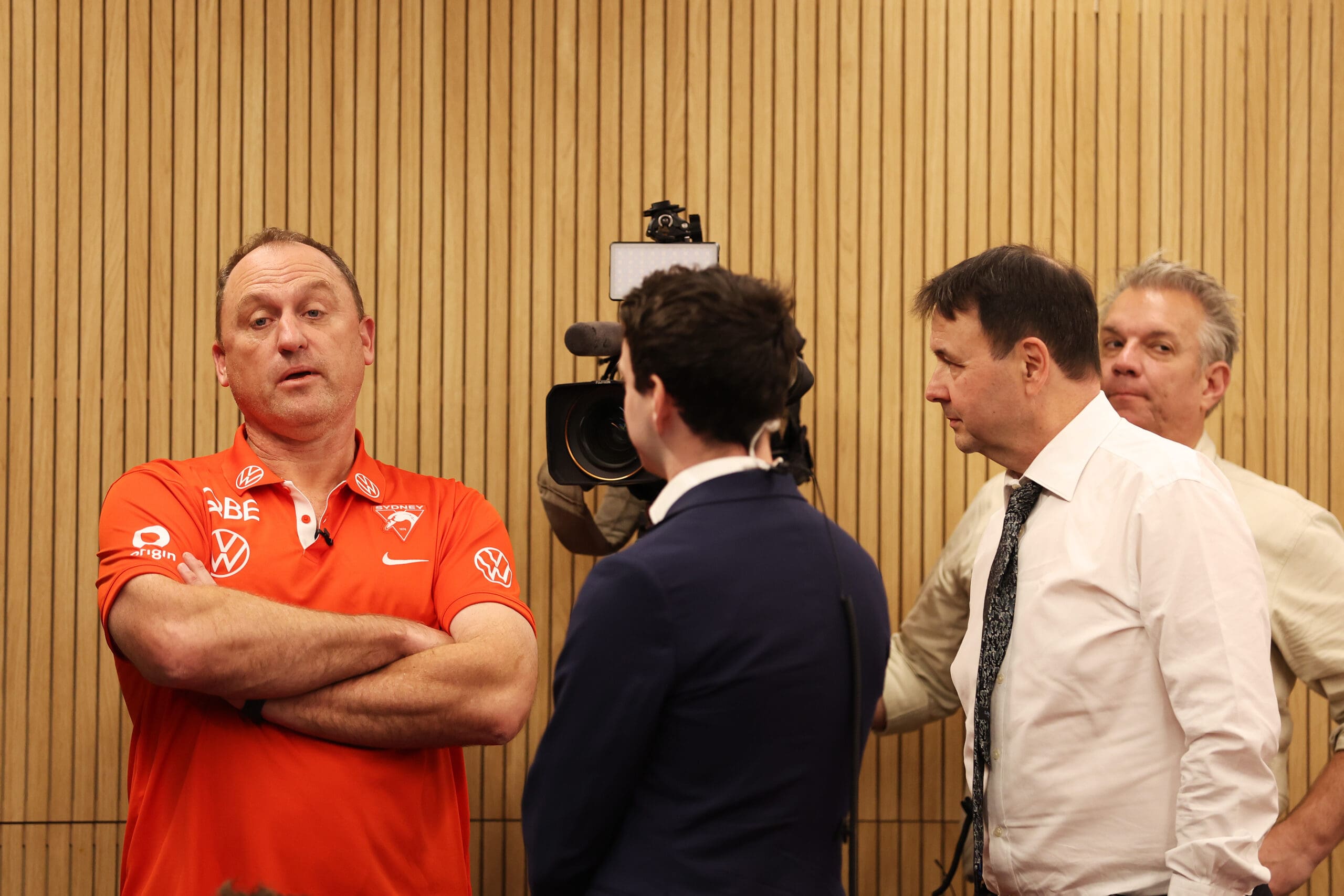 Naturally there is likely to be fatigue from routinely reading or hearing about certain players. Still, these same names are almost certainly raised more often due to the fact that they play for clubs with larger membership bases, thus appealing to a larger audience.
Our underrated players may be mentioned over 1.7 times less than their overrated counterparts, with averages of 219.45 hits to just 129, however, some sense of this disparity can be made by the fact that 81.8 per cent of the overrated group played for, quote-unquote, big clubs, while just 12 per cent of underrated names could own that boast.
As denoted by the stream of asterisks, 60 per cent is also the portion of underrated players that have been labelled as such by sports writers during this season alone, proving people either have the same view as these scribes or that they are prone to regurgitation.
Maybe horses can be led to water, after all.
Stallion, donkey or otherwise, maybe these numbers should only be consumed along with a healthy dose of Pink Himalayan. But rest assured, there are even dumber reasons as to why players can be judged.
How do I know? Well, they already have been.
Get a haircut!

If - and it's a big if - public perception is entirely consistent with our findings, then we know that people don't like tall players, just as they don't like players contracted by 'big clubs'.
And while the public may proffer on-field reasons for their dislike of these tall players who play before big crowds, they also seem to mark footballers with unique styles in a different manner.
Within the bounds of this experiment, each of Tom De Koning, Adam Saad, Darcy Moore, Sam Draper, Jake Stringer, Luke Jackson, Dustin Martin, Nic Naitanui and Jason Johannisen have been nominated as overrated players.
This much is true.
It is also true that every member of this nonet has, or had, an unconventional haircut, or distinct facial hair, at one stage of their careers.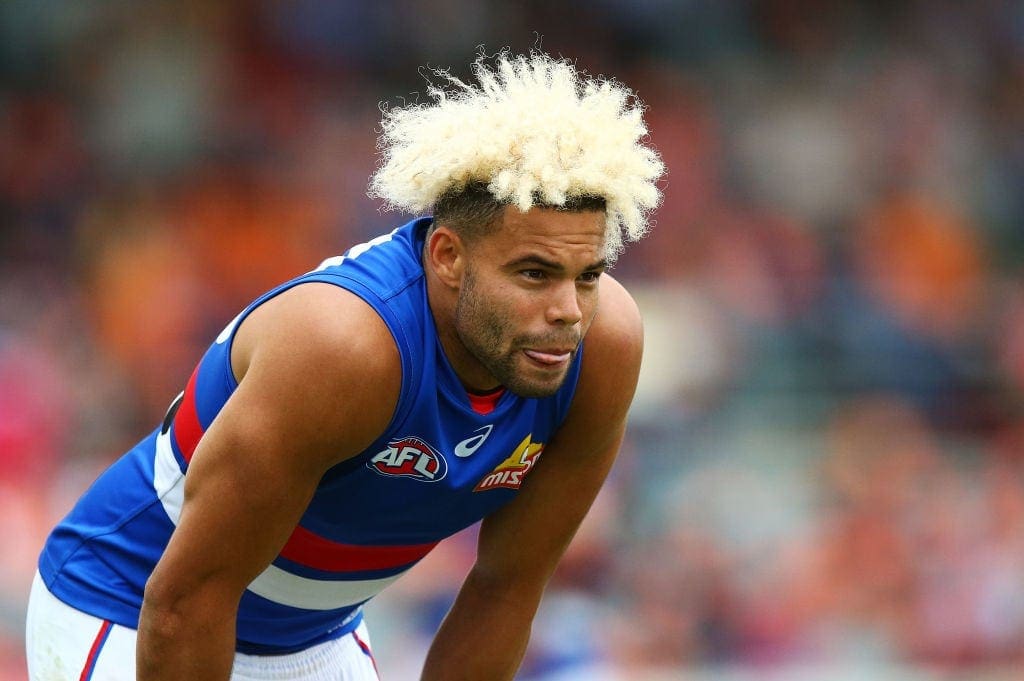 Although it seems ludicrous that this could possibly be a factor by which people rate AFL footballers, less than a month out from finals, everybody's favourite firebreather was on the warpath, making like a drill sargeant by calling for long-haired louts to get a haircut.
"Nathan Murphy is another serial headband adjuster, as is his teammate and captain, Darcy Moore. It's a distraction; cut your hair if it gets in the way."

- @kanecornes https://t.co/xhOpHyC8Od

— Sportsday (@SENSportsday) August 22, 2023
With the likes of De Koning and company making up more than 80 per cent of the overrated whole, and one of this nation's favourite pass times being the scything of tall poppies, should such a shallow, surface-level judgement surprise anyone?
Add in that less than a quarter - 24 per cent - of our underrated crew has ever operated with funky follicles, and as silly as it seems, trichophobia is strengthening as a genuine cause of division.
For decades, the phrase 'Fit in or f**k off' was used within the walls of football clubs to drive cohesion through conformity. For whatever reason, it seems to have been adopted by those outside them, too.
Still, the question of the chicken and the egg sits at the heart of this hairy dilemma:Do people not rate these players because of their choice not to conform, or have these differing hairstyles arisen because said players overrate themselves?
Without going completely Noah's Ark with it all, it's likely some from column A and a wee bit from column B. Either way, evidence suggests an argument can be made, because in the case of Kane, it already has.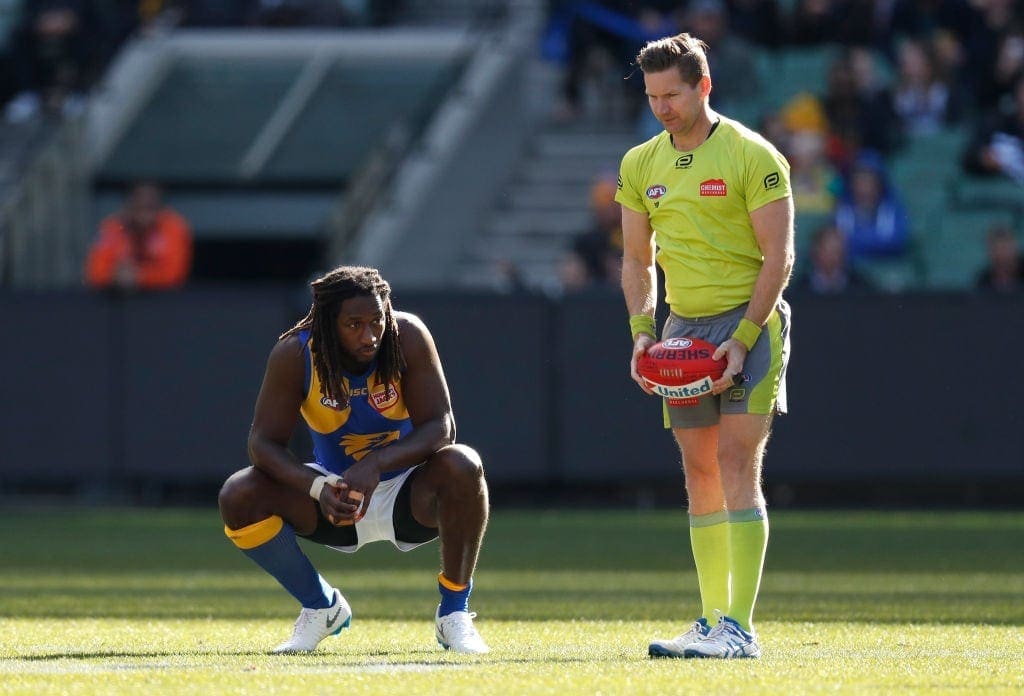 Though numbers and words can tell some of the story, maybe sticks and stones can do a better job. Maybe personal grievances are as good of a reason as any not to like a certain player.
It doesn't stop us in any other walk of life, does it?
Maybe Jack Martin snubbed one of our responders and they just never got over it.
Maybe Dustin Martin missed a shot at goal to mess up another's 12-legged same-game multi.
After all, trying to find reason within a footy fan's passion is about as pointless as putting money down on Harris Andrews winning the Coleman.
It's more than a game as they say, and the masses have come to believe this because so many of us care so much.
Passion, however, rarely spells clarity. But then again, what good would the game be if everyone agreed?