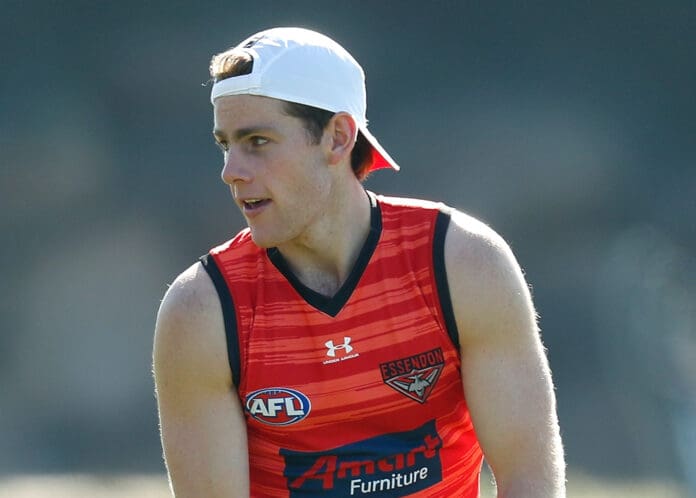 As always at this time of year, speculation runs rampant about players who might be ready to debut. It's one of the great pre-season traditions. The endless talk over which draftees may debut and spark a ripple of excitement through the fanbase.
All the while forgetting there are those who take a little longer to take that step. For every Sam Walsh or Bailey Smith, there are untold numbers who have needed more time to develop. To get bigger, more experienced, or in most cases, fit enough to run with the best.
With COVID and smaller list sizes set to play a huge part in 2022, it's likely we see a lot of debuts. Despite a new crop of youngsters having just experienced their first pre-season, they aren't the focus here.
The new draftees may be all the rage, but let's not forget those that have been toiling away for a while already, hoping to bring their AFL dream to life.
These are the players who have been at their respective clubs for more than six months and are yet to debut. Given the right circumstances however, we may just see them in action in 2022.
Adelaide - James Borlase
The loss of Daniel Talia and Jake Kelly has put a significant dent in the Crows' tall defensive stocks. This does however present a chance for Borlase, a next-gen player picked in 2020. Having spent time with Sturt developing last year, his composure amongst more experienced players has been noted.
Coming from elite pedigree, his dad won four flags with Port Magpies and his mum represented Australia 70 times in Netball, 2021 will be a crucial year. It's always a stretch to ask a key position player to be ready in just two pre-seasons, however the Crows may need to call upon him if injuries hit.
At 192cm, he's not the tallest, but he certainly has the size to go with a medium-sized forward. If he can develop his tank enough, he may get his shot in season 2022.
Other options: Tariek Newchurch, Patrick Parnell
Brisbane - Ely Smith
It's been a frustrating time for Smith since he joined the Lions in late 2018. Taken with pick 21, he's had to bide his time. A big-bodied midfielder that can rack up contested footy, Smith was primed for a big 2021 before back-to-back syndesmosis injuries ruined his season.
At 187cm and 91kg, Smith's a bull at the contest who has impressed with his powerful frame and acceleration away from stoppages. Though it's a tough Lions midfield to break into, should the opportunity present itself, Smith is raring to go.
Other options: Henry Smith, Connor McFadyen, Blake Coleman
Carlton - Jack Carroll
It's a good sign when an Assistant Coach is saying you'll be playing senior football this season. Since being taken at pick 41 2020, East Fremantle prospect Carroll has put on size and impressed those at Princess Park this pre-season.
So much so that Carlton Assistant Coach Tim Clarke is confident Carroll will see senior action this year. "He's been super impressive. He just slipped into last year's draft. I think he was the youngest kid in the draft, he could very much be in his first year," Clarke noted.
SEE ALSO: Blues reportedly make call on final list spot
"He's a player that will definitely play senior footy this year if his body is fine and he'll be a good player to watch in the future."
Other options: Jordan Boyd, Alex Mirkov
Collingwood - Reef McInnes
Since being taken at pick 23 at the 2020 draft, this 194cm, 87kg beast, who ran the fastest 20m sprint at the 2020 national draft combine, has spent his time developing in Collingwood's VFL.
Those are some tantalising attributes to say the least. The Pies injury troubles are well documented these past few seasons, and should that trend continue, there's no doubting McInnes will get an opportunity to shine at senior level.
Particularly following the departures of Brayden Sier and Levi Greenwood, there's now less names ahead of him in the queue. Should McInnes have a strong enough pre-season, he could feature early in 2022.
Other options: Liam McMahon, Isaac Chugg, Aiden Begg, Ashley Johnson
Essendon - Kaine Baldwin
A 193cm key forward who captained South Australia's under-16s in their 2018 championship-winning campaign, Baldwin sadly suffered back-to-back ACL injuries. As a result, he slid to the pre-season supplemental selection period in 2021.
He made such a positive impression on the Dons that he signed a contract extension in August 2021. It's no secret that this is an area of focus for the Bombers in 2022 and Baldwin is a name to watch.
He looked solid in their opening pre-season game against the Western Bulldogs last week and may be called upon early to bolster the key forward stocks in the senior line up.
Other options: Josh Eyre, Cody Brand, Cian McBride
Fremantle - Nathan O'Driscoll
Since being taken with the 27th pick at the 2020 Draft, O'Driscoll has been one to watch. As an under 16 All-Australian selection at the 2018 national champs, there were hopes he may have gotten his opportunity sooner than this.
Sadly, injury and the Covid break have prevented him from getting his chance at AFL level, however all reports from pre-season suggest he's ready to finally make his debut.
An athletic midfielder standing 188cm and 82kg, he's being closely watched by Freo supporters and Supercoach enthusiasts alike. Season 2022 shapes as his year to take the next step.
Other options: N/A
Geelong - Cooper Stephens
Taken with pick 16 at 2019 draft, Stephens finished equal first in the yo-yo endurance testing at the combine. A hard-running inside midfielder, his path to senior football is a lot clearer following Charlie Constable's departure.
SEE ALSO: 2022 AFL Season Preview - Geelong
With Geelong's age profile continually being questioned, this season presents the chance for the next generation of Cats to take the next step. It's a sentiment shared by those inside the Cattery as well.
Champion Joel Selwood has already highlighted him as one to watch in season 2022.
Other options: Nick Stevens, Shannon Neale
Gold Coast - Elijah Hollands
Perhaps the most obvious case for a debut in season 2022. Hollands was taken at pick 7 at the 2020 draft. However, whispers continue to do the rounds that he could have gone pick 1 if not for his ACL injury.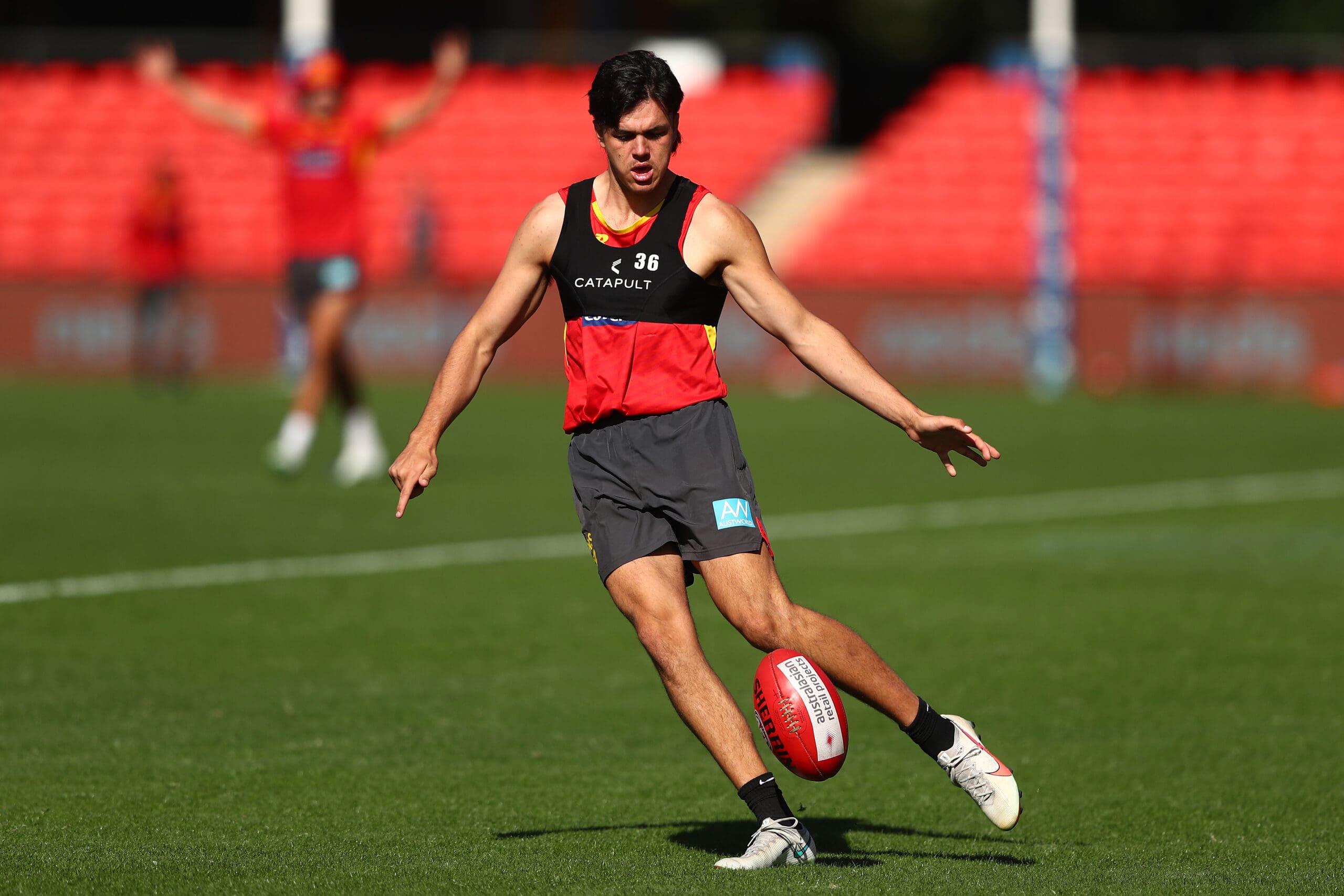 Standing at 189cm and 86kg, he has the build of an elite midfielder. The Suns seem to agree, having re-signed him until 2024 in February this year.
He oozes class and can play forward as a ball-winner. There's plenty to like about him and footy fans in general will be watching him closely this season.
Other options: Rhys Nicholls, Patrick Murtagh, Jez McLennan, Matt Conroy, Ned Moyle
Greater Western Sydney - Ryan Angwin
Taken at pick 18 in the 2020 Draft, this left-footed midfielder with silky skills and a high footy IQ had actually thought his AFL journey was still a year away. Hailing from Foster in the Gippsland region, with the help of a budding AFL star, Angwin rocketed into draft contention in 2020.
When Xavier Duursma returned home to Foster to train in the COVID break in 2020, he called Angwin to see if he wanted to test himself with an AFL fitness program. Angwin didn't need to be asked twice and the hard work paid off come Draft night.
He showcased his elite speed at the combine, recording 8.42 seconds in the agility test. As a result of this and his style of play, he's drawn comparisons to good mate Duursma. The Giants will be hoping he can follow in the Power wingman's footsteps.
Other options: Jacob Wehr, Cameron Fleeton, Will Shaw
Hawthorn - Seamus Mitchell
A crafty medium forward, Mitchell was taken with pick 29 at the 2020 Draft. With his footy IQ and goal smarts standing out, the Hawks will be looking to him to take another step in his development in 2022.
While he is down the pecking order, Hawthorn's injury-hit forward line may need to use some untried players early this season. Coupled with the likes of Gunston and Breust being at the back-end of their careers, the need to find new long-term options is evident.
SEE ALSO: Day no certainty to return
New coach Sam Mitchell hasn't given much away this pre-season so it will be an interesting watch to see who gets their chances this year. If Seamus Mitchell can have a strong pre-season he may just see some senior footy.
Other options: Jack Saunders, Jackson Callow
Melbourne - Bailey Laurie
It's going to be hard to break into the Dees line up this season, however if anyone is going to do it, it will be Laurie. Taken with pick 22 in the 2020 draft, he has lightning speed and silky skills.
Following a frustrating 2021, where injuries and Covid limited him to just two appearances for Casey, the small forward will be keen to use his goal sense to put himself in the frame for senior selection.
Add in seeing Jake Bowey's dream start in 2021, Laurie will be hungry to join the party in 2022.
Other options: Fraser Rosman, Deakyn Smith, Daniel Turner
North Melbourne - Matt McGuinness
Taken as a Tasmanian NGA prospect as a 19-year-old in 2019, McGuinness has grown around 10cm since being drafted. Reports out of North are that he's got good mobility and is a great left-foot kick.
Being able to make great strides forward is always a good sign. His promising start to 2021 was derailed by a Lisfranc injury in Round 2 in the VFL. The key concern is injuries, as he's yet to have a clean run and put together a good block of games.
SEE ALSO: Five Burning Questions - North Melbourne
However, if he can get some luck on that front, it will be interesting to see how far he can go. His versatility certainly appeals to those at Arden St so they'll be hoping he can stay fit in 2022.
Other options: Jacob Edwards, Patrick Walker
Port Adelaide - Jackson Mead
The son of inaugural Port Adelaide Best and Fairest winner, Darren Mead, Jackson is a midfielder with good decision-making skills, amongst other things.
Taken at pick 25 in the 2019 draft, Mead has been made to wait. A fierce midfielder known for his courage and attack on the ball. He was named as an emergency against Brisbane late last season so there are signs he was already close.
This year, he has returned to Alberton after completing his own program in the off-season break. He has come back stronger and fitter and all reports are that a debut in 2022 is almost a certainty.
Other options: Sam Hayes, Ollie Lord, Taj Schofield, Jake Pasini
Richmond - Noah Cumberland
The former Brisbane Lions Academy product was drafted to the Tigers in 2019 with their second-round selection. His development has been interrupted by an ACL injury in 2020 that saw him lose a year of football.
In 2021 however, he showed glimpses of his talent at VFL level, exciting with a bag of five goals and 20 disposals against Collingwood in round 13. His big challenge now is to take the next step.
At a club known in this era for getting the best out of every player, Cumberland may get his chance in 2022 following the news that gun midfield-forward Kane Lambert is in danger of missing a big chunk of the season with injury.
Other options: Bigoa Nyuon
St Kilda - Matthew Allison
The Saints surprised everyone when they opted to pick Allison with pick 26 at the 2020 Draft. At 195cm and 87kg, Allison looms as an athletic prospect for the Saints' forward line.
Having been taken as a long-term prospect, it may be asking too much to see a debut this year, however since being drafted, Allison has added 6kg to his frame and impressed those at the club with his endurance, strong hands overhead and damaging kick.
With doubts lingering over Paddy Ryder's Achilles, Rowan Marshall may be forced to spend more time in the ruck, opening up a spot for a tall forward for the Saints. A slim chance for Allison, but a chance nonetheless.
Other options: Max Heath
Sydney - Will Gould
Taken with pick 26 at the 2019 Draft, Gould had starred against mature opposition in the SANFL in his draft year. He not only captained South Australia's Under 18's at the National Championships, but averaged 21.5 disposals, 4.5 marks and 7.2 rebound 50's per game during the carnival.
Since then however, he's found it difficult to break into a very settled Swans backline. This pre-season feels different though, with Gould entering his third season in the AFL. Third year breakouts are a common occurrence in the AFL and Gould feels like he has stepped things up a notch.
He looms as one to watch closely this pre-season and one for the future for Swans fans.
Other options: Marc Sheather, Barry O'Connor, Lachlan McAndrew
West Coast - Zane Trew
Despite a first season spent battling back and hamstring issues, Trew managed to put together some good work in the WAFL. Averaging 17.9 disposals and 5 tackles per game from 11 appearances in 2021, he showed positive signs.
It came as a shock when the Swan Districts product slipped through to the rookie draft. His clean hands and stoppage intelligence have impressed those inside the club and given their current injury crisis, he's every chance.
With some better luck with his body in 2022, a spot in the Eagles midfield is his for the taking.
Other options: Callum Jamieson
Western Bulldogs - Domenic Bedendo
It was always going to be hard with the Dogs, given only one player from their list remains untried following 2021 (not including the 2021 draftees). That one player in Domenic Bedendo, a product from the Murray Bushrangers entering his second season.
Taken with pick 55 at the 2020 Draft, the 191cm, 83kg, is a good-sized medium forward with enough of a tank to get up onto the wing. Aside from his athleticism, his aerial and contested prowess are strengths the Doggies could look to take advantage of.
SEE ALSO: 'Blood for life' - Swans star signs new deal
Given Luke Beveridge's penchant for rotating his squad and blooding untried players, Bedendo may well feel that his chance must be coming in 2022.
Other options: N/A