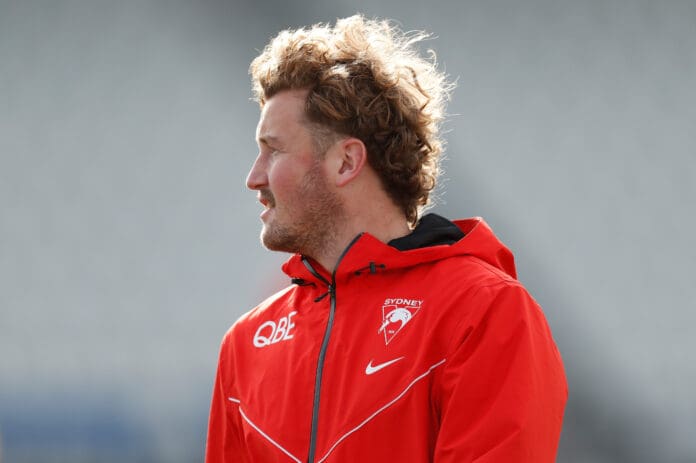 Young Sydney defender Will Gould will continue to hone the crafts that saw him drafted as a top-rated defender over two years ago.
Among a small handful of Swans players yet to make their AFL debut with the Harbour City club, Gould's goals aren't orientated toward breaking the selection barrier, instead focussing on the pathway senior coach John Longmire has paved for him since arriving at the club.
Ahead of his third season with the Swans Gould has been primed for a promising year, looking for a fresh start ahead of his next campaign whilst still building on established foundations forged across the past 24 months.
Speaking to Zero Hanger, the Glenelg product expressed his excitement in seeing the results of a taxing pre-season emerge in 2021.
"The last couple of weeks have been absolutely flat out. The weather's been hot and sweaty and we've had some pretty big sessions on the track," Gould said. 
"It's all starting to heat up. Competitive work's starting to ramp up now heading into Round 1.
"A big focus this year was to get to a level of fitness and repeat effort running that I can take the next step. We're working towards that and we'll see how we go this year.
RELATED: Swans tall to miss entire 2022 season
"I've got some clear goals and things that I'm working on and trying to get better at every day I guess, and the rest will look after itself."
After joining Longmire's side as a second-round selection in the 2019 National Draft, Gould will be pressing his case for a call up to the top flight this year.
And while a debut is a key stepping stone for the 21-year-old, Gould has his attention set firmly on improving his own brand as a priority, with the hope that accolades and accomplishments follow.
"This pre-season I tried not to look too far ahead and get games orientated and debut orientated," he said.
"It's just the little things. Just trying to improve as a player and hopefully results come off the back of that. It's been a fresh start. I've loved this pre-season and [I'm] ready to get into [the season] now."
Standing at 191cm with a sizeable frame, Gould's prospects are buoyed by his ability to play multiple roles within his side's rearguard.
Training against the likes of Lance Franklin, Isaac Heeney and Tom Papley, the Swans' forward depths give Gould the best preparation possible ahead of his first step onto an AFL field.
A balance in his training and constant matchups among some of the best forwards in the league has given a number of Swans players the confidence to compete at the highest level.
"Power, endurance, working on ground balls and just contested work, body work, footwork, all that sort of stuff you need to compete with the bigs and the smalls," Gould said
"That's one of my strengths ... I can do both.
"I'm trying to play on the best players. Play on the Isaacs, Bud, Paps, Will Hayward. All different types.
"We're lucky we've done a whole lot of competitive work against the forwards this pre-season and we've got a pretty heavy forward line, which makes us as defenders better, so we're lucky."
While working in tandem with All-Australian defender Dane Rampe, Gould's development has been guided by Longmire and Sydney assistant Ben Matthews.
The coaching pair have laid out the path for Gould to take this year, with the young Swan gaining the encouraged support from both his peers and mentors.
"Horse is really good. He's been really clear with me on my focus areas going into the pre-season," he said.
"I've come back and ran PBs and I'm travelling alright in that area. I work closely with Ben Matthews who's our defensive coach and he's really helpful with what I need to be working on and what I'm doing well."
At the conclusion of last season, Gould entered his second off-season without an AFL game under his belt and the first with his future undecided, as his rookie contract came to an end.
Despite any query that may have been raised in regards to Gould's future, the South Australian was confident his future remained in Bondi.
With defensive-minded midfielders Jordan Dawson and George Hewett eventually departing for the Crows and Blues respectively, Gould's value to the Swans was amplified, signing a new one-year extension in September.
"I didn't have to wait too long in the pre-season. I was pretty confident I'd get another crack at it," Gould admitted.
"I had to wait for the Dawson and Georgey Hewett stuff to all unfold. It was just something that my manager and the club worked out.
"I'm stoked to be here for another 12 months and hopefully beyond that."
Gould is set to see the first result of his third pre-season on display this week as the Swans travel to Albury to face cross-town rivals the Giants in a practice match hitout, with Sydney set to rotate their senior and developing squads through a total of six quarters of action.
The Swans will face North Melbourne at Giants Stadium on Sunday, March 6 for their AAMI Community Series before their Round 1 clash against Greater Western Sydney 13 days later at Accor Stadium.