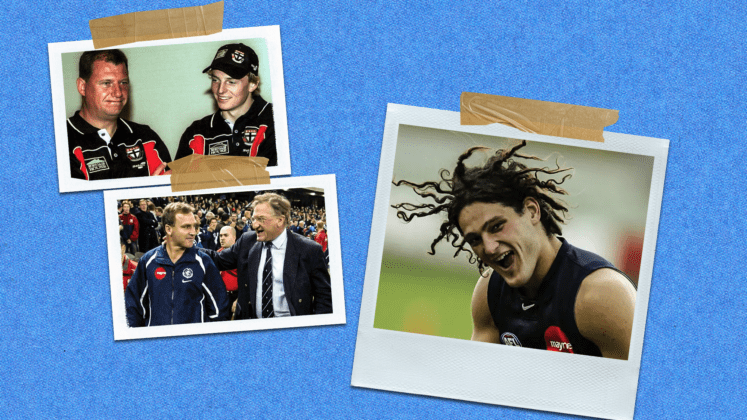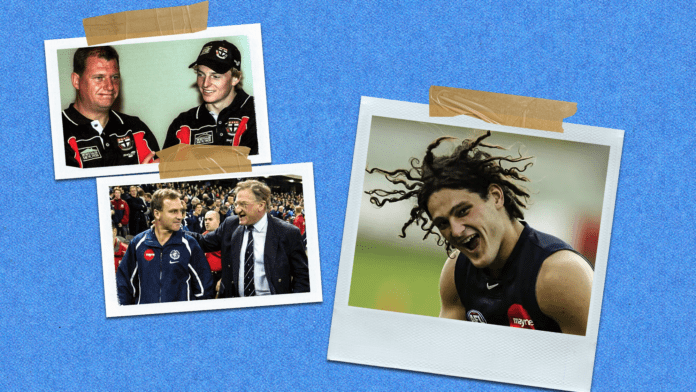 Regrets are an inevitable part of life. They come with the territory of breathing and are a part of the unwritten deal we all sign for the right to exist.
Although some contrition can feel enormous – such as the misery born when a relationship breaks down or after committing a far more criminal act – others are forgotten in the blink of an eye.
In terms of the unpredictable game of football, there are a plethora of scenarios that have made or broken careers.
What if your side picked a different player from a certain draft?
What if your star spearhead had kicked straight when it mattered?
What if cheating continued to lead to prosperity?

Well, for fans of every creed we have sought to answer the question that has rankled you for years and kept you up at night for far too long.
We can't promise that we won't open old wounds, as let's face it, that is the entire point of the exercise.
From Adelaide to the Bulldogs, from Fitzroy to the Bears, this series will go through every club's biggest 'what if' moments since the dawn of the AFL era in 1990. Here's part four as we look at the Blues' biggest 'what if'...
And strap yourself in, Blues fans, because unlike a standard injection, this one is going to hurt more than just a bit.
OTHER WHAT IFS: Adelaide, Brisbane Bears, Brisbane Lions
What if the Bluebaggers were never caught with brown paper bags?
Following a 2001 season in which Carlton fell short in the semi-final by less than two straight kicks, the Baggers plummeted off the cliff face, recording just three wins and the club's first wooden spoon in 2002.
Things couldn't get worse at Princes Park, could they?
Wrong.
After Carlton's underperforming recruit Stephen O'Reilly blew the whistle on the Blues' prehistoric recruitment practices, all hell broke loose.
Once the dust had settled after the defender dropped the bomb, it was found that three further players – Craig Bradley, Stephen Silvagni and Fraser Brown – were receiving illegal, under-the-table payments from the club.
Despite holding the first pair of picks at the draft that year, the league acted swiftly by stripping Carlton of these aforementioned picks, as well as the 31st and 34th selections to boot.
Now, it has been well publicised that the wooden spooners could have claimed Brendon Goddard and Daniel Wells with their initial picks, but names like Sean Dempster, Cameron Cloke, Brent Staker, Adam Selwood and Ryan Crowley could have also been dressed in navy if the Blues weren't caught red-handed.
In addition to this, Carlton also missed out on selecting players like David Mundy, Brent Stanton, Jed Adcock, Craig Bolton and Brett Maloney the following year.
Cynics may suggest that the pair of drafts the Blues were almost entirely barred from were some of the weakest of the AFL era. But when you consider the fact that the beleaguered club was forced into stockpiling sub-par names at the back end of them, the threadbare state of their list begins to make sense.
While the on-field portion of their business was significantly weakened, the previously flush football club was hit hard off it, too, as the league imposed a $930k fine on the Blues for their financial deviancy.
As the once-mighty Blues were still reeling from the costly, and ill-timed, upgrades to what was then known as Optus Oval, this enormous fine could not have come at a worse time.
The penalty hit Carlton so hard between the eyes that the former financial powerhouse was forced to apply for a $1.5 million loan from the league just to stem the bleeding.
Although their then President John Elliott – a vocal critic of both the draft and the salary cap – could well have continued advocating for further flouting had O'Reilly not outed the club's practices, the question remains: What would the last 20 years have looked like for Carlton had they gone undetected?
Between their loss in the 2001 semi-final and the beginning of the 2004 season, Carlton lost nearly 1,200 games of experience from their list following the departures of Bradley, Silvagni, Brett Ratten and Andrew McKay.
Although Kade Simpson and Andrew Walker first walked through the club's doors during this period, and only left after notching 342 and 202 games respectively, the pair were not the like-for-like replacements that Carlton required.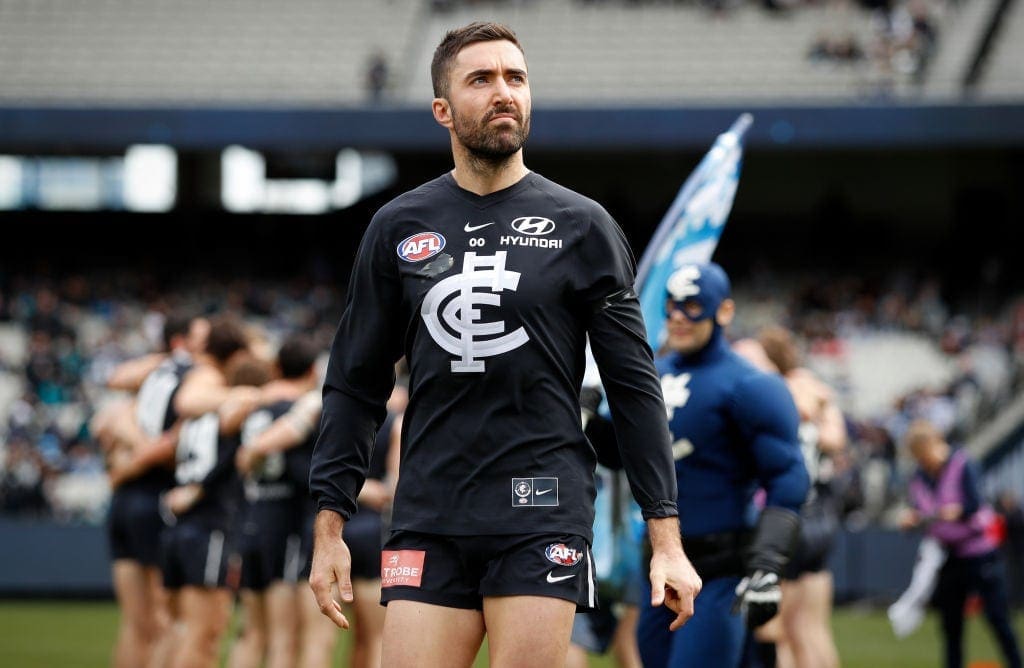 In addition to this, had the Blues been able to use their early draft picks in 2002 and 2003, then their scrambles to fill gaping holes in their list would not have eventuated.
In fact, if they had not been sanctioned by the league, there is a genuine likelihood that instead of rebuilding from the losses of club champions, Carlton would have, once again, hit the marketplace and targeted seasoned opposition stars.
With this in mind, a player of Chris Judd's calibre would still likely have made his way to Princes Park at some stage, however, he would have had company.
But while the 16-time premiers could have gone on another spending spree that would have seen their interstate raids of the 1980s pale in comparison, with an unquestioned board simultaneously pulling the levers and stubbornly refusing to embrace the measures of the modern game, a slip up of this enormity seems inevitable in hindsight.
Had the league not fined Carlton nearly $1 million, then the club would have doubtlessly been in a better position to ride out the losses that eventuated from the construction of the Legends Stand just prior to the AFL breaking ground at Docklands.
Had Elliott's board not been sprung, then you could also bet your bottom dollar that Carlton would not have five wooden spoons to their name and that a rise back to the finals – a place the club then felt they had a divine right to grace on a consistent basis – would almost certainly have been much swifter after the dip of 2002.
Perhaps the only positive to have eventuated from this seismic setback was that if Wayne Brittain was retained as head coach after the club's first wooden spoon season – an unlikely scenario given the former board's reputation for ruthlessness – then Brendan Fevola may have been clad in another club's colours much sooner.
As it was, Brittain was looking to move the shaggy-haired spearhead on prior to the 2003 season due to perceived inconsistencies in his game – no matter that Fevola was the Blues' leading goalkicker with 63 majors throughout 2002.
Our guess is the question on every Carlton fan's lips over the past 20 years is whether or not they would have added to their titanic trophy case had they not been paying players in sandwich bags.
However, with so many variables, this query is almost impossible to answer.
As mentioned, it is likely that Elliott's board would have continued with their archaic recruitment means, and that further stars would have made their way to Princes Park promptly.
But if it only took paying 'overs' – or in this case 'unders' – for an injury-prone defender with a questionable track record to bring down the whole operation, punishment, in some degree, was an inevitability.