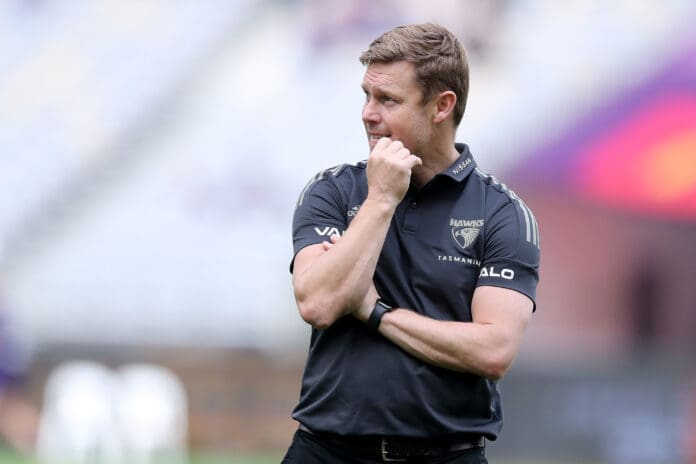 With season 2023 and the trade period in the rear view mirror, attention has already turned to 2024. The fixture has been released and clubs are already back at work as they look to get a jump on their competition. Yet there is still one crucial part of 2023 still to come: the National Draft.
It goes without saying that every year, every single club needs to get their draft picks right to continue their climb up the ladder, solidify their positions or build a base on which to challenge long-term.
Yet most years, there are a handful of clubs who are under more pressure than the others to make their picks count and this year is no different. There are teams in precarious positions, who badly need to find more star power if they are not to just make up the numbers in September.
Some clubs have traded heavily and need to find a diamond in the rough later in the draft, some have over-performed this year and now have picks outside the top 10 when they desperately need one inside it, while some need more quality pillars to build their future around.
This year's draft has an extra layer of intrigue given it's so compromised, with a lot of top-end talent going to North Melbourne and the Gold Coast. With at least seven of the country's top eighteen prospects going to just two clubs, the remaining sixteen will need to work some magic.
Arguments could be made for every club being under the pump, however, recent success for the likes of Geelong and Collingwood mean they face less pressure than most.
SEE ALSO: Sydney, North Melbourne in trade talks surrounding trio of first-round picks
Strong lists at Port Adelaide, Brisbane, Sydney, Carlton, GWS and Melbourne also brings less draft night scrutiny, particularly as they all played finals in 2023 and are well stocked with elite players.
As for those with multiple picks inside the top 10-25, the likes of North Melbourne, West Coast and Adelaide, the chances of success on draft night are much greater, while the Suns have a free hit with three top fifteen-rated players coming their way for peanuts thanks to ludicrous academy rules.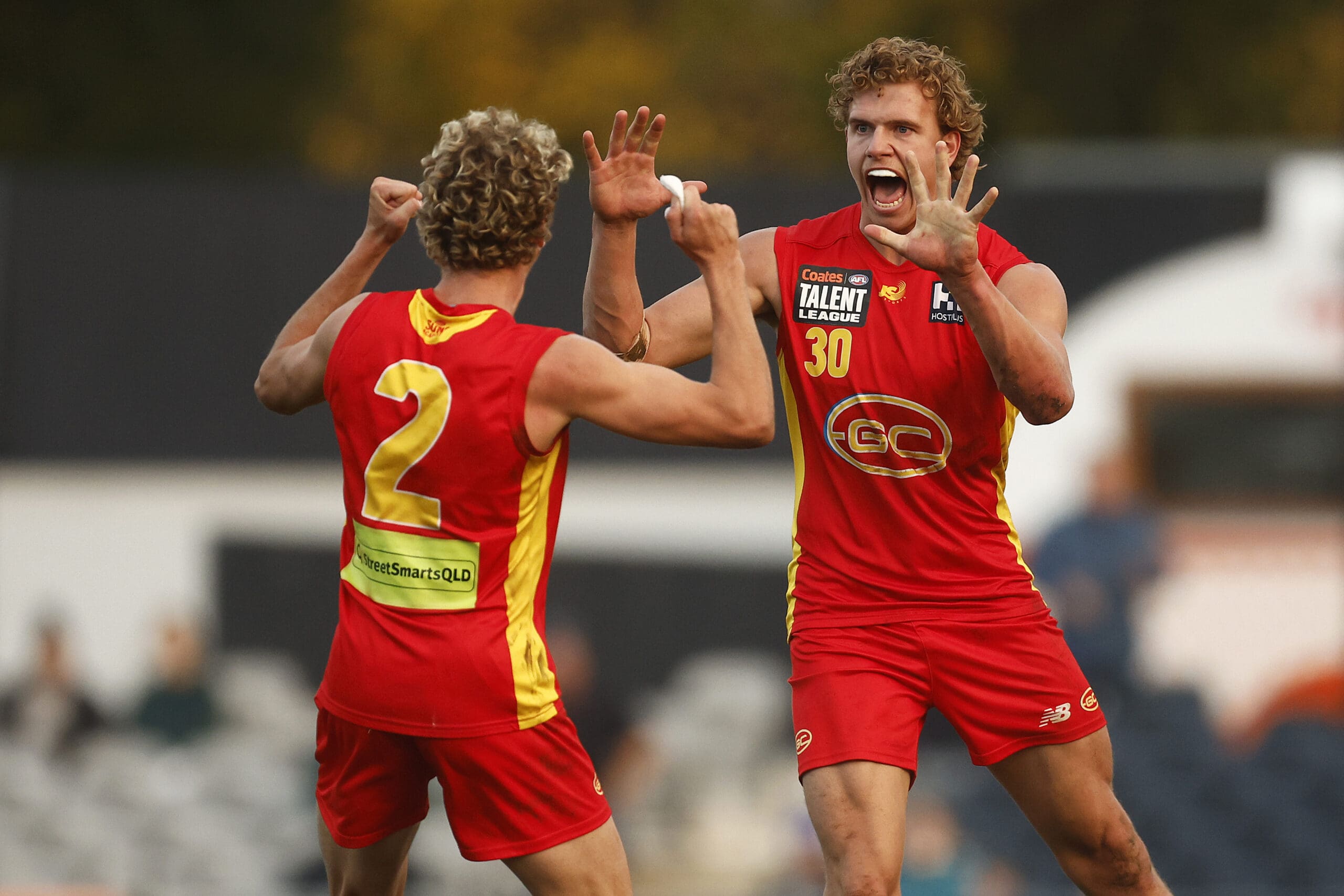 Which leaves a handful facing the very real need to get creative and produce something special at the draft. These are the six clubs who are under pressure to make it count.
Western Bulldogs
Picks: 5, 48, 50, 52, 53, 56, 67
The Bulldogs traded up to get to pick 5 and gave up a lot in the process. They clearly feel their list has enough depth and just needs a top up on an elite talent. They'll get promising tall Jordan Croft via the father-son rule, which is a huge bonus as he's rated in the top 15 or so players this year.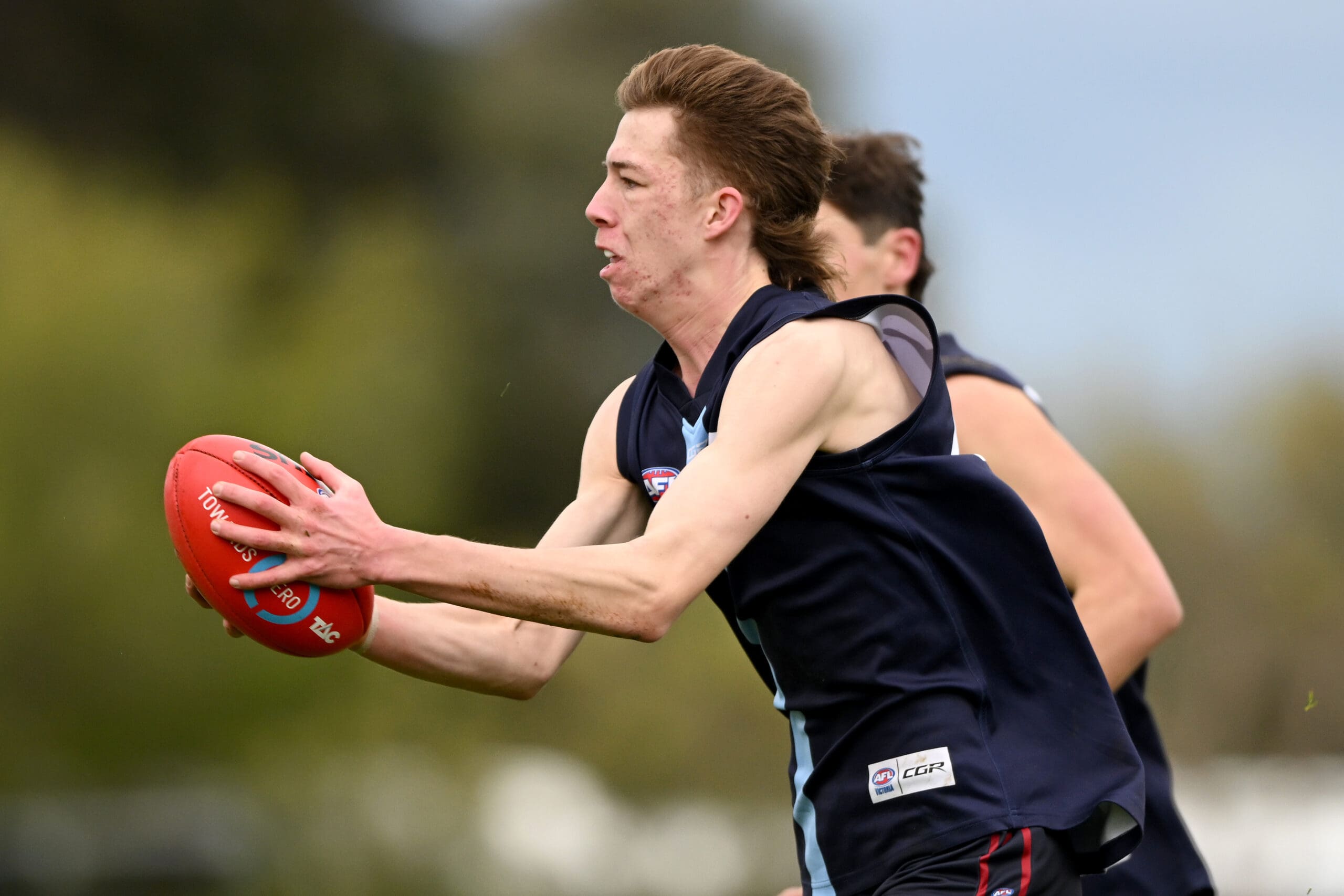 Yet, having missed finals, the scrutiny is intensifying on all at Whitten Oval. They have a list that, at minimum, should be playing in September, if not challenging for a top four berth.
They cannot afford to miss with pick 5 and while history suggests they won't, this year's draft is rather murky after Harley Reid and Jed Walter, meaning predicting who will be available at pick 5 is that extra bit more difficult for them.
Having invested heavily to get into the top five of the draft, surely the Bulldogs have their eye on someone who they feel can have an immediate impact. With midfielder Ryley Sanders, exciting small forward Nick Watson, key defender Connor O'Sullivan and powerful forward Nate Caddy all likely to be available at their pick, there will be a difficult choice to make around which area of the ground they think requires the most attention.
As they're unlikely to draft many players outside of pick 5 and Croft, their first pick is crucial ahead of a crunch season in 2024.
St Kilda
Picks: 13, 21, 40, 77, 82, 86
The Saints put together a great year against all odds, starting fast and staying in the top eight for the duration of 2023. Despite this, they were exposed in September by a better side with more elite talent and this is where they find themselves at a cross-roads.
They desperately need internal growth to continue through the likes of Max King, Nasiah Wanganeen-Milera, Mitch Owens and Mattaes Phillipou, but also need another two or three young guns to complement this crop. The current youngsters performed extremely well this season, however the worry will be relying on them to do too much, too soon.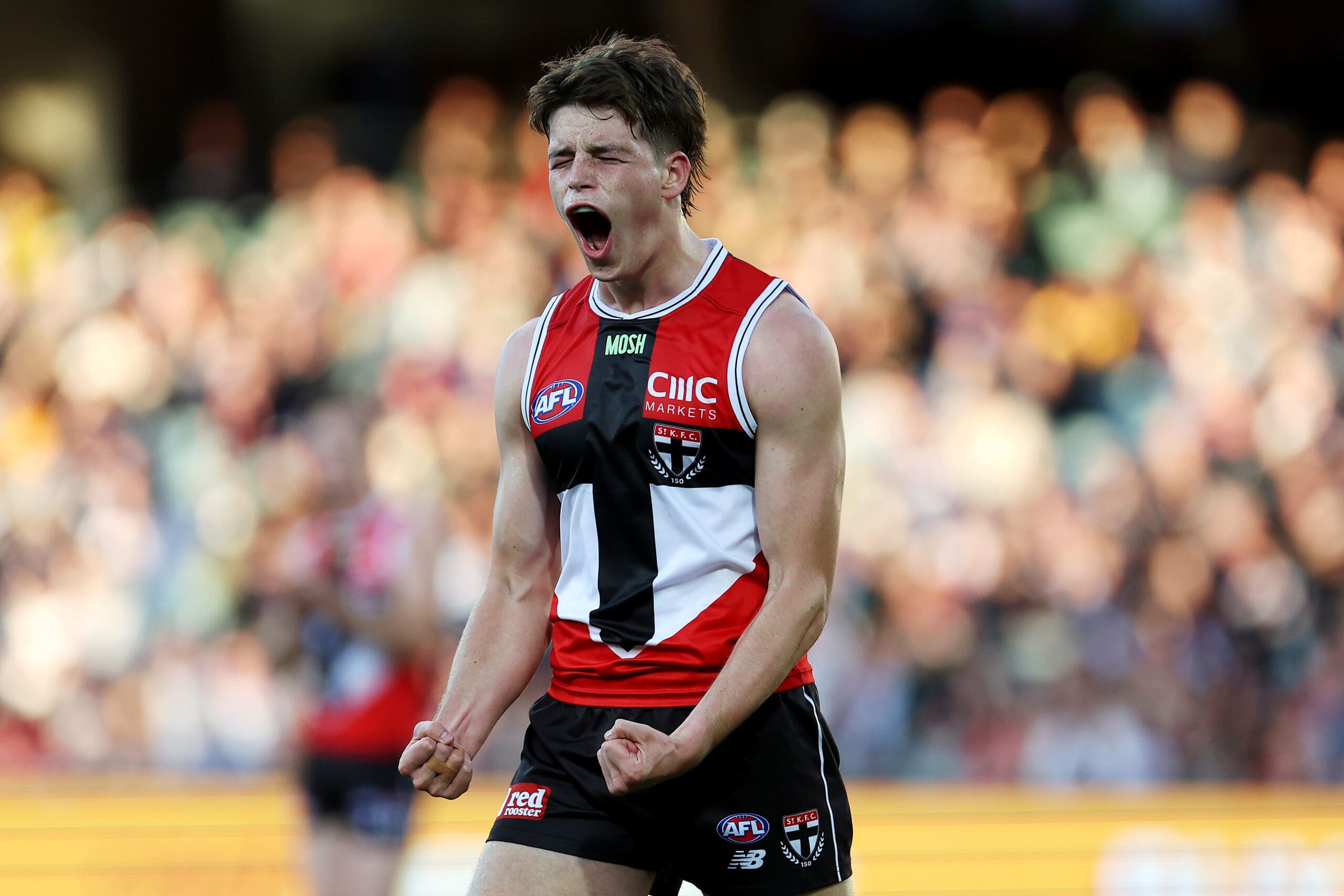 The Saints were rumoured to be open to trading a big name senior player, however nothing eventuated and they find themselves outside the top 10 picks, where the odds of finding a future superstar decrease dramatically.
Given their picks will slide due to academy and father-son bids, it's so crucial they nail their first two selections. They will desperately be hoping that a Darcy Wilson or Caleb Windsor somehow slides to them at their first selection. If not, bayside key defender Ollie Murphy will likely appeal.
The Saints may need to work some pick-trading magic on draft night and, given Stephen Silvagni's tack record in this area, it must surely be something the club is entertaining.
Essendon
Picks: 9, 31, 35
The Bombers showed some positive signs of improvement this year under Brad Scott but are too often found wanting when injuries hit, with their lack of depth badly hurting them at crucial times in recent seasons
With only three picks in this year's draft, it's absolutely critical they nail their first pick and hope to unearth some diamonds in the second round. With the Bombers embracing change in the list management space, this draft will be interesting.
RELATED: Ranking the FIVE best midfielders for the 2023 AFL Draft
They absolutely cannot afford to continue to miss finals and, like the Saints, continue to float around the middle of the ladder. This supporter base wants finals and wants a clear plan from those running the club.
They did well in the trade and free agency period, now they need to add to that at the draft. With the majority of the very best talent likely to be gone by their first pick, the Bombers may try to trade up and attempt to snare the likes of Nate Caddy or Connor O'Sullivan.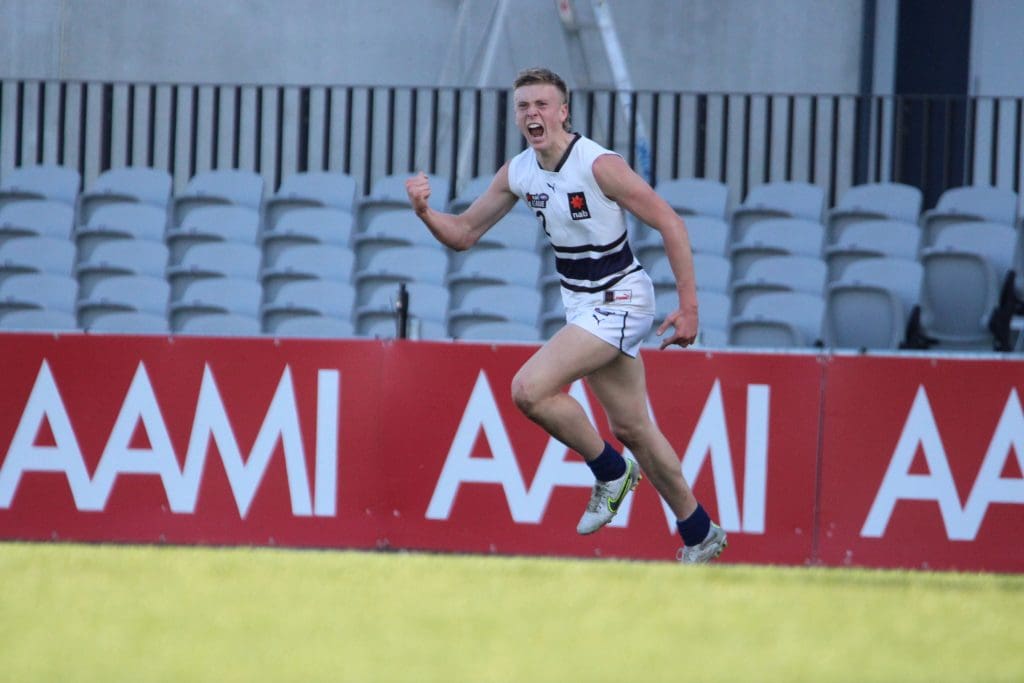 Should they be unsuccessful or opt against it, they will need to be at their shrewd best as they attempt to find someone who can have a quick impact for them as they look to return to September action.
Hawthorn
Picks: 4, 44, 47, 49, 61, 62
The Hawks showed plenty of promising signs this year, particularly in the second half of the season. After being the subject of much scrutiny last off-season, they have largely silenced the doubts surrounding their rebuild and must now take the next step.
Will McCabe falls into their laps in a stroke of good luck via the father-son rule and given his abilities as a key defender and ranking amongst the top 20 or so players, this will allow them greater flexibility with their first pick.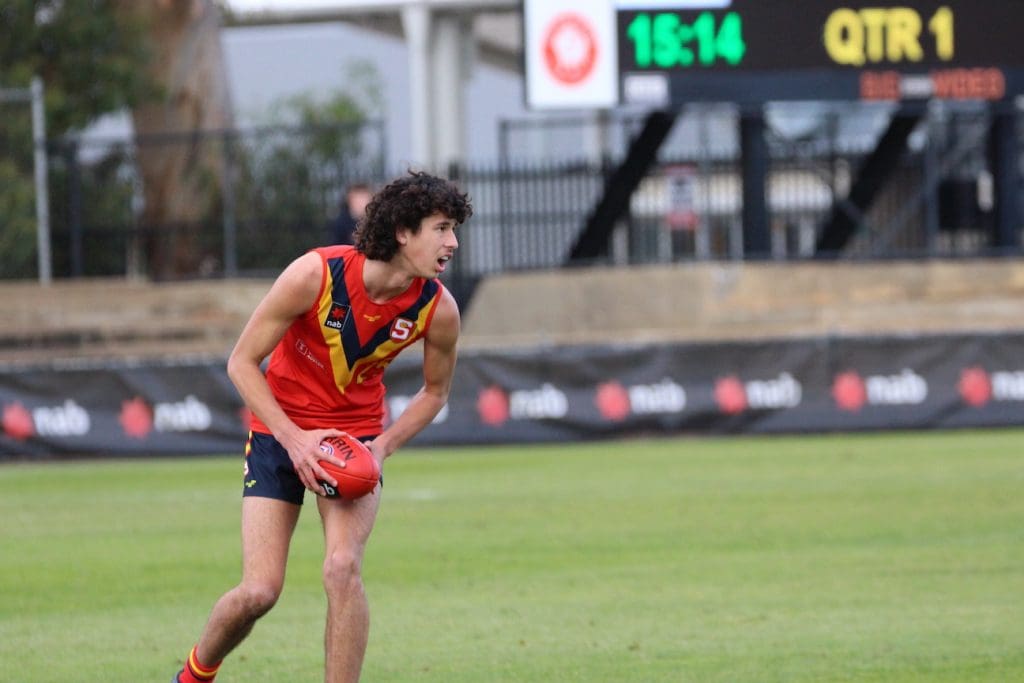 As Sam Mitchell's rebuild picks up steam, it will be interesting to see which part of the field they prioritise. The Hawks absolutely need to nail pick 4 to continue the path they are on, so the question is, what kind player they will look to target?
Champion small forward Luke Breust is showing no signs of slowing down, however, he is well into his 30's so succession planning for his retirement is probably the most crucial need. Goalsneak Nick Watson and midfield-forward Colby McKercher are likely to be available and on the radar.
However, if Dan Curtain is somehow still an option at that stage, the Hawks will have a difficult choice to make. Whichever route they choose to go down, it's absolutely crucial to their rebuild that their first selection becomes a pillar for the future of the club.
Richmond:
Picks: 29, 41, 64, 66
Having traded heavily for Tim Tarranto and Jacob Hopper, quickly followed by Damien Hardwick's departure, the Tigers are in an awkward position. Despite the obvious elite abilities of both, it leaves them short on currency at the draft.
They have just experienced one of the great dynasties of the modern era, however that appears to now be coming to an end unless they can pull a rabbit out of the hat on Draft night.
With limited picks, and none inside the top 25, their chances of finding a future superstar are slim but not impossible. Plenty of greats have been found in the second and third rounds of the draft, it usually requires a bit of extra risk-taking.
With the draft beginning to look quite unpredictable beyond the first two selections, who knows which players may be available around Richmond's first pick. Should the likes of key forward Archer Reid still be in the mix, they may be tempted to trade up and snare him.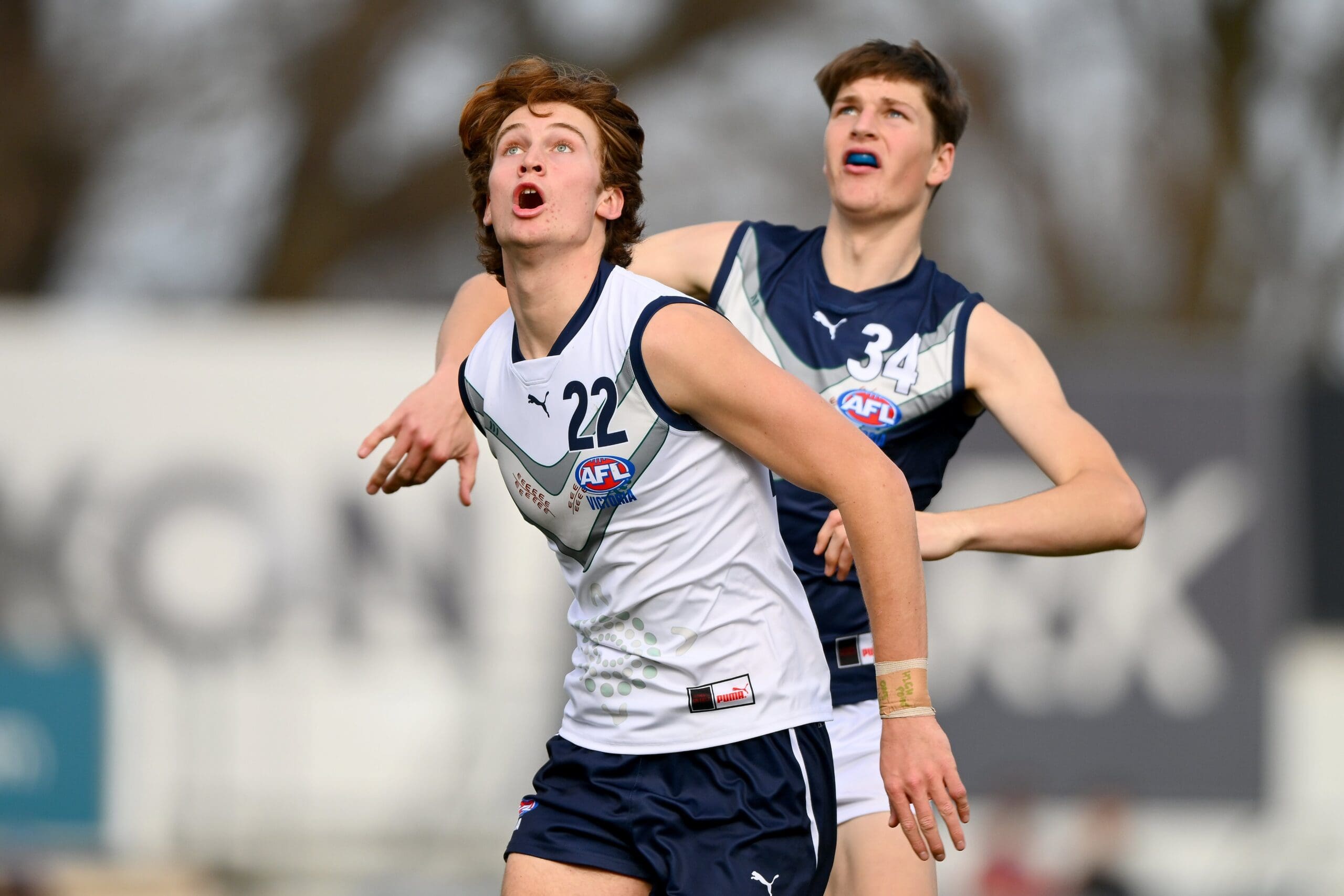 The Tigers are undeniably under pressure to find some talent that can impact the side straight away and prevent a slide down the ladder. They will an interesting watch come draft night.
Fremantle
Picks: 34, 46, 60, 63, 74
Two years ago, the Dockers were on the charge and appeared set to challenge for a premiership in the coming years, yet season 2023 couldn't have gone much worse for them, with a slide down the ladder was compounded by the departures of important players.
Having lost Lachie Schulz and Liam Henry to trade requests, their stocks have thinned in an age bracket where they could ill-afford it. With the likes of Nat Fyfe, Matt Taberner and Sean Darcy suffering from injury issues, the Dockers badly need more elite talent for depth.
They invested heavily in Luke Jackson, who is looking like he'll be worth it, yet it leaves them very handicapped at this year's draft. They can't afford not to bring in reinforcements for the ilk of Caleb Serong, Andrew Brayshaw, Hayden Young, Jackson and Jye Amiss.
Similarly to Richmond, they will need to work some magic to turn a handful of very ordinary picks into two or three quality players for the long-term, without selling the farm, which sounds almost impossible.
Though Mitch Edwards is a part of their academy, he is unlikely to be available after pick 40 and the Dockers are well-stocked for Rucks anyway. Given Schulz's elite forward 50 abilities, this appears as the area most likely to require reinforcement.
Perhaps if Phoenix Gothard were available in the late 20's or early 30's, they may be tempted to trade up for him? What is clear is that Fremantle desperately need to make something happen at this draft, if only to replenish the quality young talent they seem to keep losing every year.