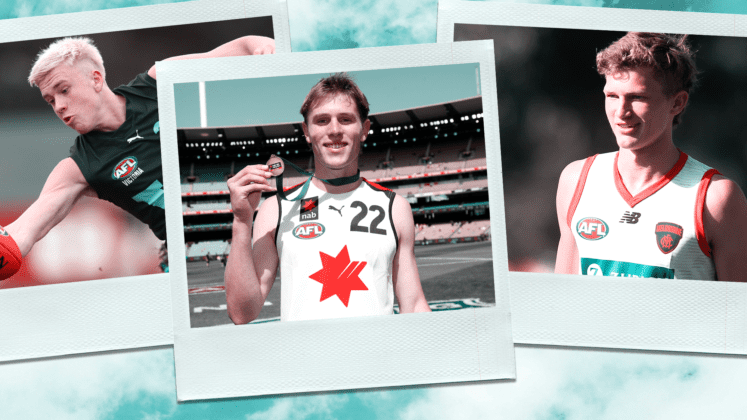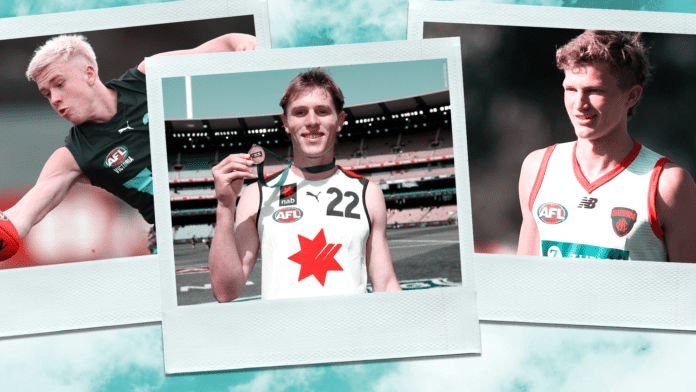 At the conclusion of the AFL home and away season, the bottom 10 clubs locked in their draft selections for the first round of this year's count.
Some of the opening selections are in the hands of finalists however, with clubs like Fremantle and Richmond parting ways with their opening picks for 2023 through trades last year.
Those deals have shaken up the order as Melbourne and GWS look to work themselves through the upcoming finals series and also keep an eye on the high end of this year's draft crop.
West Coast will open the count at Pick 1, should they not choose to part ways with it, while North Melbourne could have as many as three selections in the top 10 if things fall in their favour.
Here we go through each top 10 selection and name the prospects the holders of those picks could select.
SEE ALSO: FULL INDICATIVE DRAFT ORDER
Pick 1 - West Coast
After a back-and-forth finale to their 2023 season with North Melbourne at the bottom of the ladder, the Eagles fell to the foot in the last round to secure access to the first overall pick in this year's draft.
Whether West Coast will actually use that selection on draft night will be a talking point from here until then, with the Perth powerhouse, as well as their rivals, likely interested in trading places.
Harley Reid - The clear-cut selection for West Coast if they are on the clock to open draft night. While there may be some hesitancy to select the Vic Country sensation, the Eagles will be doing themselves no favours in passing Harley Reid and looking elsewhere. Select the hard-nosed teenager and back the club's long history of nurturing a new home for interstate draftees.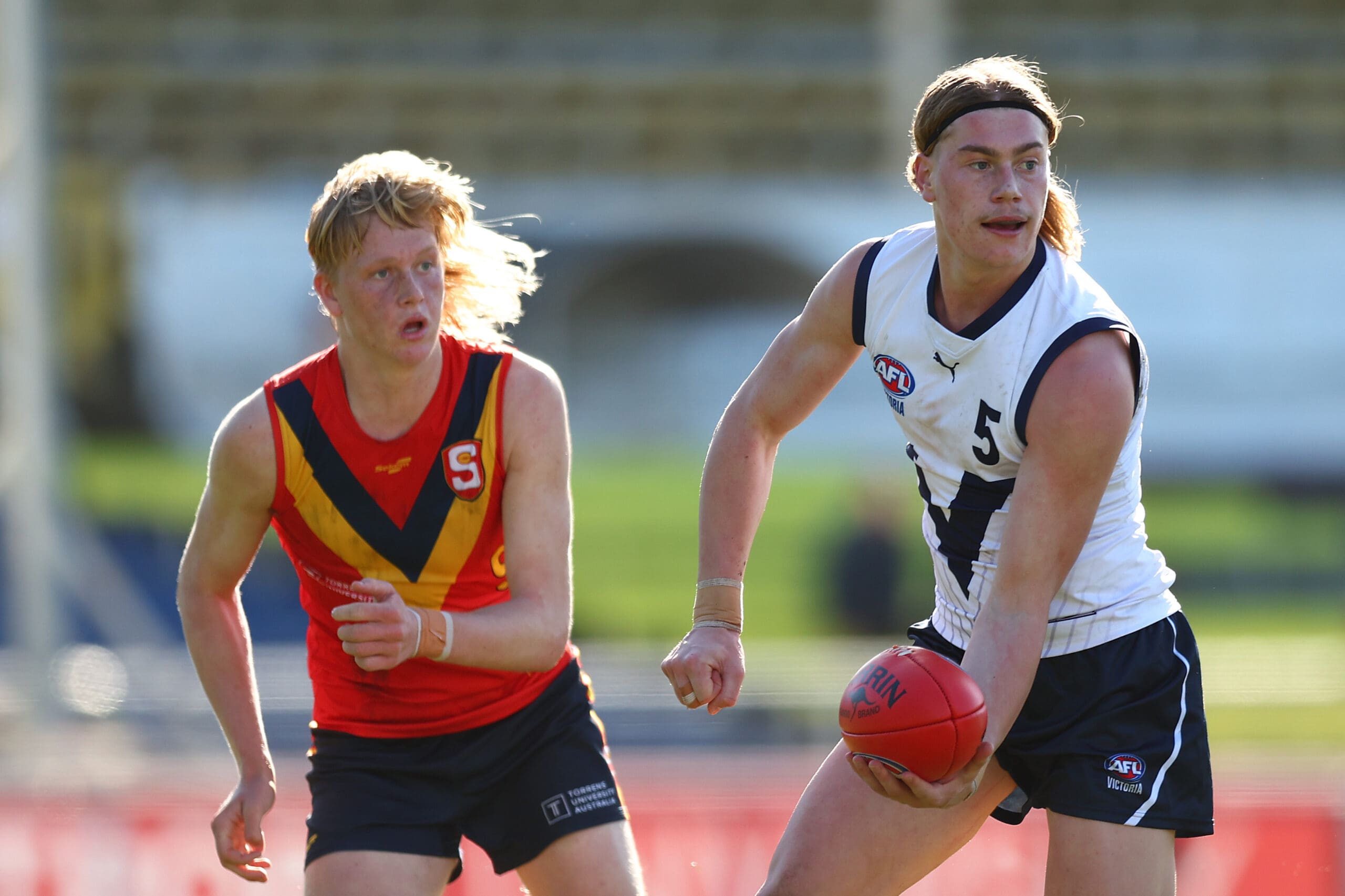 Trade - A more favoured move over carrying Pick 1 to the draft, with the Eagles able to almost triple their tally of first-round selections given the demand for rival clubs to get to the front of the queue. One scenario would be to open talks with a club like Melbourne, who can offer their own first-round picks for this year and next, as well as Fremantle's first pick (set at Pick 5) - which they hold after parting ways with Luke Jackson last year. The Eagles could also entertain a deal with North Melbourne, who hold multiple first-round picks for the 2023 draft and could even gain another through free agency compensation. If the Eagles can add Pick 2 for their opening selection and potentially gain Port Adelaide's first-round selection, which is also in the Roos' hands, then West Coast can look to secure two young stars for the price of one and still have first dibs after Reid's name is called.
Another to consider: Dan Curtin
Pick 2 - North Melbourne
North Melbourne will be an intriguing party on draft night, potentially holding three first-round draft selections while also having priority draft access to one of this year's best midfielders in Riley Sanders. As well as Pick 2, the Roos could have another top selection via free agency compensation, while they also currently hold a later first-round selection via Port Adelaide.
To likely start off their night they'll pick second in the queue, with a number of avenues on offer.
Dan Curtin - The most fitting option for the Roos to consider under the assumption Harley Reid is off the table come Pick 2. The Roos could be in a strong position if they are given band one compensation for the expected loss of free agent Ben McKay, meaning they'd hold Pick 3 as well. Curtin, the leading key defender in his draft class, is a versatile weapon that can also be deployed in midfield and as a key forward. A potential 'Mr. Fix It' for North Melbourne.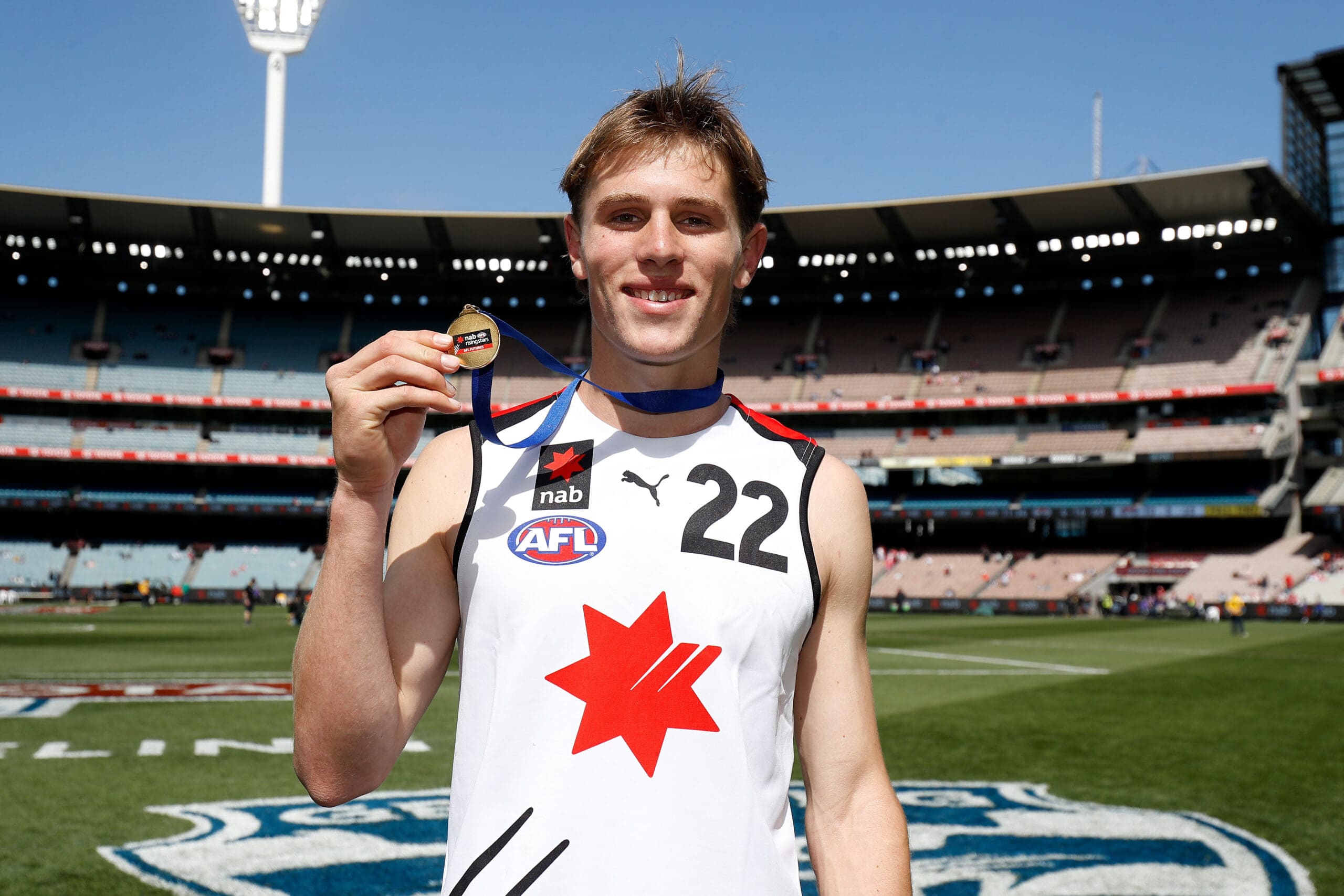 Colby McKercher - Speed is the name of his game, with McKercher viewed as a Zach Merrett-esque type operator who brings with him pace, explosiveness and a ball-winning ability like no other in this year's class. Not necessarily a list need for the Roos, but more of a selection of adding the best talent still available, with McKercher viewed by some as the next in line behind Reid outside of Gold Coast Academy forward Jed Walter.
Another to consider: Zane Duursma
Pick 3 - Hawthorn
After a decade of dominance, the Hawks are in line to use their fourth top 10 draft selection since 2020, with Pick 3 their earlier in that run. Sam Mitchell has been able to build out a formidable defensive unit before injecting talented youth into his midfield group, with the Hawks coach now likely looking to sharpen the spear of his emerging squad.
While Hawthorn traded back into the draft's opening round last year after adding Cameron Mackenzie earlier on the night, the Waverley club are sure to assess how they can get the most out of this year's count. They will have father-son access to South Australian defender Will McCabe, who will have some influence on how the Hawks use their first pick.
Nick Watson - A 170cm small forward who packs a punch. Nicknamed 'The Wizard', Watson often dips into his bag of magic tricks to provide something special in the attacking third of the field. Booted 13 goals across three games for Vic Metro in the National Championships to do his draft stocks no harm.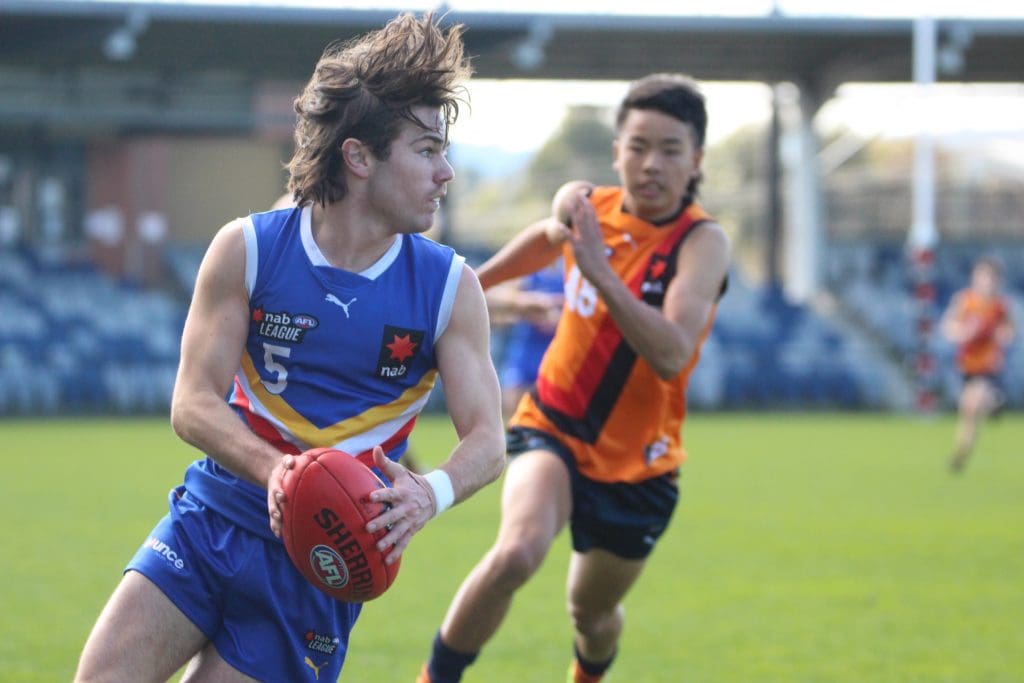 Zane Duursma - If the Hawks are looking to build a support network around key forward Mitch Lewis for the long haul, then Duursma may be their man. While only standing at 189cm tall, Duursma is an elite ball winner in the air and is a creative mover at ground level as a midfield-forward hybrid. A sharp eye who kicked three or more goals on six of his 10 Coates Talent League games this year for Gippsland Power while also averaging 19.8 disposals per outing.
Another to consider: Dan Curtin
Pick 4 - Gold Coast
The Suns will be a fascinating factor in this year's trade and draft periods, and will likely be without Pick 4 come the 2023 count due to obvious reasons. Gold Coast's Academy is home to three of this year's top 12 or so prospects, with the Carrara club needing a gargantuan pile of draft points to match bids for all three of the young draft stars.
To do so, Gold Coast will likely look to split Pick 4 via a trade and bring in. multiple later selections that total a higher value than their single selection.
Jed Walter - The headline piece among the Suns' Academy, with the 195cm and 95kg key forward seen as arguably the best prospect in the draft outside of top-rated talent Harley Reid. Walter booted 11 goals from his four games in National Championships for the Allies and would kick 18 goals in the Talent League from as many games for the Suns' junior side.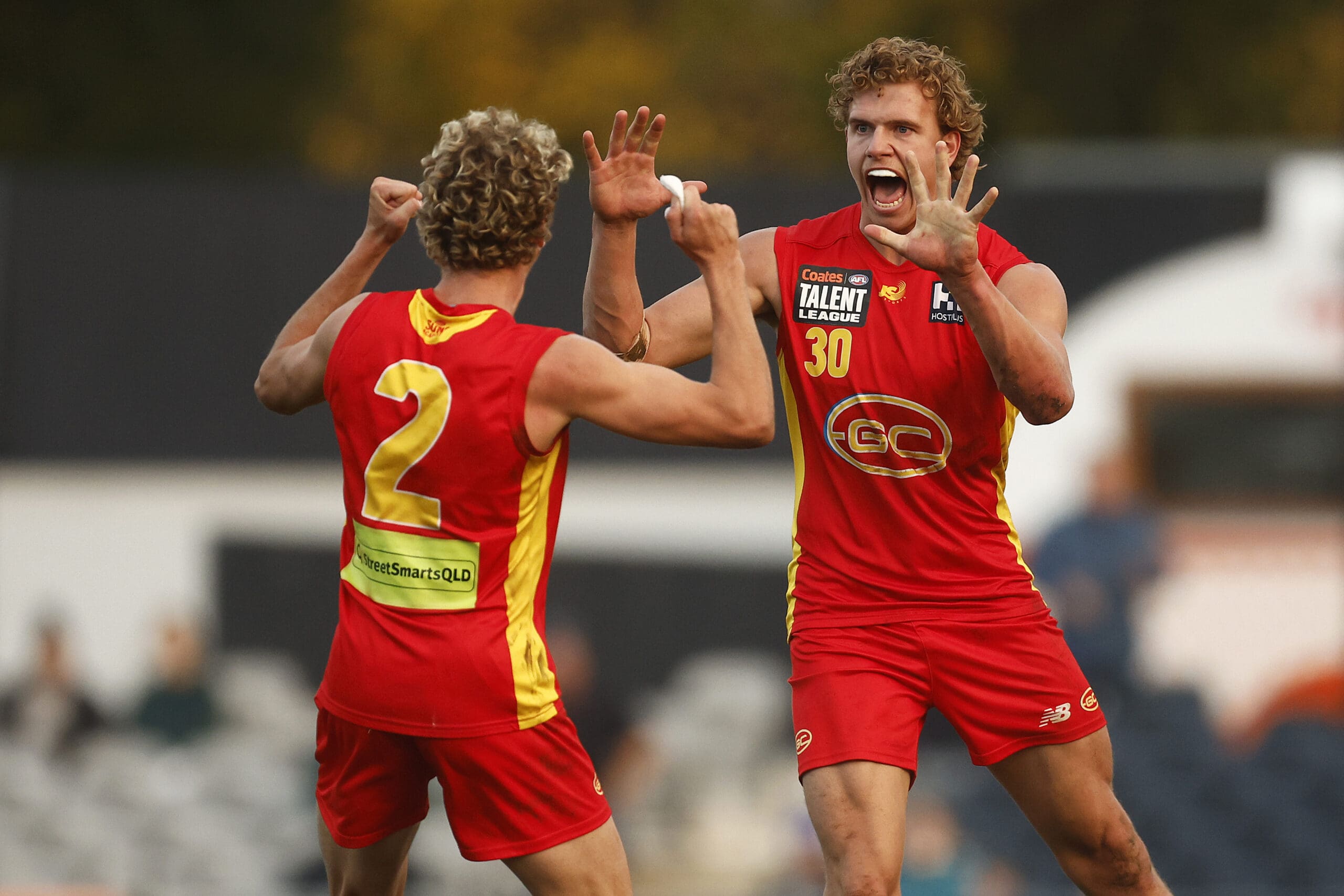 Ethan Read - A 202cm ruckman who can also rely on his athletic abilities to play as a key-position defender or even float forward. Will likely succeed Suns co-captain Jarrod Witts once the baton needs to be passed, but new coach Damien Hardwick may look to experiment with using Read as a backman for the earlier years of his career.
Jake Rogers - a tough inside midfielder known for his tackling who will greatly benefit from working under the likes of Matt Rowell and Touk Miller at Carrara. Has significantly risen up the ranks this year to now be in the mix as a top 10 draft prospect and was able to feature in three VFL games for the Suns in 2023.
Pick 5 - Melbourne (via Fremantle) 
Melbourne find themselves in a strong position for the draft after securing Fremantle's first-round selection for 2023 following last year's trade that saw Luke Jackson depart for Western Australia.
The Demons, should they carry the pick until the end of the trade window and into draft night, will be fifth on the board and will have the ability to add a top five talent to their already-contending squad.
Zane Duursma - A name that may be familiar to some Demons fans, with Duursma having trained with Melbourne in the pre-season as part of the AFL Academy program, while he also pulled on the boots for Casey on two occasions earlier this season in the VFL. An attractive hybrid talent who can work as a forward target and through midfield, averaging 19.8 disposals and booting 29 goals from his 10 Coates Talent League appearances for Gippsland.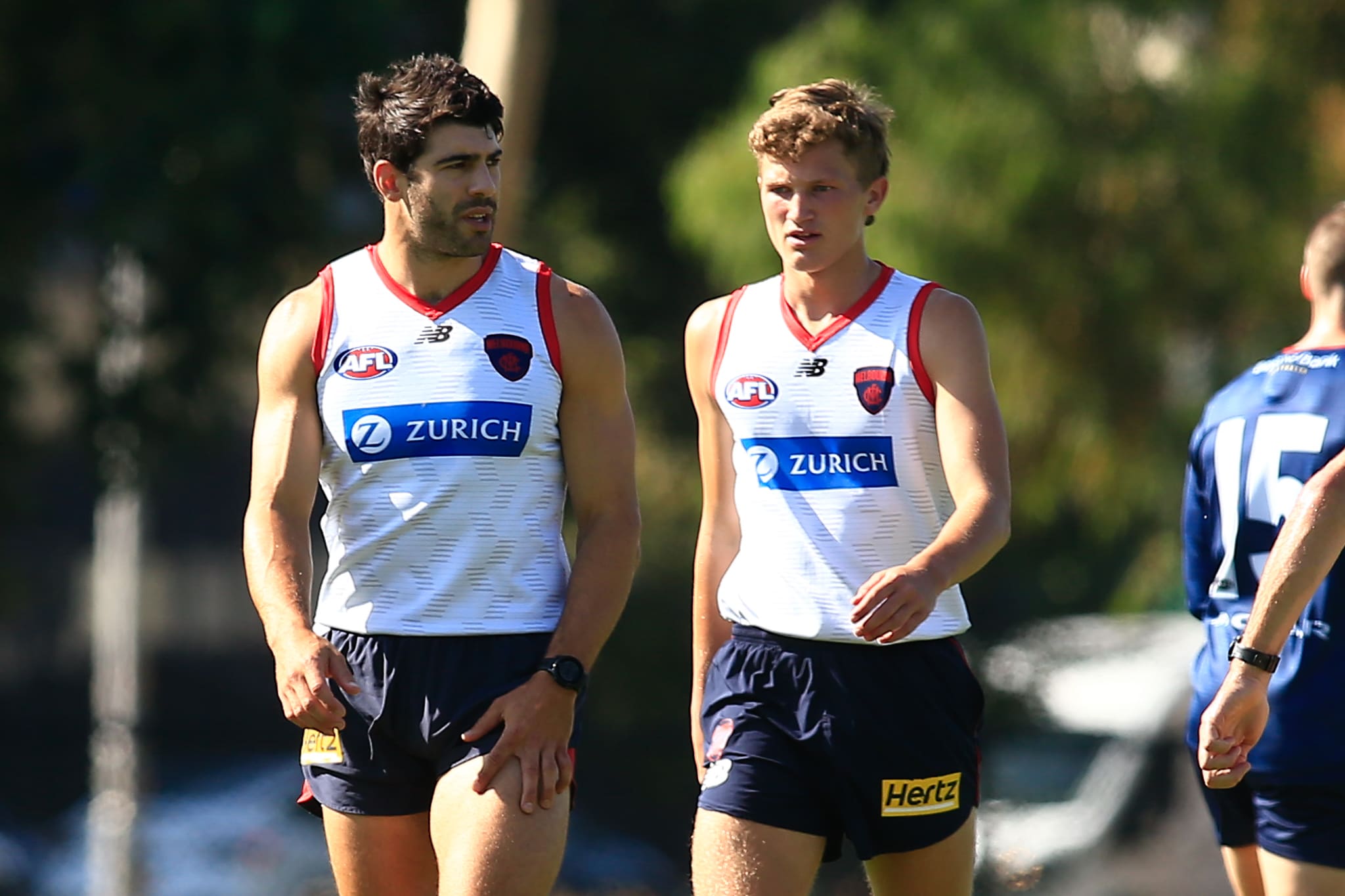 Colby McKercher - A midfielder who would greatly complement the likes of Clayton Oliver, Christian Petracca and Jack Viney for years to come thanks to his inside-outside ability and sheer pace. Averaged 30.6 disposals, 5.0 marks and kicked eight goals for the year. A bonafide match-winner who made his senior debut for Launceston at 16 years of age.
Another also: Riley Sanders
Pick 6 - GWS (via Richmond)
The Giants find themselves playing September football after a strong first season under senior coach Adam Kingsley, but that won't prevent them from heading to the draft board with an early selection at their disposal.
Thanks to Richmond's successful pursuit of Jacob Hopper last year, GWS hold the Tigers' first pick following the Punt Road club's significant slide in 2023.
Zane Duursma - The Giant will be quite happy if Duursma is still up for grabs when they're on the clock, with the Foster forward one of the more suitable selections for GWS. Wanting to sharpen their attacking third while continuing to add players who can fill multiple roles, Duursma would be a prime selection for the Giants given his ability to work through midfield and as a third tall forward alongside last year's No.1 pick Aaron Cadman and emerging spearhead Jake Riccardi for the years ahead.
Nate Caddy - Is arguably the best available key forward prospect in this year's class, with Gold Coast Suns Academy talent Jed Walter and Western Bulldogs father-son Jordan Croft joining Caddy in top 10 contention. The nephew of Richmond premiership player Josh, Caddy booted 23 goals for the Northern Knights from his eight appearances this year, equating to an average of 2.9 goals per game - the third-highest in the Talent League.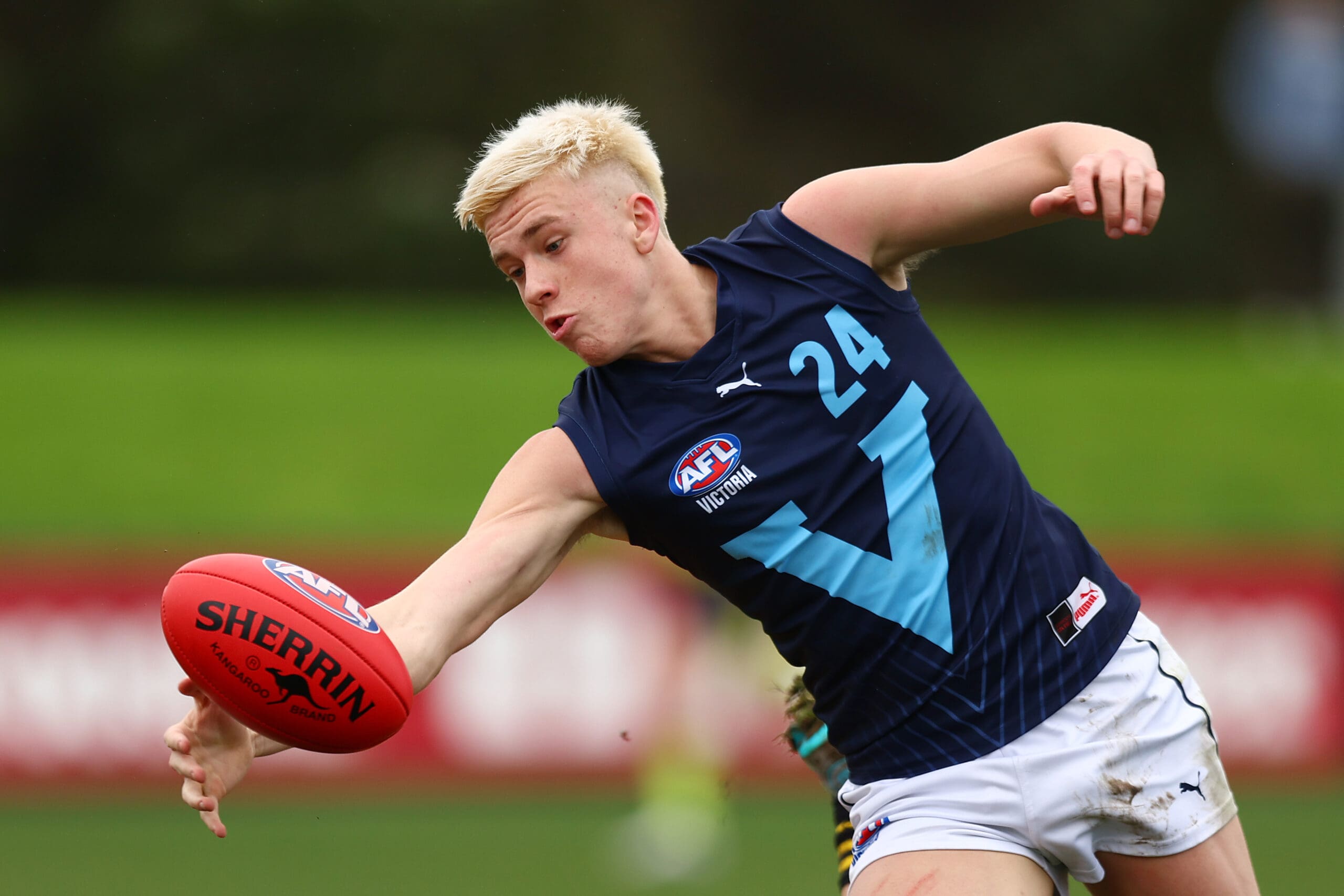 Another to consider: Connor O'Sullivan
Pick 7 - Geelong
For the second year in a row, the Cats will carry Pick 7 into the off-season, with the Kardinia Park club likely wanting to hold the selection as they turn to the future. It'll be the club's third top 10 selection since the acquisition of Joel Selwood in 2006, having added Nakia Cockatoo (Pick 10, 2014) and Jhye Clark (Pick 8, 2022) over the years since.
Perhaps some midfield talent or a tall forward may be on the menu for the Cats come draft night.
Riley Sanders - A caveat comes with this call, given Sanders could walk to North Melbourne if the Kangaroos are granted priority access to the Tasmania midfielder. If that's not to be the case, then the Cats should be doing what they can to select the well-balanced onballer and further bolster their midfield ensemble. Sanders leads the Talent League for disposals per game this season with 31.2 touches each outing, with his strengths as an inside midfielder giving him the upper hand over his opponents.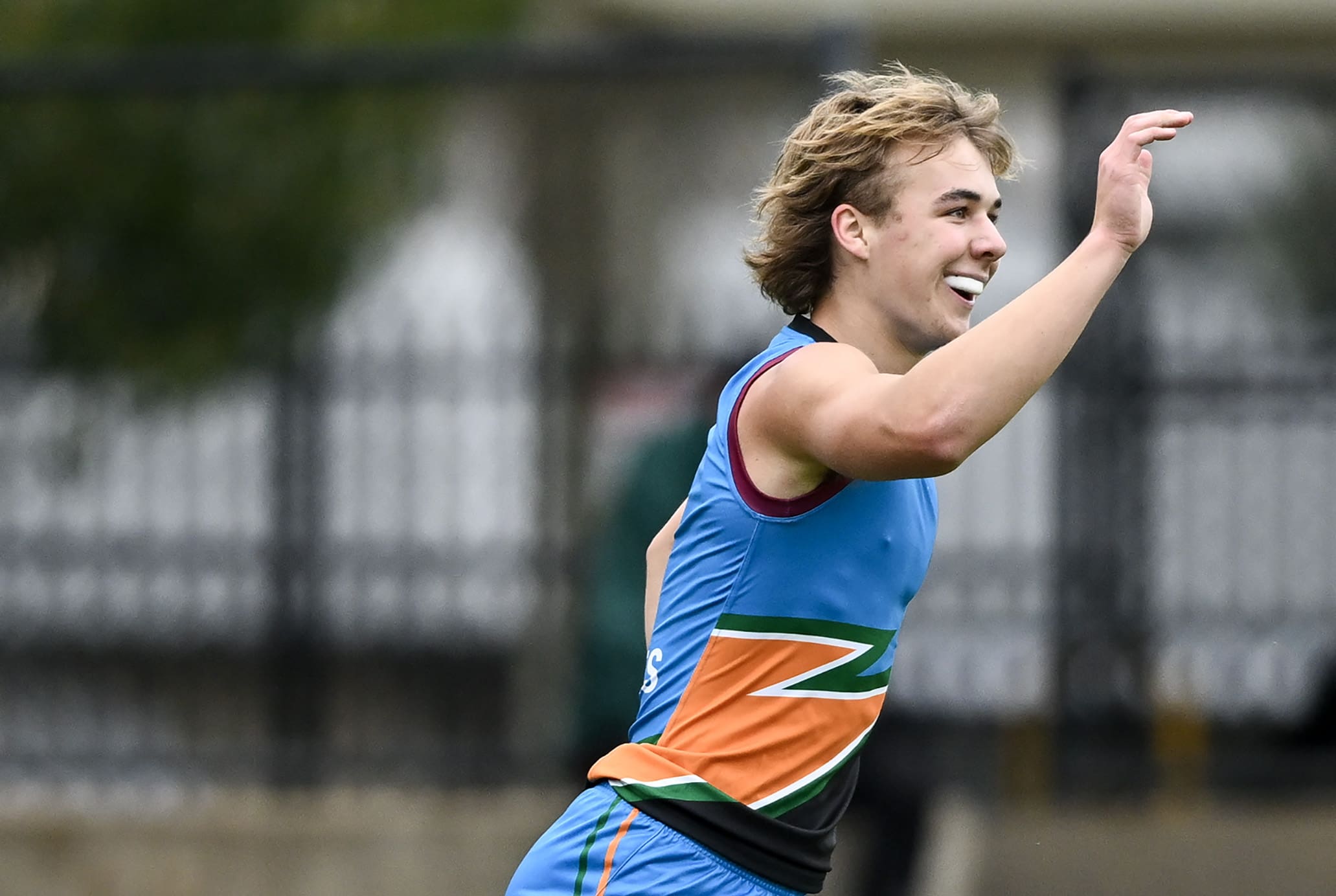 Nate Caddy - A prospect often likened to back-to-back Coleman Medal winner Charlie Curnow, with Caddy able to dominate aerially despite his smaller frame compared to most key forwards. The 192cm spearhead would kick six goals through his National Championships campaign for Vic Metro and boot at least four goals in half of his Talent League games this year.
Another to consider: Connor O'Sullivan
Pick 8 - Essendon
While the Bombers loom as a busy club in the upcoming trade and free agency space, they'll likely look to hold onto their first-round pick through all the wheeling and dealing and add more promising youth to their list.
New key position talent will be of interest to Brad Scott, whether that's through trades or the draft, while some flair in the forward half may also be an avenue the Bombers pursue this off-season.
Nick Watson - Consider this a substantial slide if Watson is up for grabs when the Bombers open their account at the draft, with Essendon's first pick likely to fall back a few spots in the queue given the anticipated bids for Suns Academy players. Nevertheless, Watson would be a dream recruit for Essendon, offering some X-factor to Brad Scott's forward third as an energetic small forward that could have an instant impact.
Connor O'Sullivan - With Essendon's backline expected to undergo a few significant changes prior to draft night, coupled with the ongoing injury battles that former top 10 selection Zach Reid faces, the Dons could look to add some more height to their backline. O'Sullivan was a standout for the Allies' premiership-winning carnival this year, taking out the side's MVP honour for his tremendous efforts in negating the best forwards in this year's class.
Another to consider: Nate Caddy
Pick 9 - Adelaide
Adelaide will be looking to take the next step in 2024 as they embark on a journey back to September, with this year's draft plans potentially the last chance they have to secure a top 10 prospect with their own draft selection.
Wanting to fine-tune their squad and continue to build for the future, Adelaide could be ready to look toward bolstering their backline and midfield assets through this year's count.
Connor O'Sullivan - The Crows will enter 2024 with Nick Murray on the sidelines and could be without Tom Doedee as well, likely relying on Jordon Butts, James Borlase, Josh Worrell and Max Michalanney to steer the ship for the opening half of next season. Defensive coach Scott Burns has gotten the best out of his emerging ranks and would have a shiny new toy to work with in O'Sullivan, who stands just short of 200cm and can leave his mark on the contest in the air. Has averaged over 20 disposals per game for the Bushrangers in 2023 as a key position talent that can also swing forward.
Darcy Wilson - A teammate of O'Sullivan at the Murray Bushrangers, Wilson is one of the standout outside midfielders among the class of 2023. Ended his Talent League campaign on a high, averaging 31 disposals per game from his last five appearances and would finish his 2023 season with 13 goals from 10 games. Covers the field with ease, popping up at each and every contest to have an impact with his ball-winning acumen.
Another to consider: Ollie Murphy
Pick 10 - Western Bulldogs
After missing the top eight, the Western Bulldogs find themselves in the top 10 mix for the first time since 2018. The Dogs have greatly benefitted from their priority access picks over recent years through the additions of Jamarra Ugle-Hagan and Sam Darcy, and that run will continue in 2023 with another first-round talent set to land at Whitten Oval at a cut price.
Pick 10 will be the first of potentially three selections the Dogs could make on the opening night of the draft given they currently hold the Lions' top selection and could have a rival bid lodged for another father-son talent.
Ollie Murphy - Another key defender? The Dogs are in line to add more height to their list this draft season with the expected addition of key-forward father-son talent Jordan Croft, who the club will be hoping hasn't been called prior to their opening pick. But looking at assets at the other end of the field, Vic Metro MVP winner Ollie Murphy would add to the Bulldogs' first-round selection of Jedd Busslinger from 2022, giving Luke Beveridge plenty to work with for the future as they also plan to give Darcy the freedom to be utilised in either 50-metre arc.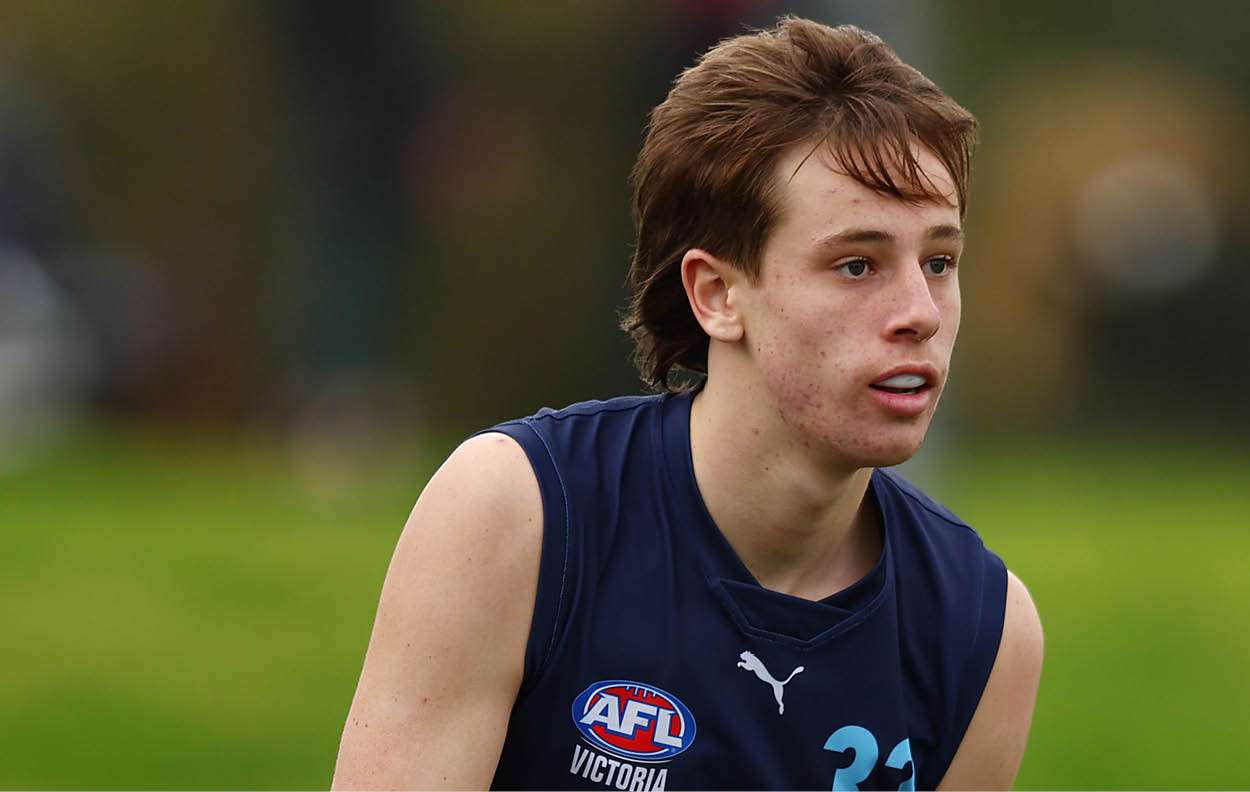 Darcy Wilson - Some outside run may also be tempting for the Bulldogs, with Wilson a player who can look to mimic the decade-long impact Lachie Hunter had on the wing for the Dogs. Wilson is a good ball user who manages to break lines with his agility and acceleration.
Another to consider: Joel Freijah