Gold Coast could come away from this year's National Draft with a trio of first-round quality selections thanks to their promising contingent of Academy prospects.
Broadbeach midfielder Jake Rogers has joined Palm Beach Currumbin pair Jed Walter and Ethan Read among the Suns' junior pathways standouts, with all three teenagers representing the AFL Academy team in 2023.
Walter, a big-bodied key forward, firms as a top-five prospect in this year's draft after an under-age campaign full of promise, while this year has seen the 17-year-old boot 18 goals in four games in the Coates Talent League, 14 of which have come in his past two outings against the GWV Rebels and Northern Territory.
The 194cm talent is also averaging 18.6 disposals, 5.5 marks and 3.0 tackles per game to only strengthen his chances of a first-round slot come draft night.
Read, a 202cm ruck option, firms as one of the leading athletic key-position names in this year's class thanks to a promising start to his draft campaign.
The rangy ruckman has put his best foot forward this season with the Suns tall ranking as one of the Coates Talent League's best contributors across all sections of the ground, with his ability to impact behind the ball and in attack a great bonus.
Rogers was acknowledged as the AFL Academy's best performer in their recent win over Carlton's VFL outfit, recording a team-high 26 disposals and four clearances to emerge as another top prospect from the Gold Coast Academy.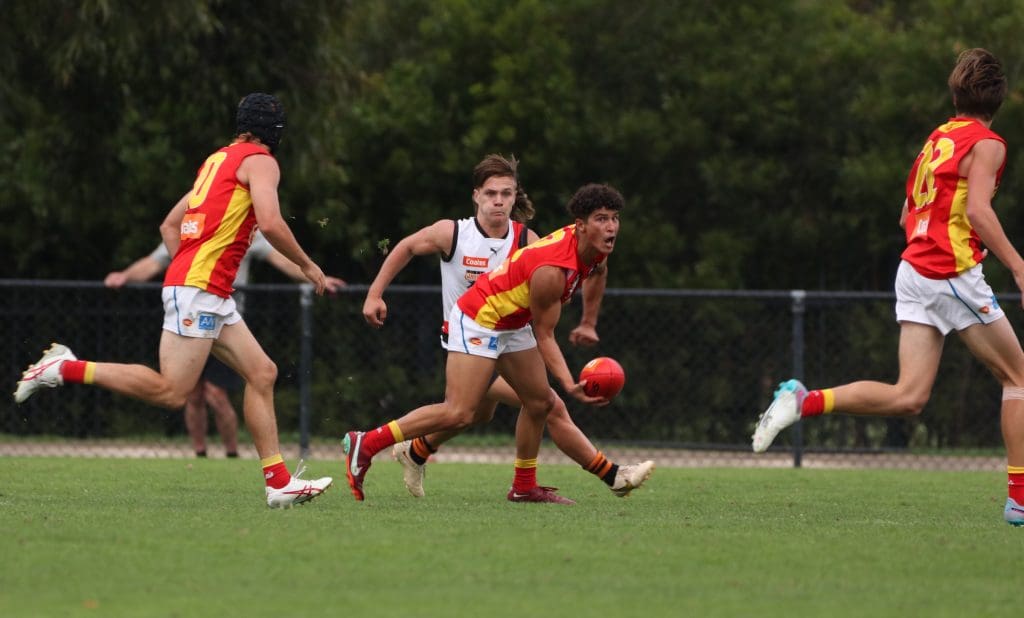 Stopping the tape at 171cm, the small-framed Rogers has all the traits to be a prolific ball winner at the elite level despite his size.
Combined, all three Suns prospects are sure to brighten the club's future as they continue to chase a maiden finals appearance in the AFL, having shined for the AFL Academy in their most recent hitout against the Blues.
"It's a great crop for them as they can cover a few bases," Rookie Me Central draft analyst Michael Alvaro told Zero Hanger. 
"Jed Walter is probably the most highly touted of the three. A big bustling key forward, super physical, aggressive and physically ready. He had no trouble adjusting to the senior opposition.
"He attacks the ball so well in the air and really hustles with his tackling pressure at ground level, which not many tall forwards do. That's a good point of difference. I'd probably have him in that top-five range, to be honest.
"Jake Rogers was best afield, he was super. Played pretty much full-time midfield, attended about half the centre bounces - they rotate pretty heavily with that 30-man squad. Just an electric kind of player at ground level, super clean, he's really zippy, he's got that speed and agility and he's only small, 171cm.
"You have to have those elite traits if you want to make it at AFL level for that size and he definitely does. He ticks so many boxes, really hunts at ground level, both ways. So he can tackle and win his own ball.
"He's really efficient, great decision maker, gun player, deservingly best afield. Won the most touches with 26 on the day (and) six clearances. He'll be pretty happy with how he went.
"Ethan Read, one of the 200cm+ prospects, he's really rising his stock recently. They've got four 200cm players in the Academy and he just covers the ground so well. Had to play a bit more forward in that game.
"His marking ability is pretty good, probably needs to work on his contested game. He gets jumped into a little bit in the ruck, but there's not many athletic big guys who can do the things that he does. He's super clean, can just impact around the ground. That's what you want to see, there's so much upside with him.
"It'll be tough for the Suns to get all three. I think other clubs would be monitoring at least one of them, probably Rogers. It's going to be a super haul if they manage to get all three."
While the promising pool of names is sure to have the Suns licking their lips, the continued rise of Walter, Read and Rogers is likely to force the club into trading its early draft selection for this year's count
Unlike Next Generation Academy prospects, AFL clubs with Northern Academies are able to match rival draft bids within the opening 40 selections of the National Draft, giving the Suns priority access to their talented trio despite their chances of first-round selections.
The Suns will be required to have the needed draft points to match a rival's bid however, likely trading their opening selection (currently Pick 6) in order to attain further draft picks and points.
Walter could fall to Gold Coast's opening selection and ease their trading plans, but a decision to part ways with their opening pick is seen as the most suitable move.
The Suns also hold two second-round selections (their own and one tied to GWS) along with two third-round selections (their own and one tied to Collingwood) that would likely be absorbed in matching rival bids.
Alvaro sees Walter as a bonafide top 10 selection, while Read is likely the next cab off the rank among all three prospects. Rogers could drift into the first round should his form continue, with his stocks set within the top 25 this year.
"I'd probably have Read in the No.2 slot. I don't know if many people would have it the same but I just think because of his size, athleticism and upside. I'd probably have him in that first-round bracket," Alvaro said.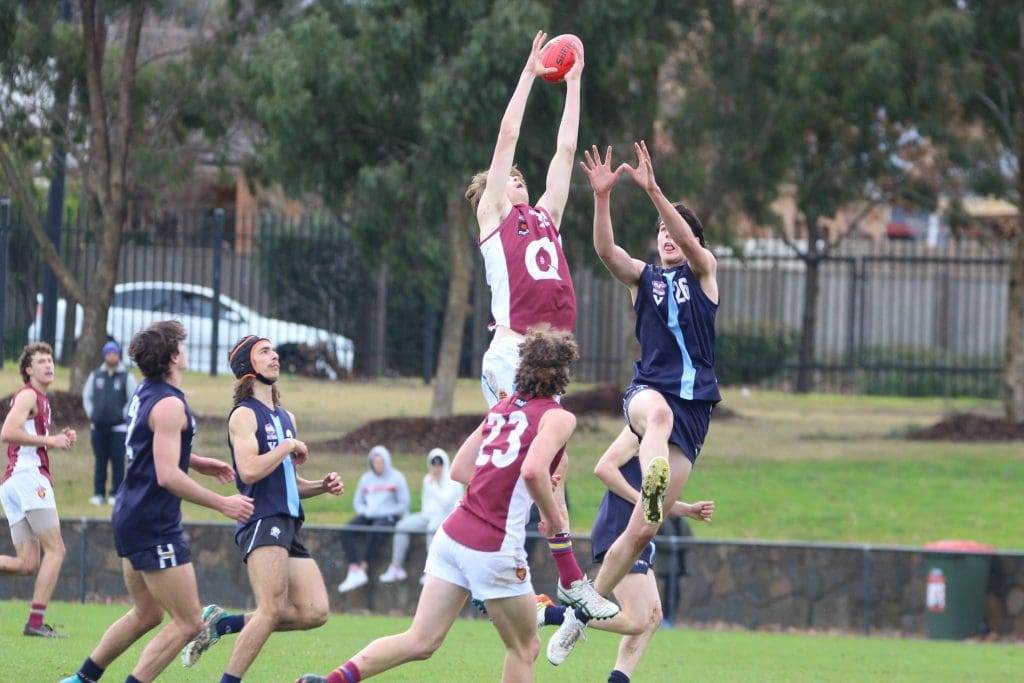 "Rogers is pushing for that too. It's probably just his size that holds him back a little bit in the eyes of recruiters.
"I think they could both be first-round candidates. I'd probably have Walter top five, Read top 15 and Rogers top 25."
While the Suns' Coates Talent League campaign has closed, all three of Walters, Rogers and Read are expected to feature for the Allies in the upcoming U18 National Championships, with their opening fixture to take place against South Australia on June 4 at Thebarton Oval.