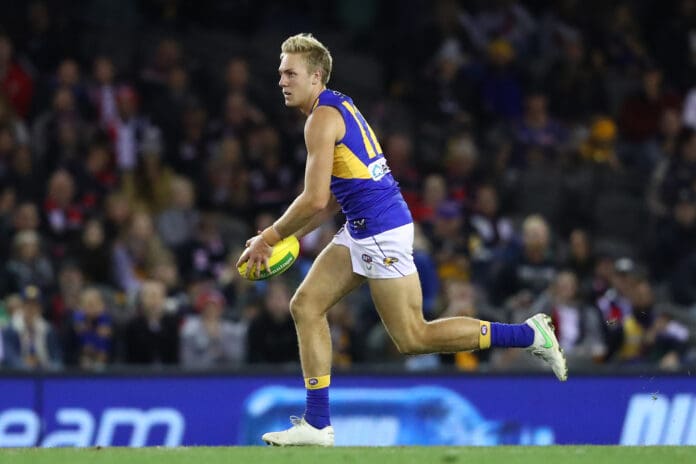 Burgeoning West Coast forward Oscar Allen has detailed the abuse he received on social media following his club's loss to Essendon in Round 11, all despite finishing the game early due to concussion.
Allen, 22, fell awkwardly when flying for a mark against the Bombers and exited the clash early after failing his requisite test.
In spite of this, the Western Australian explained to the team's official podcast 'Coast to Coast' that he was the target of hateful messages on Instagram.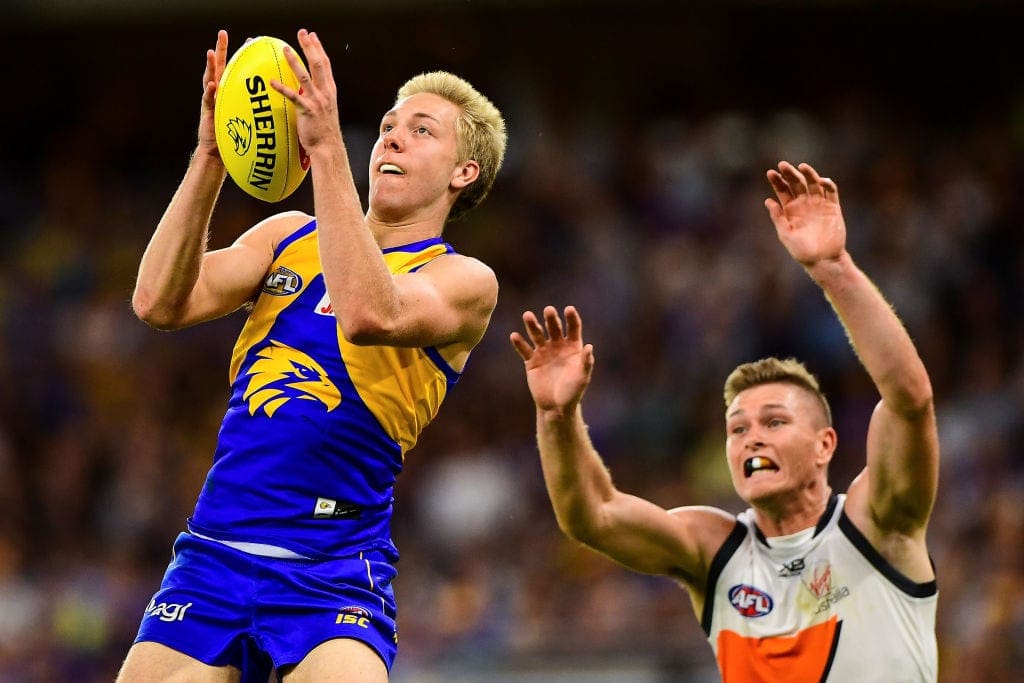 "After the game – a pretty bad concussion, didn't have much recollection of it, pretty scary experience," the 49-game Eagle said.
"I've got the old: 'You f****** piece of s*** you completely f***** my multi because you didn't kick a goal, honestly die break your neck' – which is not great.
""Lucky I'm relatively thick-skinned, but that's just not acceptable."
Allen is the latest name on the list of players to go public with tales of their abuse, after star Cat Mitch Duncan and Tigers defender Dylan Grimes also received similar direct messages this season.
RELATED: It's time to tackle online abuse
Although the game's Indigenous stars have long been the target of racial abuse across the myriad of social media platforms, Allen explained that this new trend of hateful messaging is also becoming a problem for AFL players of all creeds.
"There's been a lot of it in recent years with racial images being sent to Indigenous players, but that's another form of hate which I don't think is acceptable and I think everyone would agree it's not really something you should be sending to someone after the game," he told podcast host and former teammate, Hamish Brayshaw.
The West Perth product also signaled that these types of messages were a major reason why the league's current crop of players remained reserved towards the public.
"It's pretty embarrassing," the former second round draftee said.
"I don't understand what you think you're getting from it. You're pretty much just embarrassing yourself. I'm not a huge fan of it.
"It's one of the reasons why a lot of people in the AFL industry aren't keen to open themselves up. They're not keen to show who they really are on social media or they're not keen to express themselves because Australians as a society of pretty close-minded I dare say and if you come out the norm, you get whacked pretty quickly by random people who know nothing about you."
Despite only playing a single AFL game in his career with the club, Brayshaw too opened up about the abuse he was subjected to following his debut game against St Kilda last season.
"I got a message after the game from some random bloke, who's name I can't remember but I just laughed it off, and it was like: 'F*** you mate, you ruined my multi, I had you for 30 (disposals) and you were the one leg that let me down,'" Brayshaw said.
"Seriously some of these messages that players get – and thankfully I only got one and just laughed it off – but players do get some seriously obscene stuff … some guys don't brush it off so easy."
Allen is still listed on the club's official injury list, but will face another set of tests to prove his fitness ahead of the Eagles all important Round 13 clash with Richmond in Perth on Sunday night at 7:20pm AEST.