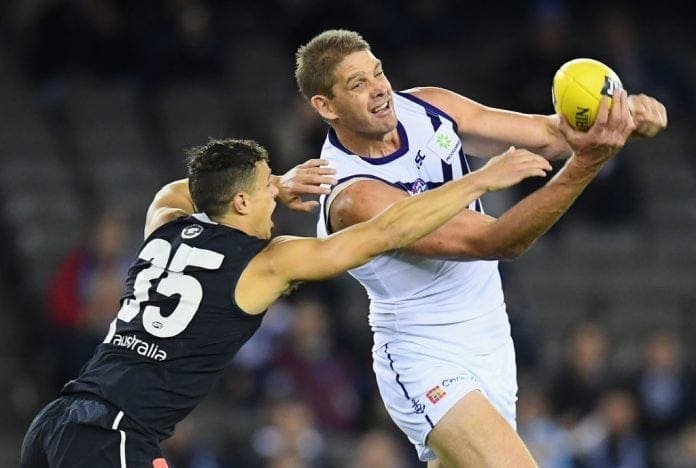 Aaron Sandilands has signed a one-year contract extension with the Fremantle Dockers for the 2019 AFL season.
The ruckman putting pen to paper means he'll remain a one-club player at Fremantle, undertaking in his 17th season in the AFL.
The 35-year-old is committed to supporting the young talent on Freo's list and is motivated to produce some of his best footy for the club he loves.
Completing only 11 games in 2018 and missing most of the second half of the season due to a calf injury and concussions, Sandilands says he is fortunate enough to be able to go around again for 12 more months.
"I had a good chat with the club and a good think about things and I'm going to have another year at Fremantle, which I'm really excited about," Sandilands told the club's website.
"Obviously, the motivation is still there. I've had a bit of time to talk about it with the family and I know the love for the game and the footy club is also still there.
"I think it does definitely make the decision a lot easier."
Sandilands joins veterans David Mundy and Hayden Ballantyne in committing to the club for one more season as they look to steer the young Dockers in the right direction.
Youngsters Sean Darcy and Scott Jones have stepped into the ruck role while Sandilands remains sidelined battling his injuries, with the veteran praising the good job they've done in his absence.
"It's great to see the young guys come in and fill the role," Sandilands said.
"Scott and Sean are both developing really well, as you can see in how they're playing at the moment.
"We've also got 'Meeky' (Lloyd Meek) and Luke Strnadica coming through as well so things are looking really good."
Fremantle CEO Steve Rosich knows just how much Sandilands means to the club, not just on the field.
"Aaron has been such a vital player for Fremantle for a long period and we're thrilled to see him sign on for another year," Rosich said.
"He's an outstanding leader and is held in such high regard by all of our young ruckmen, who are developing quickly under his wing.
"Along with David and Hayden, we see Aaron playing an important role in sharing their knowledge and setting an example for a young playing list while contributing to the growth of our young players, including emerging ruckman Sean Darcy."