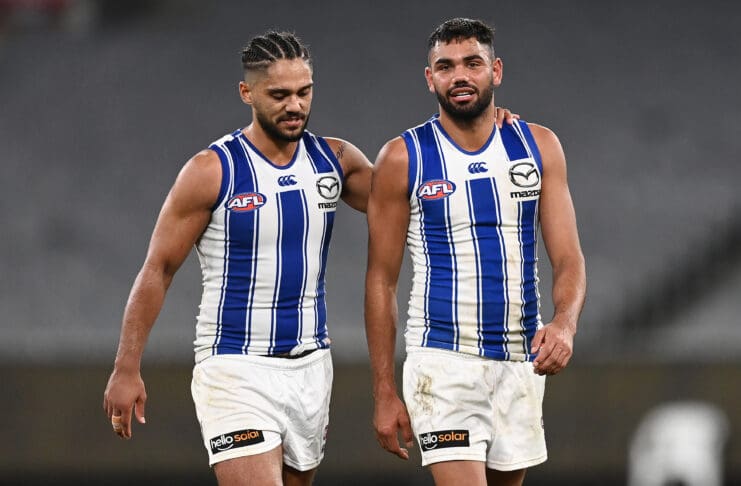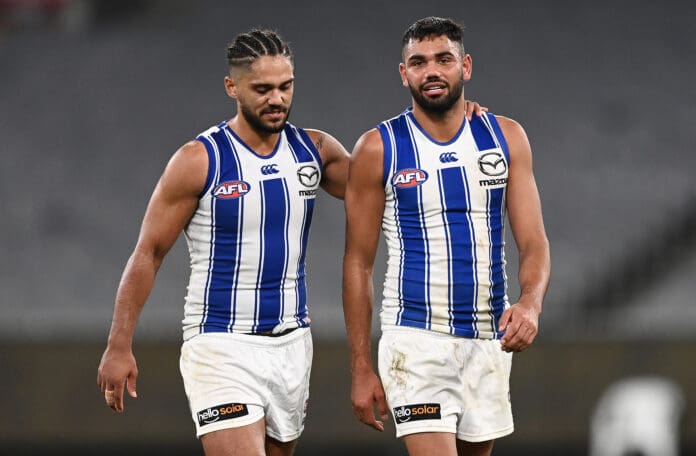 We see it every year, the bold and often premature calls about clubs having failed in their attempts to rebuild a list and challenge for a flag. That's not to say that every club nails it, rather that these sorts of statements tend to get made much too quickly nowadays.
Last year, it was St Kilda, Carlton and Collingwood who were nowhere near finals, let alone a flag. This year, the praise for those clubs has come thick and fast, also perhaps prematurely it must be said.
Prior to that, Melbourne, Richmond and the Western Bulldogs had all been criticised for failed rebuilds. Between them they have won five of the last six premierships.
This year, the boots have been laid into Hawthorn, West Coast, Essendon and now North Melbourne. There's no denying it, North have been disappointing this season, bad losses have hurt.
But if every club threw the baby out with the bathwater after a few bad losses, no rebuild would ever be successful. Realistically, this rebuild has only been going for three years now and is only about halfway done.
In 2019, they controversially decided a complete rebuild was required. Not only jettisoning long-term coach Brad Scott, but a chunk of players as well. Whether right or wrong, they made a call and must now stick to it.
See Also: Roos development coach defends selection of young midfielder
There are no guarantees of success and the bottoming out strategy has always been controversial, however if anything seems certain it is this; winning a flag requires top-end talent.
Not just top-end talent, but time to develop and gel several years worth of it into a cohesive unit. With all of that in mind, we take a closer look at the Arden Street project.
Is the criticism warranted?
The short answer is yes. When you take multiple heavy losses in the first half of the season, there is always warranted criticism. Particularly in a year where progress was touted by many. This isn't news to anyone though.
They're not playing as well as they'd like, but every year there are four or fivr teams in this bracket. North aren't winning, but just last weekend gave a good account of themselves against the top side in the comp. They pushed Melbourne for three quarters and while they still lost, they were competitive.
Last year, it was Carlton, St Kilda and Collingwood who were in the firing line while the likes of Essendon and Sydney were hyped. This year, the Bombers have been kicked from pillar to post while Sydney have flattered to deceive at times.
A year is a long time in footy, every season sees teams rise and fall. This kind of scrutiny can damage the morale of a group, but it can also have the opposite effect, galvanising a squad to better cope with adversity.
Let's not forget that in the pre-season, there were plenty lauding the Kangaroos for the smart recruitment of Hugh Greenwood and what shaped as a promising list. That was just over three months ago. In twelve months, a lot can change very quickly in the AFL landscape.
Is the list that bad?
No, it's in better shape than most are giving it credit for. Let's be clear here, there are players on this list that are clearly overpaid, which could be said of half the lists in the AFL, but the age profile is the crucial element.
The bulk of North's list are between 18 and 23 years of age. Quite simply, it's too early to tell how good these players are going to be. It's a safe bet that Ben McKay, Nick Larkey, Tarryn Thomas and Jason Horne-Francis are going to be very good AFL players.
Add into that mix Jy Simpkin, Luke Davies-Uniacke, Bailey Scott, Josh Goater, Charlie Comben, Tom Powell, Will Phillips and Tristan Xerri, and the bones of a good young core can be seen through that lens.
There's no denying the recruitment of Jaidyn Stephenson, Jared Polec and others have not worked out as well as hoped. Polec's recruitment in particular has been a disaster. Again though, North are not the only club to experience something like this in the competition.
Most clubs in the AFL would have players on big money who are not delivering what they should be. Stephenson and Aidan Corr, while so far underwhelming, still have time, though they'll need to get a move on, while Aaron Hall has been more than serviceable since the club picked him up for almost nothing.
See Also: Victorian club named as keen suitor for Lions free agent
There remains good experience in Ben Cunnington, Jack Ziebell, and Todd Goldstein on the list, although for how long remains to be seen.
The area for concern is their 24-29 year olds. They are noticeably light on for quality and depth in this area. The likes of Corr, Luke McDonald, Kayne Turner, Cam Zurhaar and Jed Anderson will need to step up for them to become a more competitive unit. But they can only do so much.
With so few at the peak of their powers, there's always going to be an imbalance, which makes having patience even more crucial. Were it two years further down the track, the case against would be far more compelling. For now, it can only be a hold on a judgement of the list's total potential.
Is it too early to make a call?
The bottom line is, yes. The majority of their core going forward is under the age of 22-23, which in AFL terms is not yet their prime. People talked for years about how Richmond had botched their rebuild, only for a handful of players to hit their prime together and develop into a formidable machine.
North have drafted a lot of top-end talent and will get more this year. It's easy to say "give it another couple of years" but realistically, in the AFL, where rebuilds actually take six to eight years, most players must be given time to develop.
The general rule used to be 70-90 games in was when you would know how good a player could be. The average age of their playing list is 23.7 years and that's before excluding Ziebell, Cunnington, Tom Lynch and Goldstein, none of whom are likely to be there for the next finals campaign.
The average games played is just over 63 for the entire list, however, if you take Cunnington, Ziebell, Goldstein and Lynch out, that goes down to just 46.4 games. Taking that into account, it's far too early to make any definitive statements.
It's extremely rare for players to enter the AFL and immediately hold their own, a la Sam Walsh. Most players take at least three years to become consistent AFL level contributors. With all of this in mind, it's simply too early to tell.
Where to from here?
From here it's more of the same, get games into the under 23s, as many as possible, while adding more quality to the list. It will be seen as a soft and uncompetitive option by many, but it's far less damaging than bailing out halfway through a rebuild.
North should attack the draft again, with as many top-end picks as they can gather. While down the bottom, they may as well stick to their guns for another year at least, which would enable the bulk of their list to enter their prime years together.
There are those who worry Jason Horne-Francis may want to go back to South Australia. While not ideal, if he did request a trade, the Roos will ask for, and likely get, a first-round pick and a young star in the mould of Josh Rachele or Zak Butters.
Come draft time, if they can find another key forward and back, the future will look that much brighter. That is a very big 'if', but it can be done and North are clearly going to back themselves to do it.
See Also: Rival reportedly planning bid for Crows veteran
After that, as has been proven by the likes of Melbourne and Richmond, a free agency acquisition or two can take you from finals contenders to top four. Things change quickly in footy, it's never as bad as it seems and this project is only around halfway complete, there's plenty of time for things to fall into place.