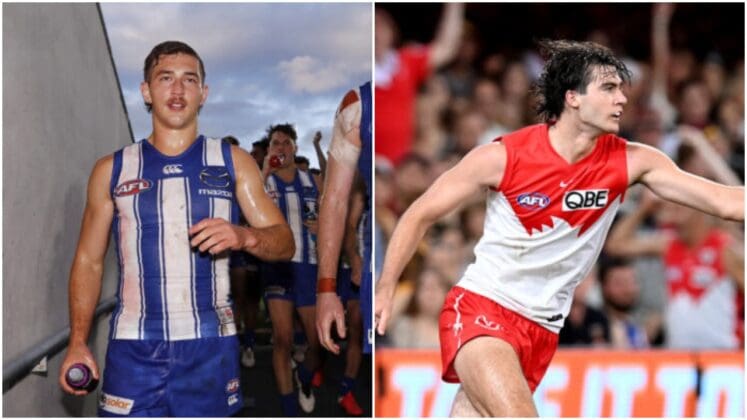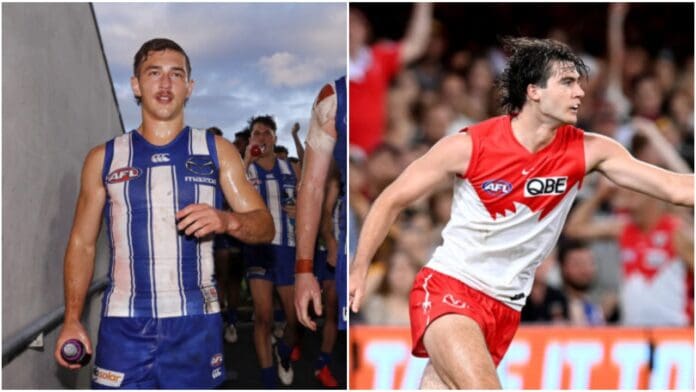 North Melbourne development coach and club great Brent Harvey has defended the "rolling cycle" of criticism the Roos have faced in recent days, stressing a sense of belief is binding the club internally.
Harvey has also come to the defence of second-year midfielder Will Phillips, who was notably taken third overall in the 2020 National Draft, one selection ahead of Sydney forward Logan McDonald.
McDonald is seemingly meeting the high standards placed upon his shoulder early into his second season at AFL level, having initially been touted as a likely top-two selection.
A matched bid by the Bulldogs saw Jamarra Ugle-Hagan land first overall in the draft, while the Crows opted for a local product in Riley Thilthorpe when they stepped up to the plate for a second selection.
That left the Roos next in line and with McDonald or Phillips in their sights, eventually choosing the latter.
While Phillips has shown glimpses in a midfield that was already brimming with emerging onballers, questions have been raised as to why a potential generational forward like McDonald wasn't brought to Arden Street instead.
LOGAN MCDONALD
Forward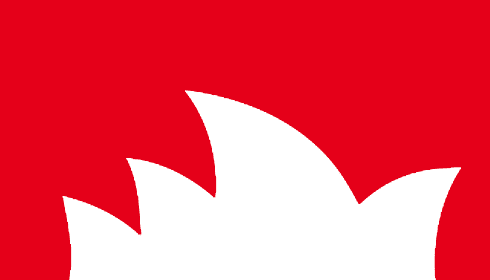 Sydney

ROUND 10 STATS

3
Goals

10
Marks

1
Goal Assists
Speaking on RSN, Harvey drew attention to the need for patience on the likes of Phillips and fellow 2020 draftee Tom Powell, with the former currently sidelined through sickness.
"Have we had a bit of unlucky stuff happen? Yes we have," Harvey said. 
"Will Phillips. He hasn't been at training this week, he's still feeling the effects of glandular fever.
"I know the comparisons are there with McDonald, 'they should of taken a tall, he took eight marks inside 50 last week', yes that all happens.
"I know the hard work these young players are doing. I see the progress in Tom Powell now he's played a couple of games in the VFL.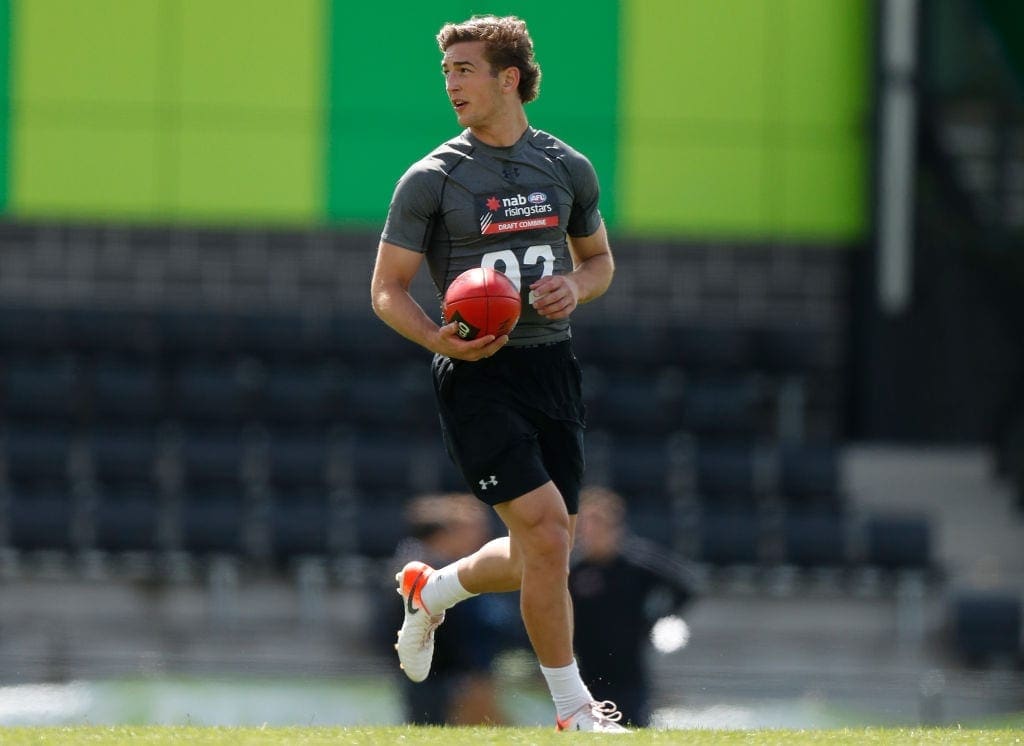 "We'd like things to be going better for a lot of other players, but we've got hiccups.
"Our VFL [side] got beat by 100 points, but we had four [AFL] listed players. They're the little hiccups nobody wants to talk about, but that's the reality of a football club."
The Roos' list management has been a key area of concern at North Melbourne, with the club's criticisms compounding after the announcement of three staff members handing in their resignations earlier this week.
National Recruiting Manager Mark Finnigan, Head of Player Personnel Glenn Luff and National Recruiting Officer Ben Birthisel all departed the club on Monday.
Finnigan has been pried by Hawthorn, while Birthisel is understood to have handed in his resignation several weeks ago.
Luff's departure was one that shocked the club however, with reports emerging that external criticism of the club's list choices may have driven the respected list manager out of the club.
Despite the noise from outside the fall walls at Arden Street, the club remain focused on their journey through a difficult rebuild under David Noble.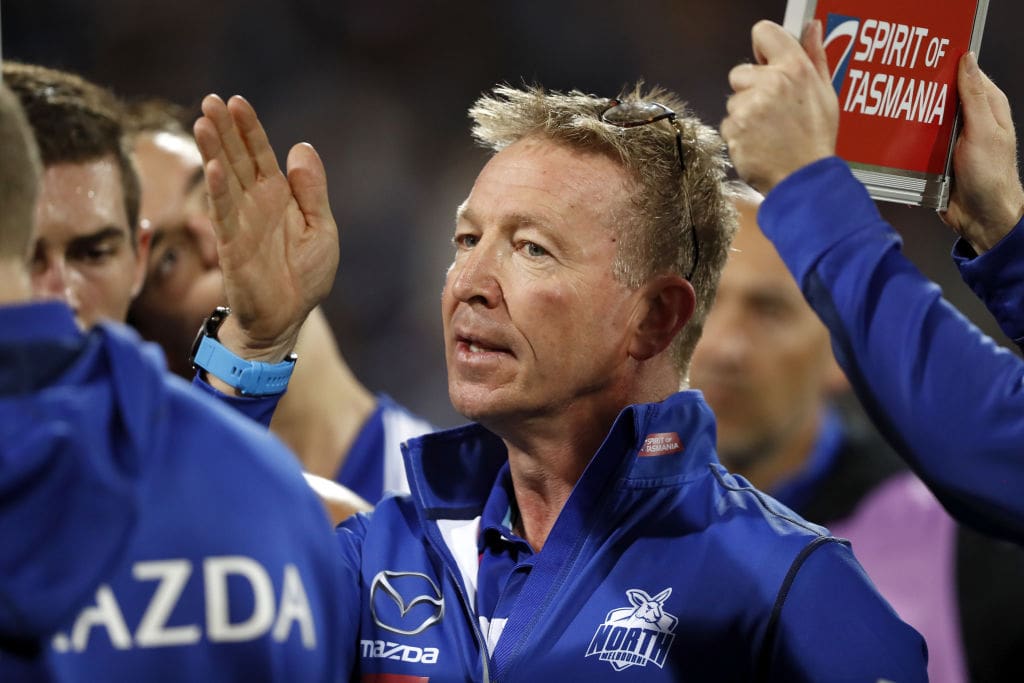 "What happens at the North Melbourne Football Club, internally, this week we stick together," Harvey said.
"The coaches have gone about it the way they have.
"Yes there have been a few little announcements and stuff like that, but we stick together.
"One thing I read a few years back, and it's actually quite funny because I think it's exactly the same... If someone dropped a bomb on Melbourne, there'd be two things that would survive it. That's cockroaches and the North Melbourne Football Club.
"Sometimes this stuff can bring you together, and it's sort of done that this week."
Harvey stressed unwanted focus from the media is only highlighting a "minor hiccup", stating the view from inside the club is "so different".
"We've heard all this for the past four, five weeks," Harvey added. "It's just been a bit of a rolling cycle for us.
"It's not ideal to be in the paper and the news every single night like we are, but we'll stick together and we'll get through this.
"What I've been through with the club in the past, not just me but everyone, this is a minor hiccup.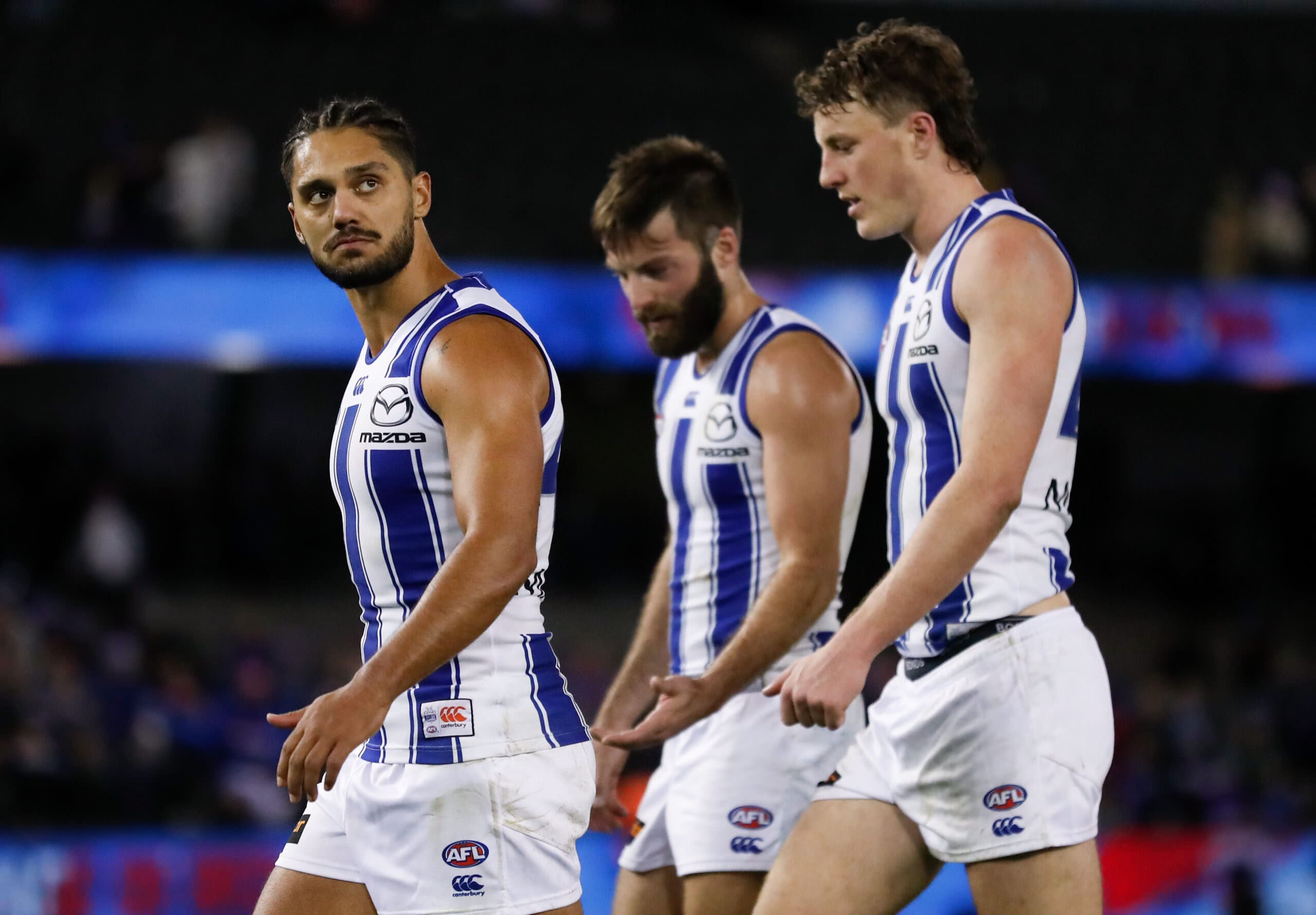 "Externally, I can see what the hysteria is about. Internally, it is so different. It's business as usual for us.
"We know internally what we're trying to do. Sometimes that doesn't look good, that's football."
The Roos have won just five matches in 32 games under Noble's watch, with their next test coming against St Kilda on Sunday at Marvel Stadium.