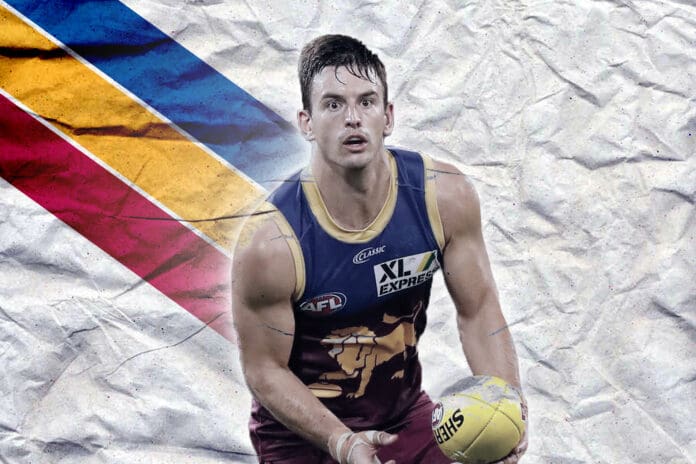 2021 Averages

Disposals: 27.7 per game
Tackles: 5.3 per game
Marks: 5.3 per game
Inside 50's: 3.9 per game
Clearances: 6.5 per game
2nd in the Competition for Total Stoppage Clearances
4th in the Competition for Total Contested Possessions
6th in the Competition for Contested Possessions per game
8th in the Competition for Total Clearances
14th in the Competition for Tackles
You could be forgiven for thinking the numbers above applied to Patrick Cripps or Nat Fyfe, the recognised elite contested beasts in the competition who win the ball time and again at the coalface for their clubs.
The fact that they belong to perhaps the AFL's most underrated player in Jarryd Lyons should not surprise, but still probably does. This is a player who was twice discarded, being deemed too slow or inefficient to be a capable AFL player, let alone an elite one, and who may just be a premiership hero by the end of this season.
Related: Lyons Joins Lions
Delisted... Twice!
Perhaps the most astounding thing about Jarryd Lyons is that not one, but two AFL clubs, neither of whom are in contention for finals this season, deemed him not worthy of a spot on their list.
While the Crows have improved this season, last year was a disaster and let's not sugarcoat it. Rory Sloane and Matt Crouch are battered and bruised, having had to almost exclusively carry the burden of winning contested ball for the club for the past few years.
As for the Gold Coast, letting Lyons walk for nothing to their direct rivals underlines the shoddy management that the club has seen in its short lifetime. Having now recruited older players such as Hugh Greenwood to help win contested footy, it's genuinely puzzling that they would have let Lyons go in the first place.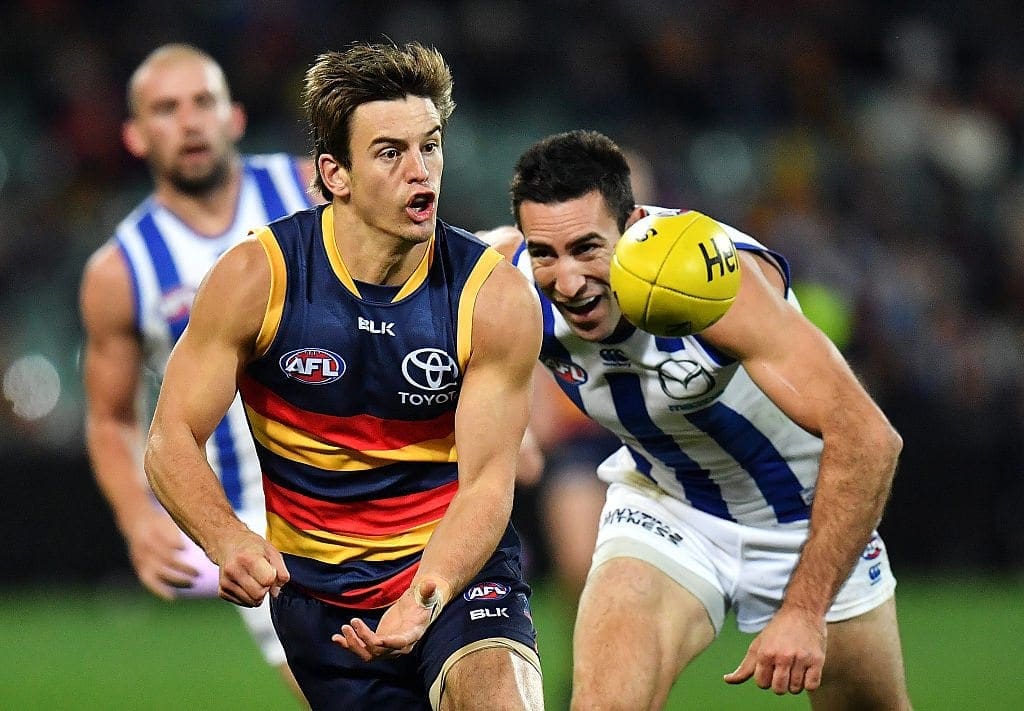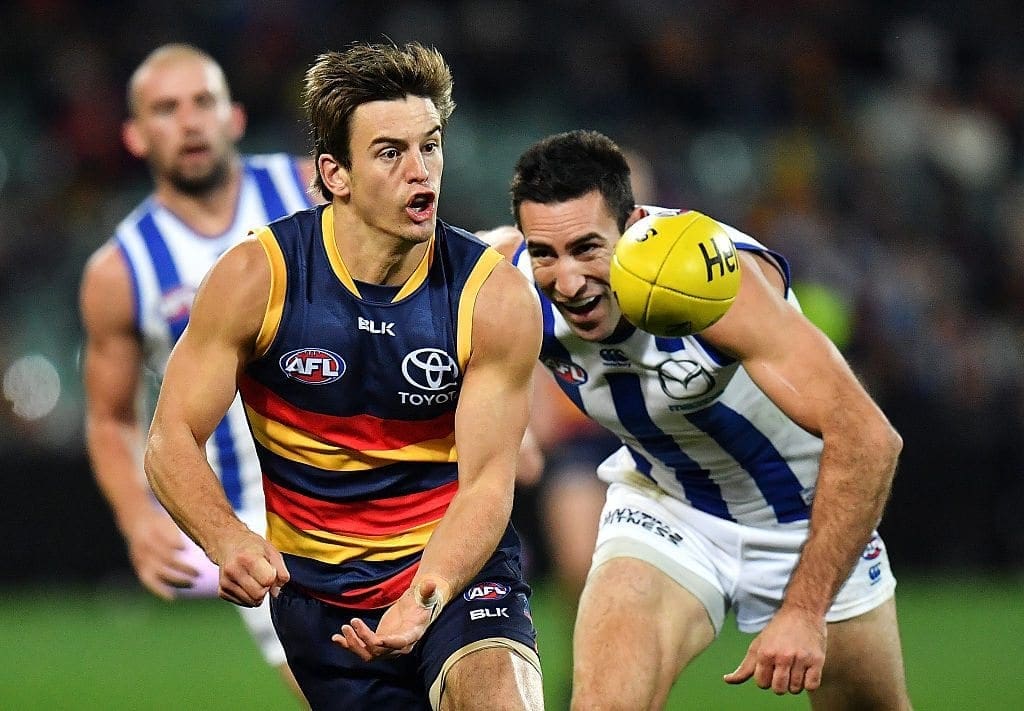 With the knock on him being a lack of leg speed and disposal efficiency, Lyons has used the slights of being delisted by cellar-dwellers as motivation to improve, and he's done just that.
Brisbane's gain has been to the detriment of two clubs who could desperately use his abilities this season, one man's trash indeed.
Quiet Achiever
Whilst he may not be the most efficient disposer of the ball, Lyons' key strength lies in other areas. He accumulates a lot of contested footy, while his pressure acts are also a key pillar of his game. In fact, in 2020 he ranked number one in the competition at forcing turnovers, 73 across the whole season, which amounted to more than four per game.
His numbers since he joined the Lions have been incredibly consistent. His lowest disposal average for a season has been 21.6 in 2020 when the games were shortened and in that same vein, his lowest average tackles per game was also in 2020 at 4.1.
His consistency has been critical to the Lions' climb up the ladder, he's been an ever-present professional who not only adds grunt to the midfield, but also doubles as a professional example for young players to follow.
Embed from Getty ImagesRelated: Five Trade Targets for Brisbane
The fact that the Lions picked him up for free exposes their Queensland rivals for their poor list management practices. At a time when the Suns need an elite contested beast, they chose to let Lyons walk rather than at least trade him and get something in return.
His numbers while on the Gold Coast make this decision even more baffling. In his two seasons there, he averaged 24.5 possessions (of which 13.8 per game were contested) and 5 tackles a game.
On top of that, he averaged roughly 6.5 clearances and 3.8 inside 50's per game. No wonder young players keep leaving the club when they let elite performers like Lyons just walk for nothing.
No Neale, No Worries
For the past couple of seasons, Lachie Neale has rightly earned most of the plaudits for the Lions midfield becoming one of the best in the competition, while in the background, Lyons has quietly gone about his business, becoming of the most reliable players in the AFL.
With Neale going down injured earlier this season, the burden has only increased on both Lyons and Hugh McCluggage, with both responding in brilliant fashion and while it's true that McCluggage has perhaps been more eye-catching, it's the consistency of Lyons that has allowed for this.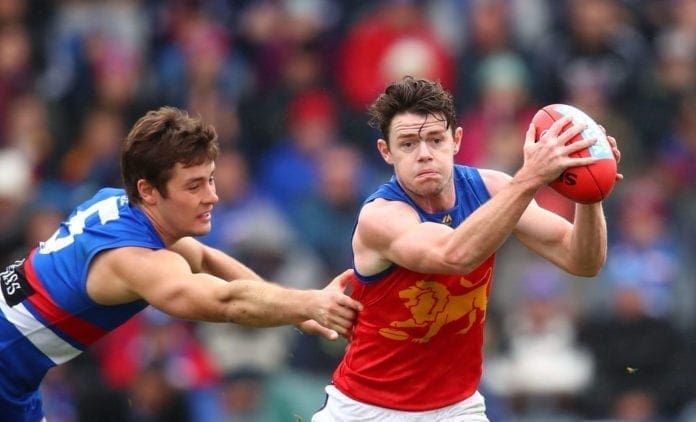 The Lions midfield is purring and they are winning games without their star, with Lyons' continued form allowing youngsters like McCluggage and Jarrod Berry to flourish, becoming key players for the Lions as they push for a first flag in 18 years.
The statistics don't lie, Lyons has been nothing short of elite this season and yet still continues to go under the radar of AFL commentators and fans. Not that this will deter him, having already overcome plenty of adversity, it's doubtful that a lack of recognition or praise is going to slow him down.
JARRYD LYONS
Midfielder

Brisbane

2021 SEASON AVG

28.1
Disposals

6.4
Tackles

6.2
Clearances
Brownlow Smokey?
Ok, so while this is unlikely, here's some food for thought. Last season Lachie Neale was a runaway Brownlow Medal winner; however, this season is shaping up to be a much more closely run affair.
Lyons is currently paying $41 with Sportsbet somehow despite the fact that the Lions are winning, and he is consistently in their best players.
People like to believe they understand how the umpires think but in reality, no one knows what they see out there. This is not to say he's going to win the award but more to highlight the lack of regard for his continued excellence.
A similar thing occurred last season with Jack Steele, with many saying he'd been good but was no chance of finishing top 5, let alone top 3. He finished equal third and had he not been robbed of the 3 votes in the final round, would have been equal second with Travis Boak.
See Also: The Incredible Numbers Behind Essendon's Turnaround
His price on Sportsbet just illustrates how underrated he is across the competition and while Lyons is unlikely to win the award, stranger things have happened, he's certainly in the conversation for All-Australian selection.
A top 3 finish would be just reward for a man who's not only resurrected his career but done exceptional work for several years now. It's not hard to imagine that there's still plenty more chapters to come in this tale of redemption.