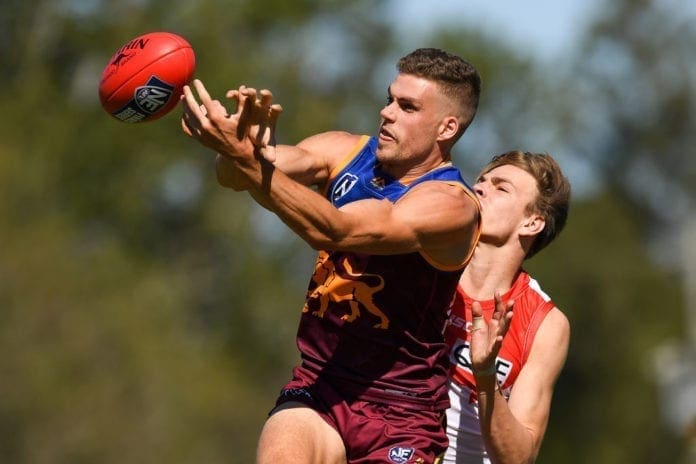 Brisbane Lions pair Tom Cutler and Lewis Taylor are said to be delving into opportunities elsewhere after struggling for an opening this season.
The two 24-year-olds combined for only eight senior appearances in a fairytale Lions campaign through 2019, with defensive utility Cutler averaging 21.7 disposals in three games while 2014 Rising Star winner Taylor produced three goals in his five outings.
Lions head of football David Noble spoke to AFL Trade Radio on Tuesday and offered advice on the duo's futures at the club.
"We haven't had any direct contact with Sydney per se, we know that both Lewis and Tom are probably talking to a few clubs at the moment," Noble said.
"Obviously Sydney has an interest with Lewis. They're both players we said to them we need to get through the trade period just to assess where we're at."
Taylor took the opportunity to impress in the NEAFL with an average of 27.8 touches and 6.5 marks in 12 reserve games through the season after last featuring for the senior side in the Lions' agonising Round 12 loss to Carlton.
Meanwhile, Cutler only played through Rounds six to eight in the AFL, starting for Brisbane's NEAFL side nine times and finishing off his season with an exceptional performance consisting of 29 disposals, 12 marks and 2.3 up forward.
"I think both of those guys will gain some interest and then it will be a matter of whether they decide to head to another club and a matter of getting a deal done for those guys," Noble said.
"It certainly doesn't mean they're not required, but to explore their options, which is what they're both doing, it'll be interesting to see how it plays out."