While the third pick of the draft is the bronze medal selection, that doesn't mean that clubs aren't able to strike gold with the pick. While two clubs get to draft a player first, often a few hidden gems slip through this miniature crack.
Looking over the picks since 2000, there isn't the same depth as the first two selections. However, at the top end of the board, two of the greatest and most damaging players of all time find themselves selected at the 3rd pick.
In what was considered the hardest decision, the choice between Martin vs Judd went back and forth with little separating the two superstars.
Even further down the list, there are multiple club B&F winners, All-Australians and even a player with an (unofficial) award named after them.
This list also looks to get even stronger over the next few years, with Luke Jackson, Izak Rankine and Will Phillips.
Even though each of these names are highly talented players who could someday make their way onto this list, they currently don't have the sustained success to find themselves on this list.
Given a few other star players such as Trent Croad and Shannon Grant were both selected before 2000, this has rendered them ineligible for this list.
We have already looked at the top 10 number 1 and number 2 selections since 2000.
After plenty of thought and collaboration, we now take a look at the 10 best players selected with the 3rd selection of every draft since the 2000 draft.
10. Xavier Ellis (2005)
Drafted by: Hawthorn
Appearances: 120-games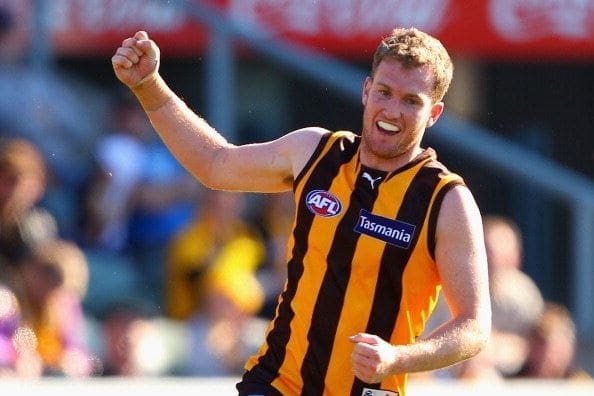 Ellis was selected by Hawthorn in the 2005 draft. Injuries plagued the midfielder's career but he still managed to play in three grand finals including the 2008 premiership.
Averaging 16.2 disposals and 4.6 marks for his career, Ellis was a consistent player for both Hawthorn and West Coast. The Western Australian was also an important player in the Hawks' 2008 premiership season, having a career-best playing 23-games for the season.
Ellis beat out others on the list by having the ability to be one of the best players on the ground in a grand final match.
His performance in the 2008 decider is infamous for being 'robbed' of the Norm Smith medal. The former Eagle and Hawk has a medal named after him for the 'Actual best on ground who should have won the Norm Smith medal'.
This was a social-driven campaign by Clemenger BBDO Sydney and TABtouch.