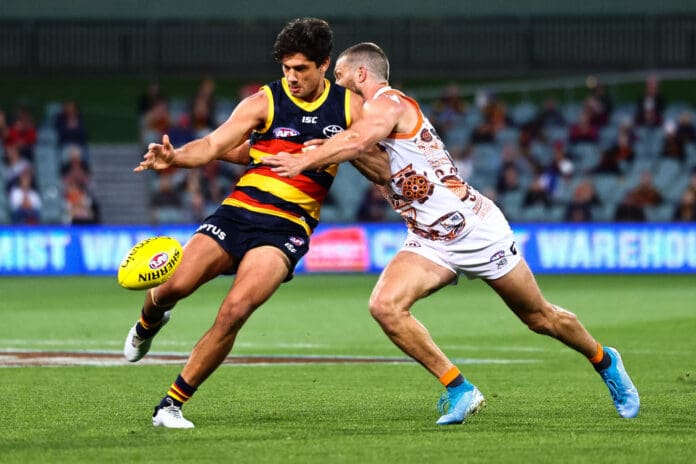 Shane McAdam will challenge the three-week ban handed down by the AFL Tribunal for his bump on Giants player Jacob Wehr.
McAdam was referred directly to the Tribunal by the MRO, with the incident in the Sunday afternoon clash graded as Careless Conduct, Severe Impact, High Contact. Wehr left the ground for a concussion test, but returned to the field.
The AFL argued at the tribunal that McAdam's action had the "potential to cause injury" and thus was worthy of the 'severe' grading.
"In my submission there's a clear election that is made in his mind to bump … I'd suggest a high degree of carelessness to allow impact as high as this was … it fell far below what a reasonable player would consider prudent in the circumstances," the AFL's barrister, Andrew Woods, said.
"There's no ongoing injury … but there is a charge of severe (impact) because there is a potential to cause injury or an amount of force.
"There is a deliberate turning and launching of the body that speaks very much to the question of impact … it was a turning, a launching and a choice to bring the amount of force that was impacted on Wehr."
Adelaide argued that there was "insignificant" contact on Wehr's head, suggesting that the incident shouldn't be graded as high contact.
"We will be suggesting contact goes no higher than Wehr's chin effectively resting on the back of McAdam's guernsey and that (head) contact was insignificant," Crows legal counsel Tom Duggan said.
"You can talk about the fact he could've tackled him and welcomed him with open arms, but that's not a decision that has to be made, it's perfectly fine to bump in the AFL.
"If McAdam's shoulder made contact with the head of Wehr, the head would've gone backwards. That's not what happens, it simply rests forward.
"The majority of the force was to the chest and shoulder region … the fact there was incidental contact is not what the rough conduct bracket is dealing with.
"This is clearly not a high bump because it doesn't in any way involve the head."
McAdam and Crows will challenge the Tribunal's decision on Thursday following the verdict.
"Adelaide has confirmed it will appeal Shane McAdam's three-game suspension for rough conduct handed down by the AFL tribunal on Tuesday night," a statement reads.
"McAdam was charged with rough conduct for his bump on GWS's Jacob Wehr on Sunday which the Match Review Officer graded as careless, with severe impact and high contact.
"The Club's legal counsel argued there was not any forceful or significant contact with Wehr's head and the impact was not severe.
"Adelaide's appeal against the tribunal's finding is expected to be heard on Thursday."
Should it stand, McAdam's three-week ban will see him miss Adelaide's upcoming matches against Richmond, Port Adelaide, and Fremantle.