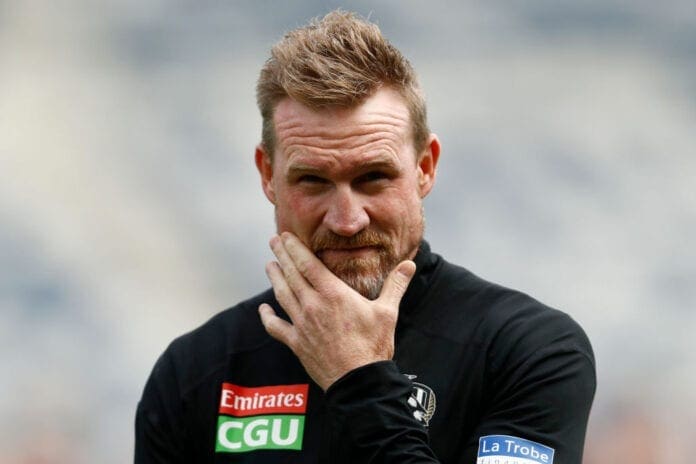 Pressure is mounting on out-of-contract Magpies coach Nathan Buckley after the club's 1-3 start to the season.
A near full-strength Collingwood side lost to an injury-savaged GWS by 30 points at the MCG on Saturday night in a game where the black and white went in as heavy favourites.
And their fixture doesn't get any easier in the interim, making the tip to play West Coast in Perth in Round 5 this Friday night.
SEE ALSO: David King's calls for Collingwood to dump pair
Speaking on Channel Nine's Sunday Footy Show, Essendon legend Matthew Lloyd believes the Pies would already be sniffing around for a potential replacement for Buckley.
"They go to Perth to play the West Coast Eagles (in Round 5). I think they'll be 1-4 by the end of next weekend and that puts them probably just about out of the finals mix," the three-time Coleman medallist said.
"When you leave your coach unsigned, which is very rare, and they don't make the finals and he's been there for 10 years, my feeling is that it's pretty much a 50/50 line ball, but my guess is he won't coach Collingwood next year.
"I think they'll definitely be looking around to see if there's a better option out there.
"If there's not, he might be able to get a reprieve.
"I just wonder whether Nathan feels after 10 years, is it time for new blood to come through?"
"When you leave your coach unsigned, which is very rare, and they don't make the finals and he's been there for ten years, my feeling is it's a 50/50 line ball, but my guess is he won't coach Collingwood next year."@matthewlloyd18 on Nathan Buckley.#9AFLSFS | Watch @channel9 pic.twitter.com/Y6EVMnVmvu

— Footy on Nine (@FootyonNine) April 11, 2021
Adding to Collingwood's woes is an MCL injury to vice-captain Taylor Adams, while Steele Sidebottom and Jordan De Goey also reportedly had scans on Sunday.
Speaking on SEN Breakfast this morning, former Demons skipper Garry Lyon thinks the question that needs to be posed is Buckley's will to coach.
"They're in a world of pain," he said on SEN Breakfast.
"Nathan Buckley is going to find out whether the desire to be a coach still burns as brightly and as fiercely inside his guts as it did when he started.
"Because you know what Nathan Buckley is. This is what he has to answer and he said it himself. Don't worry, the year will sort itself out and I may not want to be here at the end of the year, it might be time.
"You know what Nathan Buckley is like. When he sets his mind to something, he's as fiercely single-minded as any person you'd come across.
"The question for Nathan right now is: Am I going to go to the end of the world to build relationships, to drag people in, to start rejigging? If that's there, great. Go for it and away you go."
Embed from Getty Images
SEE ALSO: Calls for Carlton to change theme song due to racist history
Port Adelaide games record holder Kane Cones put forward the question:"Would he be in demand at another club? I think he would be."
To which, Lyon replied: "If he has the fire that burns, then 100 percent."
Buckley holds an 109-2-85 coaching record with Collingwood at a 55 per cent win rate since taking over the helm in 2012.
Over that time the Magpies have finished fourth, eighth, 11th , 12th, 12th, 13th, second, fourth and sixth.
Arguably Buckley's biggest supporter over the years, Eddie McGuire, was in February ousted from Collingwood after 22 years as president as the club now searches for his permanent replacement.
Maybe the only way the Pies can alleviate some pressure on their long-standing coach is by knocking off the sixth-placed Eagles at Optus Stadium on Friday night at 8.10pm AEST.