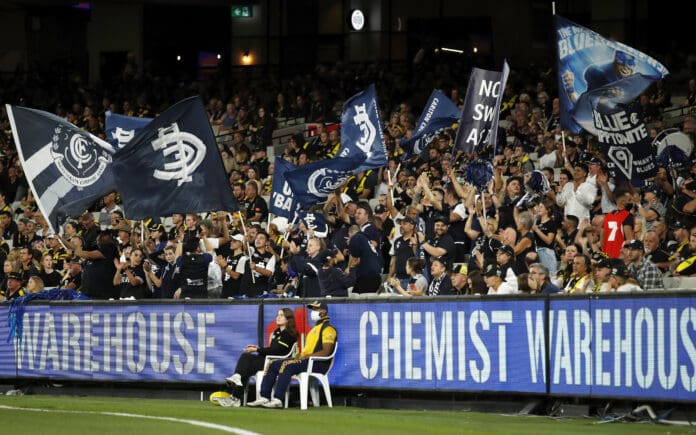 Carlton have received calls from an Indigenous activist to change their theme song as it has been linked to a racist past.
The Blues' song of We Are The Navy Blues is to the tune of a 1920's song called Lily of Laguna, a melody infamous due to its controversial past lyrics and meaning.
While Carlton's lyrics are in no way offensive, Dr Stephen Hagan, the man who led the rebranding of Coon Cheese, has pleaded the club change their song due to its tune.
Speaking to News Corp, Dr Hagan said the club must look to alter the tune of their theme song.
"The song is one of the most racist of all time with the opening verse including the n-word and 'coon' and Carlton has adopted that music and propelled it into notoriety," he said.
"The words used in the Carlton theme song are not racist, there's no reason to change them.
"But surely it wouldn't be too onerous a task for Carlton to commission an original musical arrangement without changing a single word of the team song?"
Carlton have since responded to Dr Hagan's plea, releasing a statement to address the matter.
"The lyrics to the original song were changed 80 years ago to remove the racial origins, which is around the time the club first penned its lyrics to the theme," the statement read.
"In the process of writing the lyrics of the Carlton Football Club theme song, the creators of the song effectively removed the original song's racist connotations.
"The Lily of Laguna lyrics are of no relevance to the lyrics that were penned in good faith for the club.
"We will continue to consult and listen to indigenous elders and key advisers, including players, as we have already done in regards to this particular discussion, to maintain and improve on our culturally safe environment."
The Blues revealed they had spoken to several Indigenous members of their club, who have supported Carlton's decision to keep the song.
Dr Hagan revealed his shock to hear Indigenous members of the club had backed the Blues' stance.
"I'm absolutely shocked they would defend the racist theme song music rather than fight against the clearly racist origins of the melody," said Dr Hagan.
"It doesn't make the song any less racist that a couple of Aboriginal players who are very loyal to the club defend it."